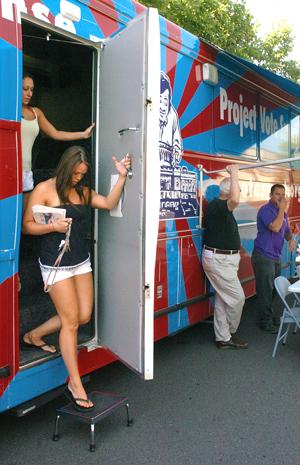 ALBANY - In its second and final Oregon stop, Project Vote Smart wheeled its enormous red and blue bus to the Albany Farmers' Market on Saturday, with staff ready to demonstrate and answer questions about its extensive database of candidate information.
Organizers said Albany was chosen over other mid-valley locations because its local members were proactive and accommodating.
"The information is great," said Shea Brown, 21, of Corvallis. Brown said she heard of the bus tour in her college U.S. history class and came to check it out Saturday with a few friends.
The student said she considers herself "somewhat" politically active and has voted in the past.
"I will look into it from now on," she said of the Project Vote Smart database.
Information is available on more than 40,000 candidates and elected officials, from state house districts on up to the presidential race, said bus spokesman Tony Boehm.
"A lot of people say, 'I've been looking for something like this,'" he said.
Project users may search for key votes, speeches and campaign financing details.
Candidates are also asked to fill out a state-specific survey on their opinions on certain issues, called "Issue Positions (Political Courage Test)," but only about 30 percent choose to do so, Boehm said.
Those who don't - likely to avoid being pegged on the issues by their opposition or constituents - are shamed on the site with the following phrase: the individual "repeatedly refused to provide any responses to citizens on the issues … when asked to do so by national leaders of the political parties, prominent members of the media, Project Vote Smart President Richard Kimball, and Project Vote Smart staff."
Below the statement is a link to the candidate or elected official's contact information along with a suggestion that users urge the subject to participate in the survey.
Project Vote Smart began 16 years ago with an office at Oregon State University. It has since moved its headquarters to a 150-acre ranch in the Montana Rockies, where workers may live at a low cost and be far from "the influence of Washington." The project has a paid staff of about 30, most making minimum wage. About 50 unpaid college interns also work for the project.
Volunteers range in age from 18 to 90, said bus staffer John Arnold, who is 26.
Project Vote Smart is a national research organization and has no party affiliation. It is funded through grants and individual donations.
For more about Project Vote Smart, go to www.votesmart.org or call the organization's hotline, 1-888-868-3762. A live person will answer and is able to look up specific information the voter requests.