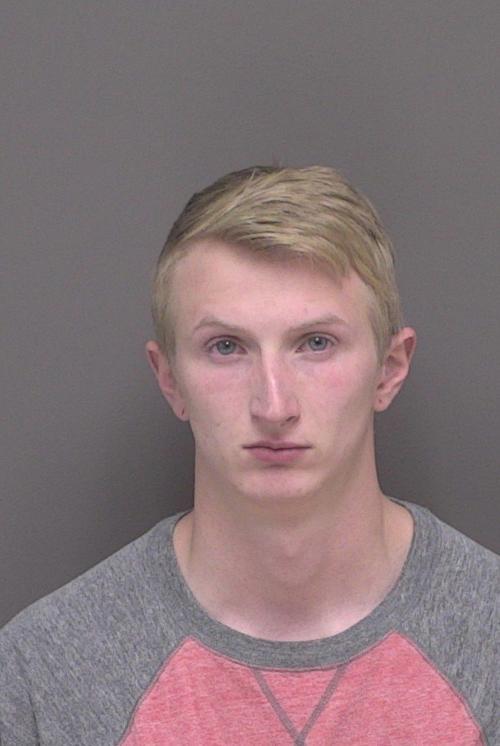 An alleged drunken driver who crashed into motorcycles outside a Lebanon bar said he fled the scene because he was scared of the bikers outside the establishment, according to court paperwork.
Justin Lacy, 21, of Lebanon, was arraigned Monday afternoon in Linn County Circuit Court on charges of third-degree assault, failure to perform the duties of a driver to an injured person, two counts of failure to perform the duties of a driver when property is damaged, driving under the influence of intoxicants and recklessly endangering another person.
A probable cause affidavit in the case said that Lacy, after initially leaving his Ford Mustang at a Lebanon apartment complex, returned to the vehicle and identified himself as the driver to police who had arrived to investigate.
A woman who was a passenger in the car had stayed with the vehicle while Lacy and another male ran into an apartment.
You have free articles remaining.
"Justin acknowledged that he hit motorcycles outside of Merlin's," the affidavit states.
The incident occurred at about 1:30 a.m. Saturday at Merlin's Bar & Grill, 45 W. Sherman St.
Lacy told authorities he had been drinking nearby at Duffy's Irish Pub, 679 S. Main St., according to court paperwork.
Lacy allegedly struck two motorcycles with the Ford Mustang, pushing one of them into a bystander on the sidewalk, who was knocked into a nearby wall and knocked unconscious. The injured bystander refused to cooperate and left the scene on his own to seek medical attention, according to the  affidavit in the case.
An officer who watched a surveillance video of the incident said in the affidavit that he saw the Mustang take off at a high rate of speed from the intersection of Sherman Street and Main Street, whip left, whip right and then crash into the motorcycles.