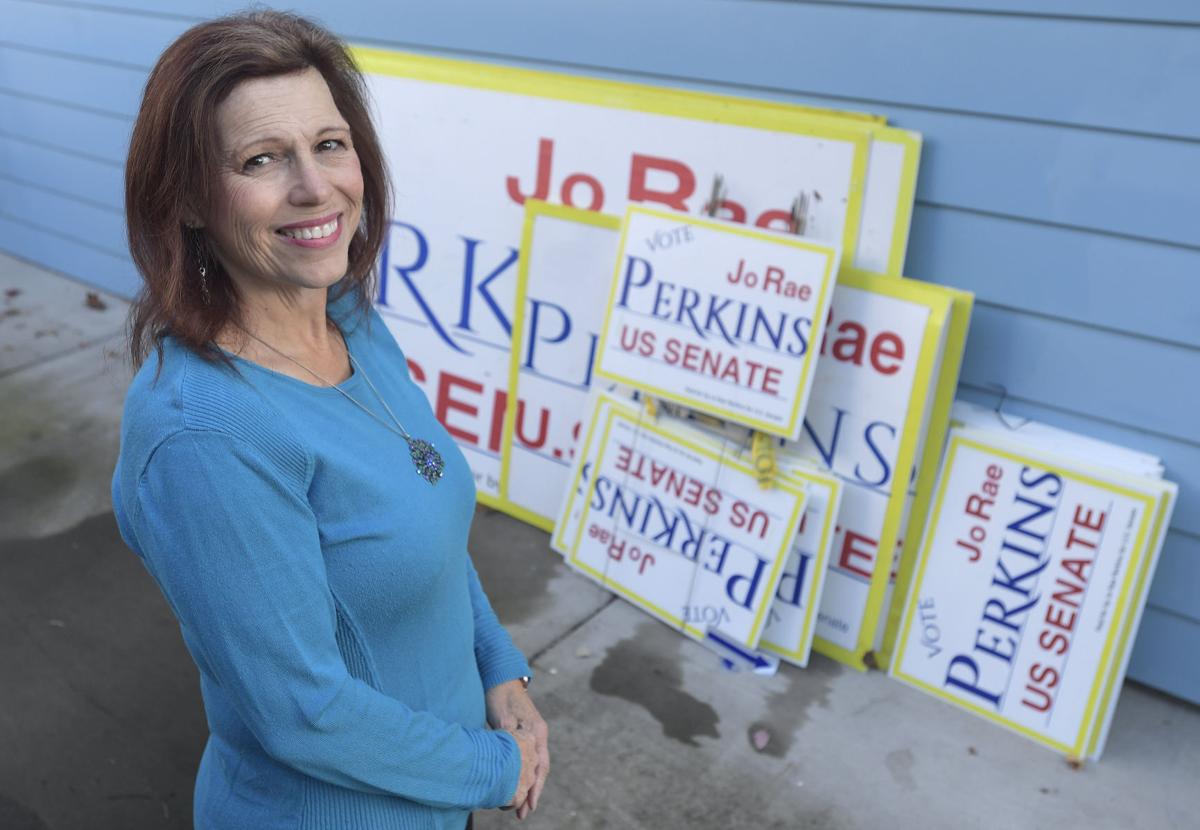 In 2014, Albany's Jo Rae Perkins ran for the Republican nomination for the U.S. Senate seat held by Jeff Merkley.
She received 7,602 votes, less than 3% in a primary race won by Monica Wehby.
Fast-forward to 2020 and Perkins, after competitive challenges in 2016 and 2018 to Art Robinson for the Republican nod in House District 4, went after the Senate once again.
This time she won the GOP primary and took on two-term incumbent Merkley in the Nov. 3 general election. Buoyed by voter turnout that exceeded 80%, Perkins received more than 900,000 votes, good for more than 39%. Merkley won with nearly 57%, but Perkins' percentage was better than that of Wehby (36.9%) against Merkley in 2014 or Republican Mark Callahan (33.5%) against Democrat Ron Wyden in 2016.
Perkins noted that her vote total was more than Republican Dennis Richardson garnered when he won election as secretary of state in 2016. It also was more than Gov. Kate Brown received when she was elected in 2018, although that election was not in a presidential year and turnout was lower.
Perkins, a longtime activist in Linn County Republican circles and an Albany resident since 1975, is ready for more.
"I am confident with what we learned in 2020 (that) we have a great opportunity coming up in 2022," Perkins said in a post-election email exchange with the Democrat-Herald. "So, yes, I will be running again and will be filing for the U.S. Senate nomination."
Wyden, who moved up to the Senate from a House seat in 1996 in a special election after the resignation of Republican Bob Packwood, is expected to be seeking his fifth full term in 2022.
In the interview, Perkins noted that Republicans need to do a better job of reaching conservative and moderate voters in the Portland area. She added that "I want to continue learning from Oregonians what they value."
Here is the text of the email exchange, which has been lightly edited for length and clarity:
Question: In 2014 you received about 2% of the vote in your Senate primary run. This year you won the primary and received nearly 40% in the general election. Thoughts on how far you have come?
Answer: Since I started this journey in 2014 I am pleased with how far I have come and how I have grown personally. I have softened in many areas, yet have remained steadfast in my convictions of what our country was founded upon and how we can continue to prosper as a nation.
Q: What factors do you think led to your rise to prominence in the state?
A: I have never quit. Often times people run for political office, do not win, and disappear. I have seen that happen many times over the years. Very rarely does a person stay involved in the process. Because I have remained focused and engaged in the political arena I have gained respect all over Oregon. In addition, I like to ask people what is important to them, what do they care about, what changes at the federal level do they want to see? Finally, I do what I can to let the citizens know that I really do care about them, no matter what part of Oregon they live in.
Q: What were the key challenges you faced and lessons learned from the general election campaign against Sen. Merkley?
A: The biggest challenge of 2020 is COVID. Attempting to hold in-person meetings outside of political party meetings and events was very hard, which of course had nothing to do with Sen. Merkley. I knew going up against an incumbent would be a challenge. We were very disappointed, however, with Sen. Merkley, as our campaign reached out to him to schedule a debate (but) his campaign never responded.
As for what I learned, I make it a practice to not share certain information as that could reveal future plans or strategies we may implement.
Q: As recently as 1995 both of Oregon's U.S. senators were Republicans, but both seats have been held by Democrats since 2009. What, in your view, does the Republican Party need to do to turn that around?
A: Since Oregon went to vote by mail, it has become increasingly difficult to win against the stronghold in the Portland metro area. Looking at the population base we know there are conservative to moderate voters in the Portland metro area and we simply need to do a much better job of reaching out to them.
Q: Looking ahead, what do you see as your role to play?
A: I will remain engaged and hope to have opportunities to be a speaker at various civic organizations such as Rotary and Kiwanis. I want to continue learning from Oregonians what they value.
Q: Are there any other initiatives that you would like to work on?
A: There are some initiatives I would like to be involved in. However, I have not discussed those with my trusted advisers.
Q: Is there anything else that you would like to add?
A: Throughout the majority of my campaign I spoke often about unity. I spoke about how great the United States is, that we are the one country where so many people leave all they know to move here. Why? Because of our form of government, which is a constitutional republic. We all have certain rights. We have the right to our own views, values, opinions and beliefs. And although we will not agree 100% of the time, we should always respect each other's rights and not shout them down or be hateful and divisive.