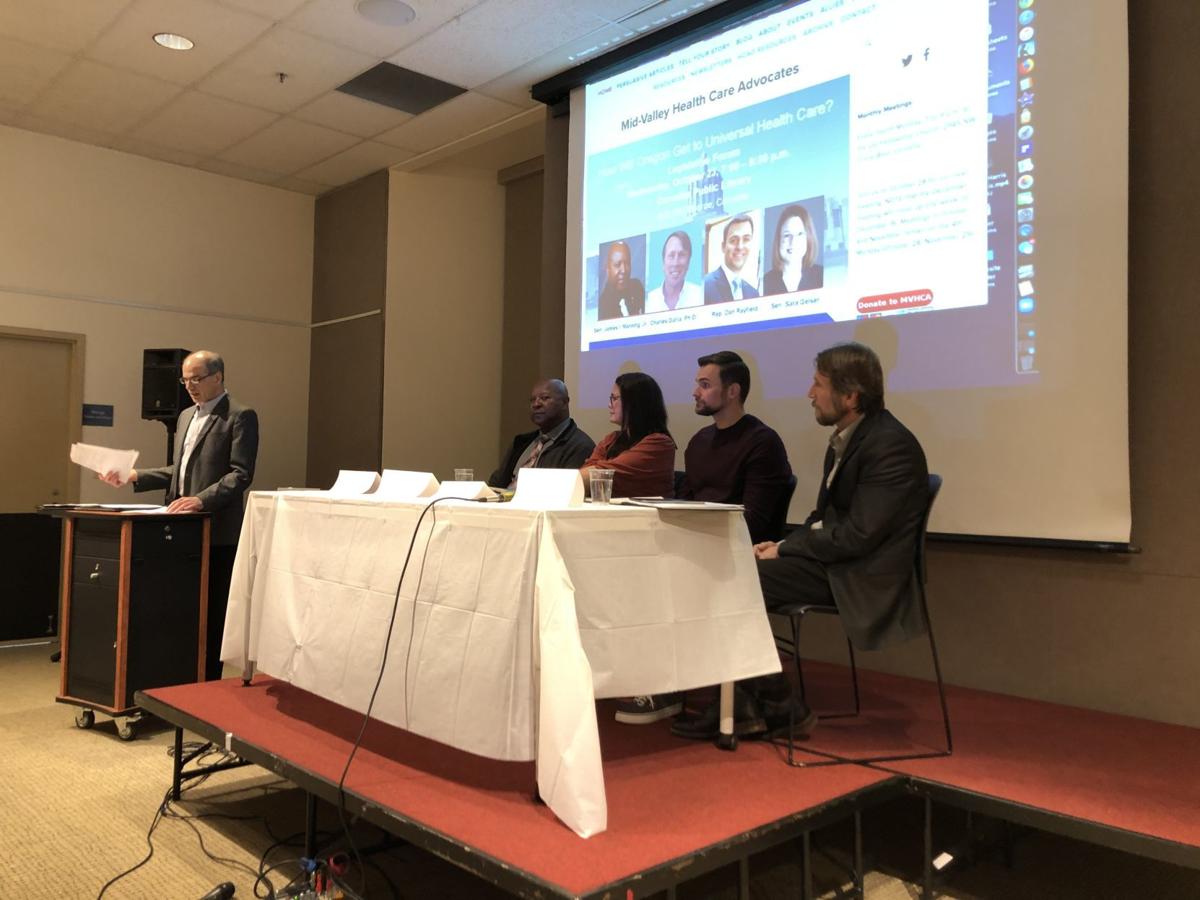 A panel featuring several Oregon legislators discussed creating a universal health care system in Oregon during a session Wednesday night at the downtown branch of the Corvallis-Benton County Public Library.
The event, sponsored by Mid-Valley Health Care Advocates and the Interfaith Health Care Network, focused on Senate Bill 770, which establishes a task force directed to examine the implementation of universal health care in the state.
The panel included State Sen. James Manning Jr., D-Eugene, chief sponsor of SB 770; Sen. Sara Gelser, D-Corvallis; Rep. Dan Rayfield, D-Corvallis; and Dr. Charles Gallia, a health services researcher.
Manning said the task force is directed to meet in 2020 with a goal of making recommendations for a universal health care system to the 2021 legislative session. He said the bill is aimed at finding a way to provide health care access for uninsured Oregonians without changing the coverage for Oregonians who already have insurance.
"For me, health care is a human right," he said. "It's not something that should be based off your pocketbook or who you know."
He added that Gelser and Rayfield were important allies in SB 770's passage. 
In addition to describing the composition of the 20-person task force, the bill also includes language directing the Oregon Health Authority to develop a plan for how the Medicaid Buy-In program or public insurance option could work.
You have free articles remaining.
Gelser said her dream is for Oregon to have a single-payer health care system, but people may be afraid of that, so moving toward a buy-in program is a step toward single-payer that would let people see how it works.
"We need to show people that it won't take six weeks to get an MRI and that we won't have death panels," she said.
Gallia said a buy-in program would be a way to let skeptics "test drive" a universal health care system. "It's a phased approach," he said.
Ed Junkins, a Corvallis city councilor and associate dean at the College of Osteopathic Medicine of the Pacific campus in Lebanon, said he was applying for the task force, but was concerned that its recommendations would be ignored by the Legislature. 
Gelser said that no one in the Legislature can make promises about how it will act. She said health care advocates should focus their energy on making sure those seats are filled with people who'd vote for a health care proposal — and that may even involve primaries against Democrats, because not all of them would automatically support it.
Rayfield added that advocates need to work to get public support for any proposed policy.
Gallia said that the committee's composition is designed to give representation to people in rural areas because that will help show reluctant legislators that their constituents are behind the proposals.
Manning said that as long as he was in the Legislature he would keep pushing to make sure no Oregonian was denied access to health care.
"I'm all in on this," he said.
Anthony Rimel covers education and crime in Benton County and weekend events across the Mid-Valley. He can be reached at anthony.rimel@lee.net or 541-812-6091.