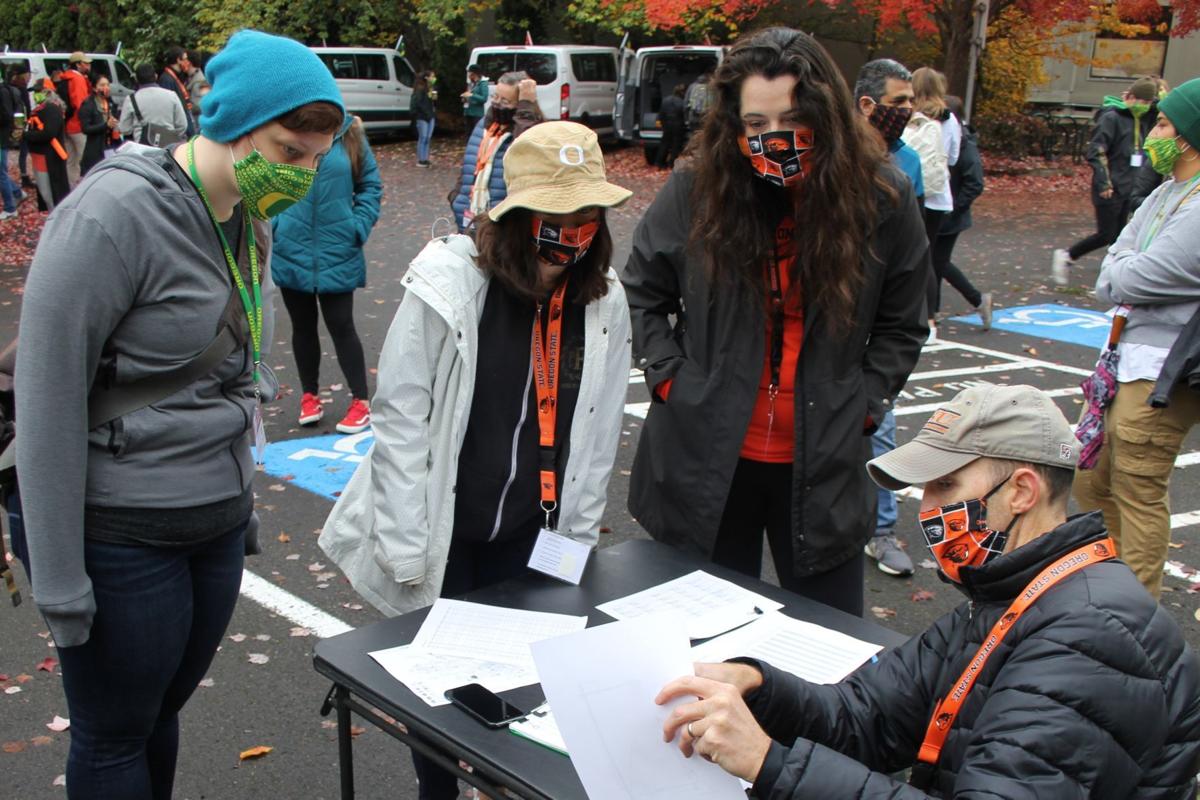 Oregon State University-led coronavirus sampling in Eugene earlier this month suggests that about five people per 1,000 in Eugene at the time had the virus that causes COVID-19.
Team-based Rapid Assessment of Community-Level Coronavirus Epidemics (TRACE) personnel went door-to-door in Eugene on Nov. 7 and Nov. 8. Thirty TRACE teams visited 30 Eugene neighborhoods, getting samples from 304 households and 463 people.
There were zero positive results, but based on other data regarding COVID-19 infections in Eugene, models used by the researchers produced the five-per-1,000 prevalence estimate, with a 95% likelihood of the number being between one and 14.
"In estimating how many people were infected we used a prevalence model that took into account sampling results as well as other information to understand what is happening in the population at large," said Ben Dalziel, an assistant professor in OSU's College of Science and the TRACE project leader.
TRACE results are peer-reviewed by scientists at OSU and two other universities who are not associated with the project.
Eugene has a population of 172,000 and makes up nearly half of Lane County's population of 382,000. Lane County has reported 37 COVID-19 fatalities and 3,672 cases, according to the Oregon Health Authority. Negative tests in Lane County number 92,620.
While five cases in 1,000 may seem like a low number, it is important to remember that prevalence is not the same as COVID-19 risk, said Jeff Bethel, associate professor in OSU's College of Public Health and Human Sciences and part of the TRACE leadership team. 
"Prevalence only indicates how relatively abundant the virus is in a target population," Bethel said. "It doesn't tell you your likelihood of getting the virus but can help you understand the likelihood of encountering someone with the virus. The more people you encounter, the greater the likelihood that you will be in contact with someone who has the virus. Social distancing, wearing a mask and washing your hands will help, but it is a numbers game: The more people you are around, the greater the odds of encountering an infected person."
The OSU-led public health project began in April in Corvallis and has now featured 10 weekends of sampling in multiple Oregon cities, including the two days in Eugene.
Concerned about COVID-19?
Sign up now to get the most recent coronavirus headlines and other important local and national news sent to your email inbox daily.