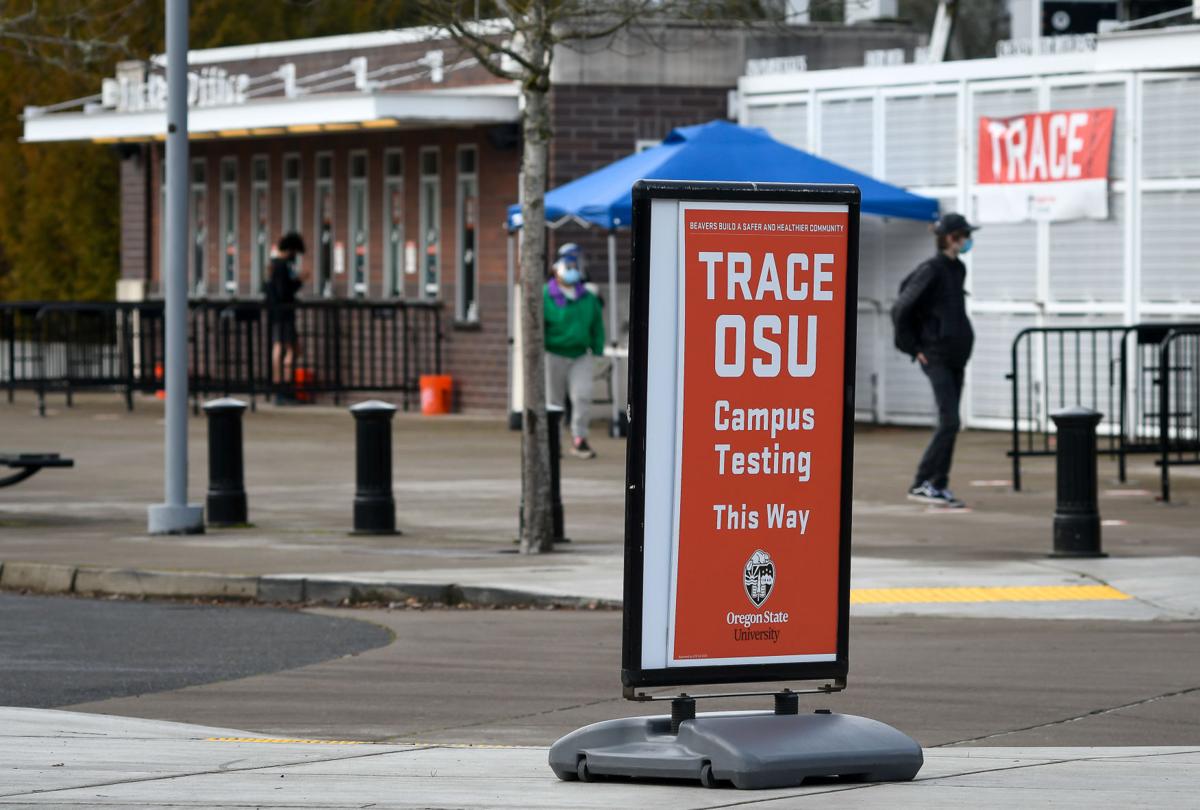 A recent spike in COVID-19 cases for Oregon State University students listed on the university's online dashboard has caused concern from some local residents who worry the campus numbers may be keeping Benton County's case counts artificially high.
The university updates the dashboard each Wednesday with the number of students who have tested positive over the previous week. The last two weekly updates totaled 227 new cases; however, it remains unclear how many of those 227 cases are included in the numbers listed for Benton County by the Oregon Health Authority.
In that same two-week span, Benton County reported a total of 278 cases.
Benton County is currently in the "extreme risk" category as designated by the state, meaning the highest level of business restrictions remain in place.
New cases reported among OSU students have undoubtedly risen sharply in recent weeks. Prior to the Feb. 10 weekly tally of 119, the previous high from the university in 2021 was 66 new cases in a one-week span. The university said the increase can largely be attributed to increased testing.
Of the 227 new cases reported by the university in recent weeks, 59 were dorm residents and 37 were fraternity or sorority members tested by TRACE OSU. Positive tests from Student Health Services accounted for 57 of the cases, and external testing providers accounted for another 74.
"We acknowledge that student case counts are contributing to an increase in the reported number of cases occurring in Benton County, and it is also clear that a substantial percentage of positive cases are directly attributed to the expanded testing that OSU is engaged in," Steve Clark, vice president of university relations and marketing, said in an email Friday night. "We increased testing beginning Feb. 1 by requiring weekly testing of all residence hall students — a weekly average increase of 1,400 tests — and on Feb. 8 by offering testing to more than 700 students who are members of fraternities and sororities."
The reason it is publicly unknown at this time how many of the Benton County cases listed by OHA originated from OSU is the process through which the county numbers are determined. Any positive test from TRACE OSU or Student Health Services is reported to Benton County, which in turn reports the results to OHA, which ultimately determines what county those cases are listed in, Clark said.
The number of positive tests from OSU listed on the dashboard at https://covid.oregonstate.edu/dashboard comes from three sources: Student Health Services on campus, TRACE OSU and off-campus testing centers. Students who test positive at off-campus sites are eventually reported to the university by Benton County.
Clark said the positivity rate from TRACE OSU has remained lower than the overall county positivity rate.
"Since the start of TRACE OSU testing in September, the positivity rate among students, faculty and staff has never been higher than 2%, which is much lower than the 3.2% positivity rate for the general Benton County community as reported on the county health department website," Clark said in an email Thursday.
The positivity rates for the Student Health Services tests are significantly higher, which Clark said is to be expected, as those tests are specifically for students who were "presenting themselves as ill, exhibiting COVID-19 symptoms, or who were identified through contact tracing as a close contact with a person confirmed to be ill with COVID-19."
The week of Feb. 1, 41 students tested positive at Student Health Services, with a positivity rate of 18.6%. The week of Feb. 8, 27 students tested positive, with a positivity rate of 21.6%.
K. Rambo can be contacted at 541-812-6091 or k.rambo@lee.net. Follow on Twitter via @k_rambo_.