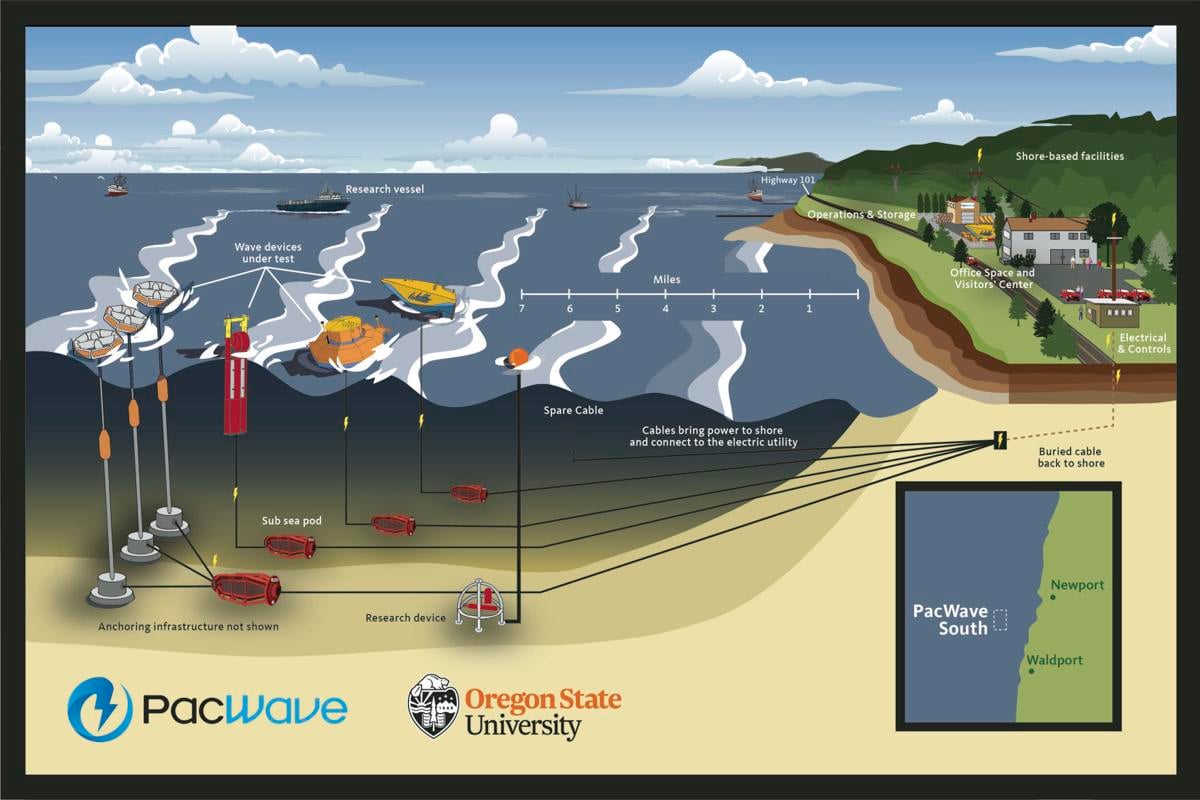 Oregon State University received approval from the federal government for a first-of-its-kind wave energy research facility, the university announced Thursday.
After an almost 10-year regulatory process, the Federal Energy Regulatory Commission issued Oregon State University a license to build the first pre-permitted wave energy testing facility in the United States — PacWave South.
"We know there is still work to do to make this project a reality, but this is a huge moment for this project and for the industry as a whole," Burke Hales, chief scientist for PacWave, said in a news release. "This is the first license of its type to be issued in the United States."
PacWave South will be located southwest of Newport, approximately seven miles offshore. The facility is the first grid-connected wave energy lab built at commercial scale to obtain a license from the Federal Energy Regulatory Commission. The facility will also be the "first marine renewable energy research facility in federal waters off the Pacific Coast," according to the Thursday release.
PacWave South will allow wave energy developers to experiment with technologies that capture wave energy and assist in powering the Central Lincoln People's Utility District electrical grid. The power will reach the grid via cables in a conduit beneath the seafloor installed using horizontal drilling. The cables will connect the offshore facility to an onshore monitoring facility in Seal Rock.
"Oregon State has laid a foundation for future development of this industry through its collaborative approach of working with all the key stakeholders and ultimately seeking and obtaining regulatory approval for such a facility," Justin Klure, PacWave project manager, said in the release.
The university says experts project the marine energy market to be valued at almost $700 billion by 2050. It could produce up to 10% of global electricity demand, according to the World Energy Council.
The university still has to submit environmental and engineering plans for review by the federal government before construction is allowed to begin. The university said those plans are almost ready and construction may begin as early as this summer. The current projection has the facility up and running by 2023.
OSU filed the application with FERC nearly two years ago. The application process also included an extensive environmental review.
Support local news coverage and the people who report it by subscribing to the Corvallis Gazette-Times.
The $80 million facility will be paid for with grants from public and private entities, including the state and the U.S. Department of Energy. The College of Earth, Ocean, and Atmospheric Sciences will oversee both construction and operation of the facility.
"This is a landmark moment for the state of Oregon, for wave energy development nationally and for Oregon State University," said OSU President F. King Alexander in the release. "We are excited for the future of PacWave South. This license and project would not be possible without the assistance and support of local, state and federal officials and community members who helped guide and shape PacWave South over the years."