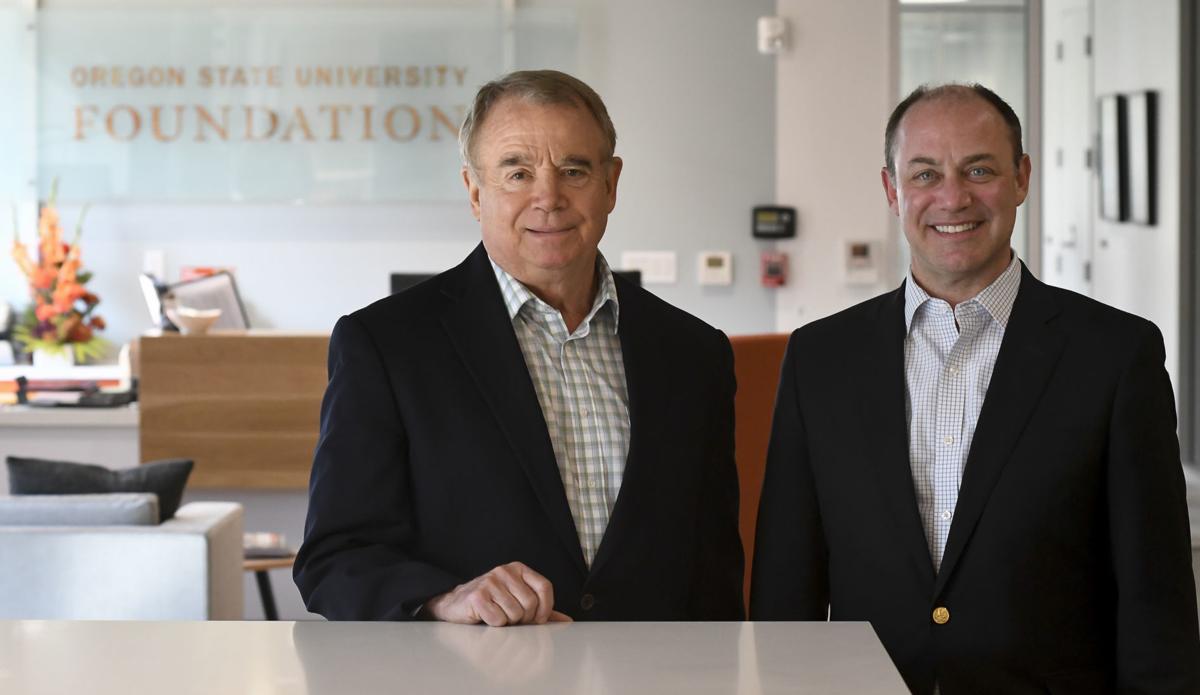 The architect of a hugely successful capital campaign on behalf of Oregon State University will step down early next year as head of the university's fundraising arm and will be succeeded by his longtime protégé.
Mike Goodwin, the president and CEO of the OSU Foundation, plans to retire on Jan. 3, the university announced on Monday. Executive Vice President Shawn Scoville has been tapped to move into the top post.
Goodwin came to the foundation in 2004 after a 10-year stint with Georgetown University, where he led a $1 billion fundraising campaign. His arrival came one year after Ed Ray was hired as OSU president, and the two have worked closely together ever since.
Goodwin launched Oregon State's first comprehensive capital campaign, dubbed the Campaign for OSU, with a goal of raising $625 million. The campaign far exceeded that mark, concluding in 2014 after bringing more than $1.1 billion from 106,000 individual donors.
Under Goodwin's leadership, the OSU Foundation — a private nonprofit whose mission is to support the university — saw its fundraising totals increase from $30 million annually to more than $100 million a year. Its assets have grown from $430 million to $850 million, including an endowment valued at more than $600 million.
With Ray set to step down at the end of June, Goodwin, now 70, said it seemed like the right time for him to retire as well.
"It's been really great to work with Ed Ray," Goodwin said on Monday. "With a new president coming in, this is the perfect time for a new team to form and do great things for OSU."
He also expressed confidence in Scoville, who worked for Goodwin at Georgetown and followed him to the OSU Foundation in 2005.
"You could just see at the time he had oodles of talent," Goodwin said. "He's great at working with donors, he's great at managing people — you could just see Shawn was going to be a star in this field."
With Goodwin as his mentor, Scoville rose through the ranks at Oregon State, playing a leading role in the Campaign for OSU and becoming the foundation's executive vice president in 2013.
The foundation considered launching a national search for Goodwin's successor, but Scoville's name kept rising to the top, according to board chair John Stirek.
"We've been talking about succession over the last five years," said Stirek, the president of western U.S. operations for the Trammell Crow commercial real estate firm.
"We ultimately decided the leader we want and need is right in-house here."
Scoville, 53, said he has never regretted his decision to leave Georgetown for the OSU Foundation and is looking forward to transitioning into the top job.
"I am grateful to have been a part of it and am equally glad to be able to stay and be part of the future," he said.
Scoville said the foundation is already planning for the university's next major capital campaign and added he expects to work closely with OSU's next president on rolling it out. The OSU Board of Trustees has announced that it expects to hire a new leader for the university by the end of this year.
While he declined to discuss details of a possible capital campaign at this point, Scoville said the foundation needs to be prepared to change with the times.
"The way our alumni, parents and friends engage with us or want to engage with us is changing," he said. "We'll be investing more in technology and other kinds of platforms to engage with people in the ways they want to do that."
The Campaign for OSU transformed the university's Corvallis campus, helping to bankroll the construction of numerous new buildings and the renovation of old ones while endowing dozens of faculty positions and creating hundreds of scholarships.
But it was transformational in other ways as well, helping Oregon State forge a new image of itself as a leading public research university with much to offer the state, the nation and the world.
"One of the byproducts of a really good campaign is it has all kinds of other benefits for the institution," Goodwin said. "The money's great, but that sense of people coming together to tell our story is very powerful."
In a prepared statement issued on Monday, Ray called Goodwin "a remarkable champion" for Oregon State.
"The university has benefited beyond measure from his vision, leadership and far-reaching contributions while leading the OSU Foundation," said Ray. "His many contributions will continue to have an impact on current and future generations of students, faculty, staff and Oregonians."
Goodwin said he and his wife, Sheila, plan to stay in the Corvallis area and will spend much of the next year traveling as they decide what they want to do with the next chapter of their lives. And he added that he is confident he's leaving Oregon State University well-positioned for the next chapter in its development as well.
"Ed (Ray) likes to say that the best is yet to come, and I would heartily echo that," Goodwin said.
"I think OSU is on a good trajectory, but I don't think we've reached our full potential yet."