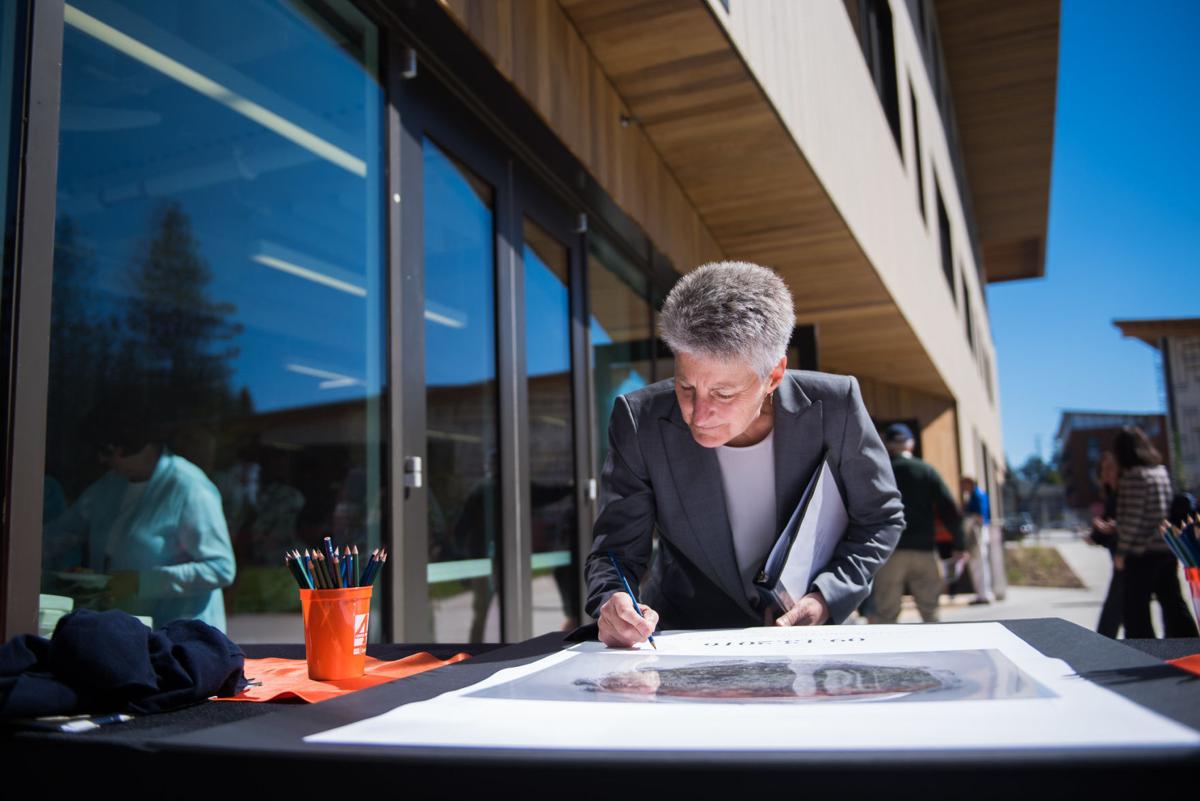 The Oregon State University Board of Trustees voted unanimously to approve Rebecca "Becky" Johnson as interim president Friday during a virtual board meeting. Johnson will become the first female president in the university's 152-year history when she takes over May 1.
Johnson, most recently the vice president at OSU-Cascades in Bend, is expected to serve in the role until a permanent president is chosen. She and her partner, Lori Elkins, will relocate to Corvallis for the duration of Johnson's appointment.
Provost Edward Feser has been serving as acting president since F. King Alexander resigned from the role of university president last month.
Several OSU, OSU-Cascades and Bend community members signed up for public comment to laud Johnson as well-qualified and the right person for the moment. Several similar comments were made by members of the board. Johnson was described as a stabilizing force at OSU-Cascades with a knack for connecting with community members and acting with empathy.
"Dr. Johnson has demonstrated remarkable leadership through more than a decade of growth, challenges and success at OSU-Cascades," Board of Trustees Chair Rani Borkar said in the press release announcing Johnson's nomination. "She brings more than 30 years of experience at OSU — as a faculty member, associate dean in the College of Forestry and as the university's vice provost for academic affairs and international programs."
Although the finalized contract has not yet been released, the proposed contract was provided to Mid-Valley Media by the university. Under the proposed contract, Johnson will earn an annual salary of $550,008 for the duration of her appointment, including "supplemental compensation" from the OSU foundation. Johnson will also be provided a relocation stipend of $8,000 and a monthly vehicle stipend of $1,000.
Support local news coverage and the people who report it by subscribing to the Corvallis Gazette-Times.
She will retain her tenured faculty position so long as she is not terminated for cause.
Below is a transcription of an interview with Johnson after Friday's board meeting. It has been edited for space and clarity.
Q: How did you feel when you were officially announced as the interim president at the end of the meeting?
A: Well, it was amazing. It was amazing to hear the support from people who testified but also from the trustees who spoke. I'm sure they made me look much better than I am, but it was … of course rewarding to have spent a career of 30-plus years here and end up being able to lead the university that I've spent that entire career with.
Q: Stepping into this role at a time where there's been quite a bit of turmoil at OSU recently, what do you see as your job in addressing that recent history?
A: I think the most important thing that I can do is try to restore the trust and confidence in university leadership. I feel that I have an ability to listen to people, and to build relationships and be able to make some progress on issues that people are having. … They're different across the entire university. It's not just what's happened in the last month or what's happened in the last year … there's always challenges at an institution as big as Oregon State University. I think you face those by learning individually what people are facing — what their challenges are — because we want them to be successful. Leadership's job is to help people be successful in their roles and so we have to understand what those challenges are so that we can address them, but it's building relationships and really authentically listening to people.
Q: While you're serving in an interim capacity, this appointment could easily last for one full year. Looking ahead, beyond rebuilding trust in leadership, what is your top priority?
A: It's planning for everyone to return to campus this fall. We've been working remotely for a year and a half, and that's had its own challenges and we learned some things from that. But Oregon State University is a residential campus, and we're really looking forward to having everybody come back to campus, other than our students who are, of course, in our e-campus or online program. But … we have to do it safely and we have to make sure that our employees and our students feel supported when they come back and … there's a lot of uncertainty still.
Q: As someone who has spent their entire career with OSU, I would imagine this is a pretty big deal personally. You're also making history as the first woman to serve as the president of OSU. What does that mean to you?
A: Well, I'm really proud, obviously, to do that. I think it's important to have women leaders at all of our institutions — public and private. It's important as role models, especially at a university, so that all the students that are there can see that women can take positions of leadership and be successful, but just beyond the university, to have a diversity of people that are leading all of our institutions. So I believe strongly in that, and it doesn't really matter that I'm the first, or the second, or the third … it's just important that we have diversity in our leadership.
Q: What can people at and around OSU expect from you as a leader?
A: I think they can expect to see me out in the community. It's really important for me to connect not only with elected leaders, but with organizations, nonprofit organizations, service organizations, with private companies in the region and just with community members. One of the things that I think was a real strength here in Central Oregon was my connection with the Central Oregon community, and I worked hard at that by getting out there … and building relationships. Listening to what they need from the university, whether that's work force needs or other types of connections and collaborations, and then trying to go back to the university and figure out how we can help meet those needs.
K. Rambo can be contacted at 541-812-6091 or k.rambo@lee.net. Follow on Twitter via @k_rambo_.