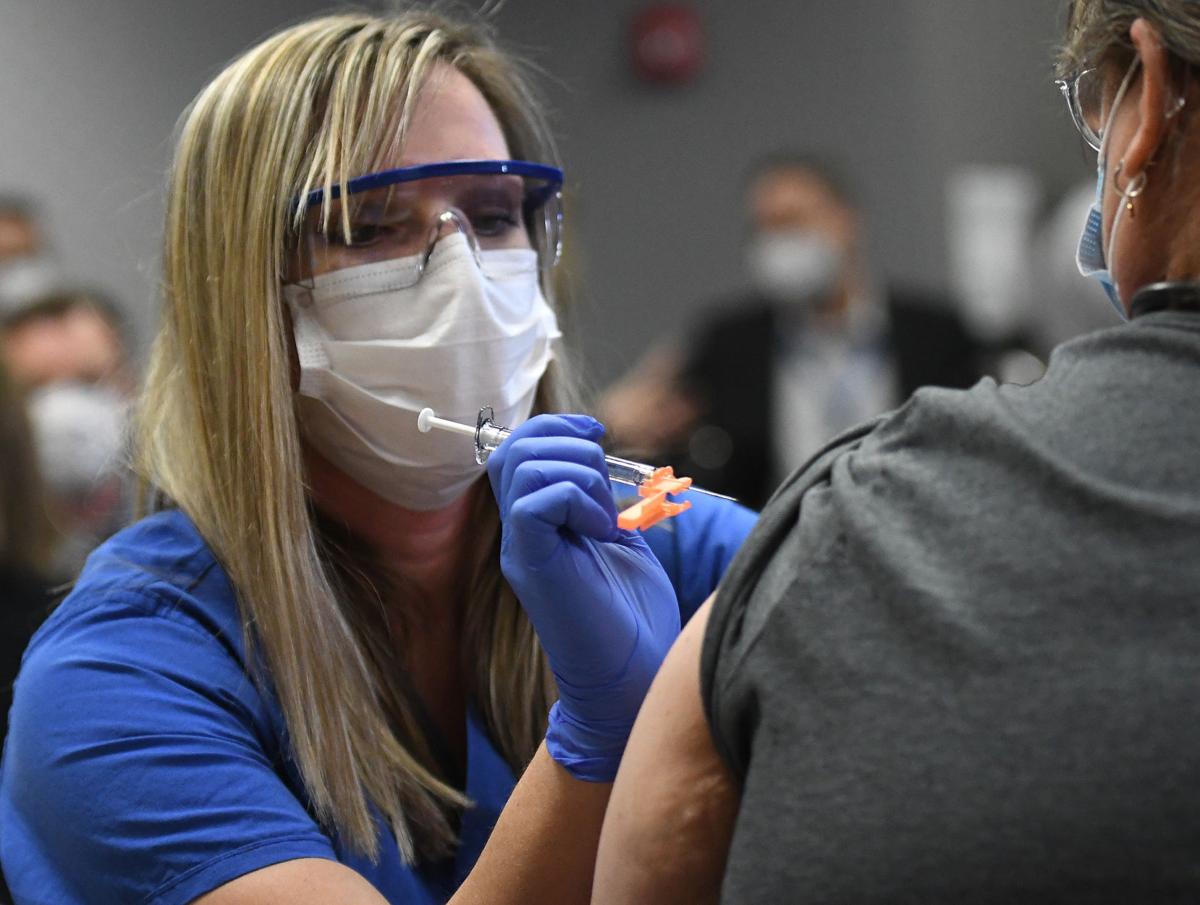 Oregon is once against scrambling its priority list for COVID-19 vaccinations, with some seniors' priority pushed from next weekend to March.
Gov. Kate Brown and health authorities blamed the whipsawing schedule this week on unreliable numbers and statements from the Trump administration as it wraps up its final days in office.
"This is a deception on a national scale," Brown said.
Brown announced Tuesday that the vaccine would be opened up to those 65 and older beginning Jan. 23. Teachers and child care providers would also start receiving inoculations that day.
U.S. Health and Human Services Secretary Alex Azar said Jan. 12 that the agency would expand the distribution of vaccine it was holding, creating a possible windfall for states that were worried about scarcity in coming weeks. Federal officials also recommended opening up vaccine availability to those over 65 once the first group of health workers and people in long-term care facilities were vaccinated.
The earlier time frame was met positively across the state as a sign that more of those most susceptible to serious illness and death from COVID-19 would get inoculations.
But the optimism soon evaporated as federal officials told Brown and Oregon Health Authority Director Pat Allen that there had been a miscommunication and actually no additional vaccine would be on its way.
"I thought I was losing my mind," Allen said. "I went back and actually reviewed the actual C-SPAN video of Secretary Azar, and the words he used were 'releasing the entire supply.' He talked about physical inventory. It was incredibly clear."
In response, Brown on Friday announced another schedule for rollout of the vaccine. It underlines an already controversial decision by the governor to place schoolteachers and staff above the elderly on the priority list.
After the current 1a phase of the vaccinations for medical and health care workers, the next group would be K-12 educators and school employees, who will now begin getting vaccinations starting Jan. 25. That will get schools closer to the governor's target of Feb. 15 for reopening in-class teaching.
But older Oregonians who are not in long-term care facilities would be placed into four priority tiers. Those over 80 would begin vaccinations on Feb. 8. Those over 75 come next a week later, on Feb. 15. Over 70 would begin Feb. 22 and over 65 on March 1.
Despite criticism that she was putting schooling over lives, Brown has stuck with her decision to prioritize getting schools reopened. She said virtual learning had left many students behind, particularly in less affluent districts. She also pointed to an uptick in teenage suicides due to the long isolation.
Brown said she didn't know if any other state was giving teachers the same higher priority. A Centers for Disease Control and Prevention model program sent to the states has at-risk elderly in the group to be vaccinated after health care workers and congregate care residents and staff.
"Each state is doing it differently," Brown said.
Oregon has more than 200,000 doses of vaccine on hand, enough to ensure that the 120,000-plus people who have received their first dose but are awaiting the second can be served. The COVID-19 vaccinations are given in two doses spread between three and four weeks apart, depending on which vaccine is being used.
Brown said that the federal government had pulled the rug out from under hopeful Oregonians.
"I am demanding answers from the Trump administration," Brown said. "I am shocked and appalled that they have set an expectation on which they could not deliver, with such grave consequences."
COVID-19 policy is in the middle of a transition as Trump is replaced by President-elect Joe Biden on Jan. 20. Biden has promised a $20 billion vaccine push once he becomes president, including using the Federal Emergency Management Agency and other agencies to speed up and widen distribution.
"The vaccine rollout in the United States has been a dismal failure so far," Biden said Friday. "The honest truth is this: Things will get worse before they get better. And the policy changes we are going to be making, they're going to take time to show up in the COVID statistics."
Biden has set a goal of "100 million vaccine shots into the arms of the American people" by his 100th day in office, April 30.
Brown said she was ready for a more dependable effort from Washington, D.C.
"I am looking forward to working with a federal partner who is competent," Brown said.
By the time of the inauguration on Jan. 20, the number of Americans killed by COVID-19 is expected to surpass 400,000. The United States accounts for 20 percent of the 2 million dead worldwide from the virus. It's an outsized death toll considering Americans represent just over 4 percent of the world's population.