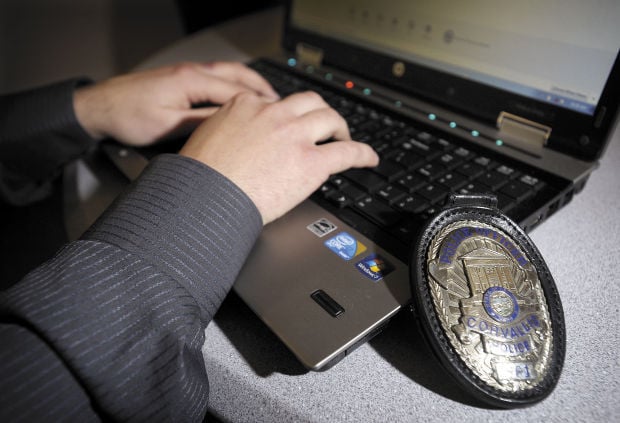 The patrol cars flew into the Terminus restaurant parking lot.
Guns drawn, a half-dozen officers swooped in and arrested a man who had been sitting in a pickup, smartphone in hand.
He had been messaging someone through a dating website and planned to meet her in person in Corvallis. She posed online as a 14-year-old girl, but in real life, "she" was Corvallis Police Detective Bryan Rehnberg.
"They came out like gangbusters — you should have seen it," Tom said about his May 2013 arrest.
The charges, Tom said, were bogus, but he entered into a plea agreement to avoid the possibility of 10 months in jail.
His real name was in the news for days while he was incarcerated for soliciting a child online.
He only agreed to an interview with the Gazette-Times on the condition that his real name not be used.
Tom became the first of six men arrested by the Corvallis Police Department in an ongoing online sting aimed at taking sexual predators off the streets and making others think twice before using the Internet to lure children for sex.
Detective Rehnberg, who runs the undercover operation, said that as young people gain more and more unfettered access to the Internet, the instances of sexual predation grow. That's why the department is taking a proactive approach to singling out those who troll the web for children to prey upon.
But defense attorneys question the arrests of people who, in some cases, may be role playing in the fantasy atmosphere of the Internet with no intent to victimize children. Critics also have raised questions of entrapment and have questioned a law that allows people to be arrested on a felony solely for things they say in a chat room.
Rehnberg has been with the Corvallis Police Department for 13 years, and a detective for the past four years focusing on person-on-person offenses such as child abuse and sex crimes. He initiated the online sting operation in May 2013.
"After seeing a common theme in a lot of my investigations of the Internet usage — to meet or engage the victim in conversation — I decided that we needed to do something proactive," he said. "We needed to protect our kids, and that's really what it came down to, to protect our children."
Since Rehnberg started the work, three of the six men arrested, including Tom, have been convicted. Three cases are pending.
When Rehnberg sets up undercover online accounts of a young teenage girl and converses with potential predators, he said he's careful to use only the best practices developed over the years by the U.S. Department of Justice.
That includes letting the suspect do most of the talking.
"I do not go out and pursue any person; they pursue me," he said. "Initial conversation is introduced by the suspect, sexual conversation is introduced by the suspect and a meeting is introduced by the suspect. That is not introduced by me — never."
The undercover accounts feature innocent photos of a smiling, young-looking female — who, by the way, is not real. The department used a software program to alter the appearance of what began as photos of an actual person.
Before initiating the online sting, Rehnberg sought guidance from agencies like the FBI and Department of Justice, and he enrolled in outside training about Internet crimes involving children.
He also consulted with Benton County District Attorney John Haroldson, who says the three cases his office has prosecuted and the three pending cases were conducted with no hint of entrapment.
"The crimes are ones which involve a clear, independent intent to sexually prey upon children," Haroldson said, emphasizing that the idea of sexual contact is never initially brought up by the detective.
Defense attorneys don't necessarily see it that way.
But, first, here's what you need to understand about entrapment: Leaving an expensive car unlocked and then arresting a car thief is not, by legal definition, entrapment. And neither is opening a decoy account of an underage girl on a website and waiting to be approached by sexual predators.
Entrapment requires an extra push — an element of coaxing or persuasion — to move someone to do something that they ordinariy would not.
In 2006, for example, a California judge threw out a case against Joseph Roisman, who was arrested in an online predator sting. After hearing six days of the prosecution's trial testimony — before the defense presented and before consideration by the jury — the judge dismissed the case and accused Perverted Justice, the online watchdog group that set up the online decoy, of entrapment.
Roisman was the only one to be acquitted of the 29 men arrested in a three-day sting in August 2006 in Petaluma, Calif., for the now-canceled reality television series, "To Catch a Predator," which spun off from the news show "Dateline NBC."
Defense attorney L. Stephen Turer said his client, who was 21 at the time, had never talked about having sex with the fictitious 13-year-old, only cuddling while watching movies, even though the decoy kept trying to move the conversation in that direction.
"In reading the transcript, it became obvious that they had an agenda that they professionally moved along," he said, adding that "Dateline NBC" paid Perverted Justice $100,000 per episode to provide actors who spoke on the phone and initially met the suspects in a location with hidden cameras.
Turer, who has not represented any of the Corvallis defendants, argues that police sometimes introduce sex into the equation by the very nature of opening an account on an adult dating website.
Though Rehnberg characterizes the websites he uses in his investigations as social media sites, some of the ones he has used are adult dating websites in which members are required to be at least 18 years old.
Turer recalled that in some of his cases, the Perverted Justice watchdog group — which worked with law enforcement agencies and "Dateline NBC" — fished for potential predators on adult dating websites.
"When adults go to a teen chat line, they're clearly there for that purpose" of exploitation, Turer said, "but these people went on adult sites saying they were young."
Before his arrest, Tom, 65, had used his smartphone for months to meet women on adult dating websites for sex — but he was looking for adults, he said, and the ones he met were close to his age.
Last May, a photo from the undercover account popped up on his screen to indicate that "she" had looked at his profile, he said. That was the first electronic contact between the two. Though her profile indicated she was a minor, he perused her photos and then initiated a conversation.
"It said on there that the gal was 14 but I had been looking on these sites for months, and I was finding out that women, as well as men, didn't tell the truth about anything," Tom said. "In order to be on them, you have to be age 18 or older, naturally. Seeing this age 14, I knew that was a lie." He suspected, he said, that his contact was a female adult who was lying about her age.
Turer, the attorney, said that Tom's assumption often is true in the online fantasy world.
"You're on an adult chat line so you assume they're adults — so when they say they're younger you assume they're just role playing," he said.
These chat lines, for some people, are an outlet or form of recreation, Turer said.
"When you go online for five minutes and you're talking about sex, that's not the way people talk in real life," he said. "When you see things like that online, it makes you wonder, is that person being who they are or are they role playing?"
Six days after Tom contacted the undercover account, the website removed the account because users are required to be 18. Rehnberg worked with the National Center for Missing & Exploited Children and the website to create a new undercover account with the same name and a different email account so the contact with Tom could continue.
Four of the six Corvallis defendants were arrested after physically showing up at a rendezvous point, but Turer suggested that maybe the defendants just wanted to see with whom they had been conversing online.
Tom offered a similar explanation.
When he pulled into the empty parking lot and the decoy had messaged that she'd walk to him, he said he figured he'd wait and see what she actually looked like.
"I was thinking I'm going to watch and if I see someone get closer, if that person looks like they might be that age (a minor) or if that person smokes or looks like someone on drugs — even if they were of age — I thought, I can just drive away."
Tom denies being a sexual predator.
"If I'd have showed up at a house and I saw a 14-year-old and went behind the curtain — that, to me, would have been different," he said. "That would have proved something. To me, they went too extreme (in my arrest)."
The law requires that the prosecution prove that the defendant believed the person to be a child, and much of the proof, according to Rehnberg and Haroldson, can be found in the conversations.
At one point, Tom told the decoy that it's OK that she's not 18, he'd still like to get to know her, according to transcripts. He followed up with, "This probably isn't the best site for us to be talking on, any suggestions?"
Suspects talk about the legal consequences and try to get around them, Rehnberg said. They also learn about potential victims by inquiring about their family, home and school situations.
"They want to know where you live, they insist that you delete your conversations — stuff like that to cover their steps," Rehnberg said.
All six defendants are facing or have been convicted of online sexual corruption of a child. The crime in the second-degree indicates that the suspects, for sexual arousal, communicated online with someone they believed was a child and, in that communication, offered to meet in person. The more serious charge, first-degree child corruption, requires taking an additional "substantial step" to physically meet that person — such as showing up to a rendezvous point or, in one of the cases, purchasing a motor home while indicating plans to pick up the teenager and take her to Idaho.
The Newport Police Department arrested that man at his home because Rehnberg was afraid that the suspect would leave the state before being apprehended. According to the police report, the defendant in that case immediately launched into sexually explicit conversations online, sent nude photos of himself and spoke about a dozen times of ways he could meet up with the girl, such as wiring her money for bus fare and making it look like she ran away.
In that case, the defendant's court-appointed attorney, John Rich, argued in a motion to dismiss that the Oregon child corruption law is unconstitutional because it suppresses speech even in cases in which the speech does not cause harm.
The second-degree charge, he said, doesn't even require the defendant to have intent to follow through with meeting the person on the other end of the computer. The statute makes being aroused by online sex talk a crime, he said.
Rich argued in the motion: "The online sexual corruption statute does not require any harm; it does not require any sexual contact; it does not require an attempt at sexual contact; it does not require that the invitation of sexual contact be sincere; and it does not require that the defendant is actually communicating with a minor."
Rich declined an interview request from the Gazette-Times, in part because he still is working on one of the six cases.
Benton County Deputy District Attorney Mike Flinn responded that the words used in such online communications are not protected speech because they are being used to commit a crime — soliciting a child and having sexual contact with a child.
Additionally, Flinn argued, an adult having sexually explicit online conversations with children causes mental harm.
Rehnberg agrees. Some predators show up to meet children to have sex, while others stay behind a computer or smartphone. In Rehnberg's view, however, they both exploit children.
Benton County Circuit Court Judge Matthew Donohue ruled that the statutes are constitutional because they focus on preventing or regulating harm, something within the state's rights, and the statutes restrict adults from soliciting children for sexual purposes. In the wake of the ruling, the defendant entered into a plea deal and was sentenced to 18 months in prison.
Turer, the defense attorney who won the California acquittal, still believes that police have essentially invented a new class of crime.
"It's not really a problem until they create one," he said.
"Talking online like that doesn't indicate that you're a pervert," Turer said, adding that these investigations are "creating a whole new world of crime, which isn't necessarily appropriate because I think a lot of these guys aren't pedophiles, and aren't looking for children."
Though there are no solid numbers, online exploitation is a problem, Rehnberg countered, but it goes unreported. He said he could recall some cases in which local teenage girls were victimized after finding men online who gave them attention they weren't getting elsewhere.
"A lot of these victims — 13 to 15 years old — they're vulnerable, they feel like they have chosen to make this decision," he said. "They were pursued, they feel good — they were groomed. Then they meet these guys (for sexual purposes) and they're embarrassed and ashamed, and they may not come forward" to authorities.
"Our goal is ultimately always to protect children," Rehnberg said, and he added that he's "thankful" when his targets are communicating with him, because "they're not communicating with a child, they're not meeting with a child. The ultimate goal is prevention."
Tom took a plea deal so he could retain his benefits as a military veteran; he served 10 days and is on probation. As a felon and a registered sex offender, he's not allowed to see his grandkids or use the Internet, and he had to give up target shooting and give away his reloading equipment and 27 firearms.
Additionally, his 2007 Ford F250 was seized because he used the pickup in the commission of the crime.
The results of his full-disclosure sexual history polygraph test were inconclusive, but he's hopeful that when he takes the test again, he will pass and be allowed to see his grandkids.
"I got the shaft in this whole deal," he said.
Meanwhile, Rehnberg wants to do even more to prevent online child exploitation. He has given one presentation so far and plans to give more — to parents, to teachers, to students — about the dangers online.
"The Internet and the iPhones that our kids are getting at 12, 13 and sometimes younger are creating an avenue for criminals to get into their homes and into their bedrooms," he said. "We need parents' help and involvement in these cases with their kids in education and prevention."