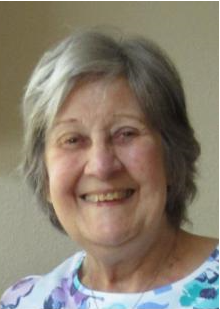 December 7, 1933 – June 6, 2020
Vera McLean, 86, of Albany, Oregon, passed away peacefully on June 6, 2020 at Samaritan Evergreen Hospice, surrounded by her loving family, after suffering multiple strokes.
Vera was born in Nottingham, England and grew up there with her younger sister, Brenda and younger brother, Richard, while World War II was going on across Europe.
Vera was "the love of his life" to Bill, whom she married in Nottingham in 1955, after they first met in a coffee shop. It was love at first sight for them both; Bill's favorite pet name for her was "Blossom." Vera and Bill went on the first of their many adventures together when they immigrated to Canada in 1957. While they lived in Ontario, Canada, daughter Sharon was born in 1958, and son Stephen followed in 1961. The family faced their next adventure when they immigrated to the United States in 1963, going on to live in Maryland and Georgia. In order to be closer to family, Vera and Bill moved to Arkansas in 1998 and Oregon in 2009.
Vera and Bill made many friends who would become family over the years, and frequently traveled back to England to see their extended family; some of these family members also came to visit them in America and traveled with them around the country.
Vera enjoyed flying in her daughter Sharon's airplane, especially along the Oregon Coast, and they had many fun vacations together in Colorado and all along the West Coast, Vera loved walking on the beach and in the mountain forests.
Vera was a great storyteller who loved to write memoirs about her interesting life and travels. She loved flowers and bird, especially hummingbirds, and had many feeders out to attract and enjoy them all. Over the years many dogs, birds, and a cat were rescued and loved by Vera and Bill, who became treasured furry and feathery family members.
Vera is survived by her loving husband Bill, her daughter Sharon, her son Steve, one grand-daughter, a sister and brother and spouses, many nieces and nephews and spouses, and grand-nieces and nephews, most of whom are still in Great Britain.
Vera was greatly loved and cherished, and she will continue to hold a special place in all of our hearts as she goes on to her next adventure.
To plant a tree in memory of Vera McLean as a living tribute, please visit Tribute Store.
Obituaries Newsletter
Sign up to get the most recent local obituaries delivered to your inbox.