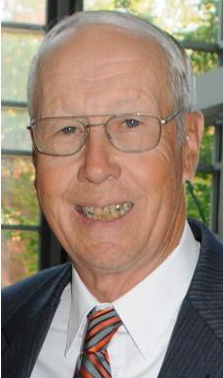 November 23, 1933 – June 11, 2020
Peter Johnson passed away at Regent Court on June 11, 2020. He was born to Mike and Marie (Wilcut) Johnson in Roseburg Oregon. Since his birth was during the Great Depression the hospital bill was paid by his father delivering split wood to the hospital and doctor.
The family moved to Greenleaf Oregon when Pete was one. His mother returned to teaching in a one room schoolhouse when he was four. Pete stayed home with his father, who was clearing land and Pete's job was to count dynamite sticks into groups of ten. All went well until one day Pete stayed behind the stump. Dynamite went off, he was very scared but unhurt. Reality, he was fired from his first job! He then went to live with his mother in a small trailer.
His father built a house by a picturesque covered bridge and Peter got to fish and swim in the river. There was no electricity in the area so they relied on a wood stove for cooking and a second one for heating. The house was lit with kerosene lamps. For bath night once a week, they heated water on the stove and used a large metal washtub. Electricity came to the area in 1938 and for the first time their house was illuminated with a single bulb attached to a long cord hanging from the ceiling. Shortly after they were able to purchase a waffle iron and a used washing machine.
Peter attended Triangle Lake Schools and graduated in 1950. He first attended Oregon College of Education in Monmouth to catch up in math and chemistry and later transferred to Oregon State and graduated in 1955 with a degree in chemical engineering. His first job out of college was with Shell chemicals in Martinez California and then Dymo Industries in Emeryville.
In 1956, on a blind date arranged by their roommates, he met Rosalie Rocca, a senior at San Jose State. They were married in 1958 and had two sons, Michael and David. They moved to Corvallis in 1971 and Peter worked for Evans Products.
In 1977 he bought land and he and his sons who were then in high school built their family home.
In 1980 in his garage, Peter invented a machine and process to make long lasting car batteries. He named his business TEKMAX, which went world wide.
Peter and Rosalie had a wonderful journey together of almost 62 years.He was very proud of his sons and their wives (Michael and Sue and David and Janet). He also loved his grandchildren (Ahzha and her husband Tyler, Bryce and his wife Nikki, and Dylan). Peter enjoyed supporting OSU, CBEE Engineering, Philomath and Corvallis Museum, Greenbelt Land Trust, Children's Farm Home, Ashbrook School, and the Albany Carousel.
He was a very caring role model who touched many lives and will be greatly missed. Contributions in his memory may be made to Lumina Hospice 720 SW 4th Street, Corvallis Oregon, 97333.
Obituaries Newsletter
Sign up to get the most recent local obituaries delivered to your inbox.