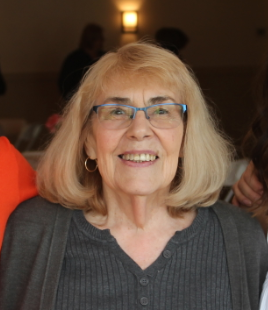 March 26, 1942 – May 26, 2020
Pam, 78, of Albany, Oregon passed away May 26, 2020. She was a wonderful woman, mother, "gram" and friend. She lived life to the fullest each and every day. She believed everyone had their own journey they were on and to make the best out of the circumstances you are in. She was strong, giving and kind.
Pamela was born on March 26, 1942 in Azusa, California. She was the daughter of Gladys and Robert Akin and the sister to "Butch" Akin. Pam's "journey" brought her to Oregon in 1978 after growing up in Southern California and spending a few years in Texas.
During her time in Oregon, she opened Linn Benton Business Services and her many clients naturally became her good friends. She was especially interested in genealogy and studied her family history extensively. Gardening, sewing and knitting were other hobbies she enjoyed. Her cats also brought her happiness and her home became known as the "Knofler Safehaven" for cats.
Pam is survived by her son, Ken Strahan, daughter-in-law Nancy, her daughters, Wendy Hughes and Nikie Strahan and her grandchildren Tyler Royer, Hanna Royer and Madeleine Strahan that were her heart and joy. She cherished the time she spent with her granddaughters Madeleine and Hanna making fudge at Christmas and going to dinner together. Those that knew her, can attest to how proud she was of them.
Pam was also a longtime friend with a group of 5 ladies that called themselves "Angels on Broomsticks." These ladies went from elementary school through high school together and beyond. With this group of 5 women she traveled annually to various locations over the past 45 years, each time being a highlight for her year. It was a bond to be admired, and she will be sadly missed.
A celebration of Pam's life is tentatively scheduled for late summer or early fall.
Memorials may be given in Pam's honor to Safehaven Humane Society, 32220 Old Hwy 34, Tangent, Oregon 97389. Online condolences for the family may be posted at www.fisherfuneralhome.com.
To plant a tree in memory of Pamela Knofler as a living tribute, please visit Tribute Store.
Obituaries Newsletter
Sign up to get the most recent local obituaries delivered to your inbox.