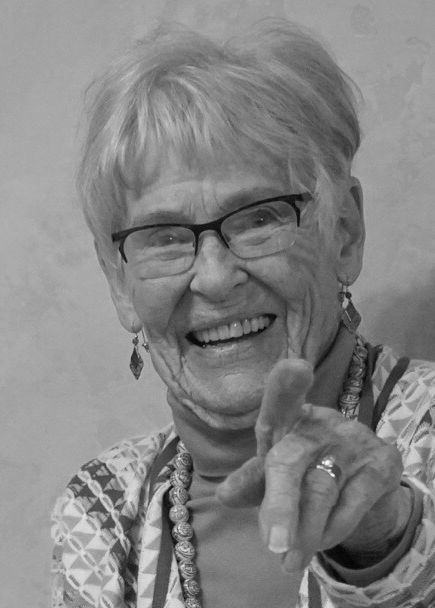 March 9, 1927 – May 12, 2020
Marolyn Welch Tarrant, 93, — wife, mother, mother-in-law, grandmother, great-grandmother, sister, aunt, friend, sailor, camper, environmentalist, political activist, community volunteer and two-time cheater of death — passed away May 12, 2020 in the Eugene home of her son Bob and daughter-in-law Sally.
Marolyn — yep, with an "o" — was born March 9, 1927 in Corvallis, Oregon, the second daughter of Ben and Gayle Schumacher. She lived in Corvallis her entire life until moving to Eugene's Willamette Oaks Retirement Community six months ago.
"I used to regret that I wasn't able to leave Corvallis," she wrote in 1999. "I thought someplace else would be more exciting. I now realize that it was where I was supposed to be."
She felt the same way about Eugene, where she moved last November. Interviewed a month ago about life without being able to leave her room for 37 days because of the coronavirus, she said, "If I have to be in lockdown, I can't think of a better place to be."
She was admitted to PeaceHealth Sacred Heart Medical Center at RiverBend on April 24 and diagnosed with atrial fibrillation. Unable to return to Willamette Oak, she lived her final 12 days at her son and daughter-in-law's house, assisted by PeaceHealth Hospice, which, by the way, rocks.
Marolyn had a "kick-the-can" childhood that she cherished — even though she lived most of it during the Depression. As a 15-year-old sophomore at Corvallis High, she was attending a back-to-school dance in the late summer of '42 when a few Oregon State College boys showed up uninvited. Among them was OSC freshman Warren Welch.
"He was the cutest guy I'd ever seen," she said.
In the school gym, they were dancing in front of the drinking fountain and the band was playing the Glen Miller favorite "At Last," a line of which says, "You smiled and then the spell was cast."
After the dance, as if in a scene from "It's a Wonderful Life," Warren walked her home, asking her if they could catch a movie the next night. Marolyn's mother squelched Welch. "You know we don't allow you to date college boys," she told her daughter.
"But, Mom," Marolyn protested, "he doesn't start school until Monday. Technically, he's not a college boy — yet."
"OK. But just this once."
After Warren's discharge from the Navy, the two were wed on August 11, 1946 at First Methodist Church in Corvallis. The "just-once" date became a marriage that lasted 50 years and two days. (In 2005, just before CHS was to be torn down and replaced, Marolyn bought the drinking fountain in the old gym for $78.13. And the couple's 22-foot Catalina sailboat was named "At Last.")
She attended Oregon State, where she was an Alpha Chi. Later, she became involved in what she would call her life's greatest achievement: "My kids." Daughter Linda (Crew), born in 1951, is an Oregon Book Award-winning author. Son Bob, 1954, is an author and was a longtime "Register-Guard" features writer, features editor and general columnist.
Marolyn was a Campfire Girls leader for 10 years and enjoyed the experience. "It allowed me, as an adult, to do all the fun things I did as a kid, like ice skating in Portland, without having to feel guilty."
She worked as a secretary for a handful of departments at Oregon State, including Landscape Architecture and Political Science, the latter of which named its library after her.
Marolyn loved family-and-friends camping trips at Detroit Lake, Suttle Lake and, particularly, Cultus Lake. It didn't take much to keep her happy. When the family would launch its 14-foot homemade boat each spring, she would — assuming the motor started — lean back like a Hollywood star and say with great flair, "I wonder what the peasants are doing today."
She could be quirky — in the best of ways. At Thanksgiving 1972, she showed up for son Bob's Turkey Bowl football game dressed in her 1942 CHS rally uniform, leading cheers that had not been heard since the time of the Roosevelt Administration.
In 1977, Marolyn was critically injured in an automobile accident after a day of cross-country skiing on the North Santiam Pass. Doctors cautioned family members that she might not survive the night. She spent months at Memorial Hospital in Salem and at Oregon Health & Science University in Portland, but ultimately returned to good health — and skied again.
A calligrapher, she had a handful of favorite sayings she liked to share. Among those she penned for friends: "Time is so precious that it is dealt out to us only in the smallest possible fractions — one moment at a time." And "We can't direct the wind, but we can adjust the sails." Asked for her favorite inspiration, she said, "I don't really think you can improve on the 10th Commandment: 'Do unto others as you would have others do unto you.'"
She and Warren sailed at Oregon's Fern Ridge Lake and Waldo Lake, Washington's San Juan Islands and British Columbia's Gulf Islands and Desolation Sound. Nearly every trip began with her saying the same thing: "I just love the sound of water on the side of a boat."
With her husband's reluctant blessing, she spent a week sailing the Virgin Islands as part of the Womanship program. Other favorite trips: plying the Inland Waterway from Charleston, South Carolina., to Jacksonville, Florida, with daughter Linda and the annual four-generation "Jungle Cruise" on Fern Ridge's Coyote Creek with her great-grandchildren.
In 1996, Warren died at Black Butte Ranch after he and Marolyn celebrated their golden anniversary.
Two years later, at 71, Marolyn once again nearly died when a tour boat she was on capsized in the Galapagos Islands. Four people drowned in an incident that made international news. After attending a handful of son Bob's Beachside Writers Workshops, she wrote a self-published Amazon-available book — "more like a pamphlet," she joked — about the incident called "The Survivors."
On November 30, 2002, she married a former OSU Department of Forestry professor, Bob Tarrant, whose wife had recently died of cancer. Their first date had been a hike in the hills north of Corvallis, for which Marolyn prepared a pot of soup just in case Bob wanted to stop by afterward. Later that evening, Linda phoned her brother. "Bob stayed for the soup!"
Bob Tarrant and Marolyn enjoyed trips to Hawaii, Nova Scotia, Puerto Rico and New Orleans; beach-walking in Yachats; and fishing with Bob's son, Chris, a guide on the Rogue River. Bob died April 6, 2006 at 88.
"No regrets," Marolyn said of the marriage, which lasted less than four years. "I'd do it all again."
Marolyn was the ultimate people person. In her northwest Corvallis neighborhood, she organized the neighborhood potluck for 49 years. To celebrate the 40th year anniversary of the beach cabin her father had bought in Yachats in 1936 for $500, she organized a family gathering that involved 16 events, leaving "thirty minutes for free time."
Except for Robert Redford, who sent her an autographed photo when she was recovering from her auto accident, she never fawned over celebrities. However, she had deep respect for President Barack Obama, Oregon Govs. Tom McCall and Oswald West, and Supreme Court Justice Ruth Bader Ginsburg, whose stand-up doll—on a skateboard—witnessed her final breath.
Her musical tastes ranged from The New Christy Minstrels to Pink Martini. Her local favorites were Corvallis musician Neal Gladstone and world-renowned trumpet player Chris Bottii, who grew up four houses away from the Welches and who was occasionally babysat by Marolyn's future daughter-in-law, Sally.
When asked for her favorite movie as a security question on accounts, Marolyn invariably chose "When Harry Met Sally." She particularly liked the "I'll-have-what-she's-having" line.
She volunteered as a Court-Appointed Special Advocate for Children, delivered Meals on Wheels and, into her 90s, volunteered at a Corvallis soup kitchen for the homeless. She donated to countless organizations, among her favorites the Corvallis Boys & Girls Club.
Marolyn became politically active in the late 1960s, among her first causes to help stop a proposed dam on the South Santiam River. A Democrat, she was active in League of Women Voters and served as president of the Corvallis chapter for two years. At 92, she testified against the building of a proposed student housing project on Oregon State's lower campus. She received a rousing ovation.
She liked politics but what really floated her boat was family. Besides her children and their spouses — Bob's wife, Sally, and Linda's husband, Herb — she is survived by five grandchildren: Ryan, and wife Susan, of Eugene; Miles, and wife Ziwei, of Corvallis; Jason, and wife Deena, of Eugene; Mary, and wife Jaci, of Portland; and Will Crew, of Bend. She had eight great-grandchildren — with a ninth in the oven.
In addition, she is survived by a brother, Bob Schumacher, of Eugene; nieces Julie Verhagen of Denver, Colo., Penny Welch, and husband Bill Southworth, of Portland, and Kathy Reed, and husband Tom, of Springfield; nephews Rob Schumacher, and wife Sherry, of Eugene, Steve Schumacher, and wife Johnna, of Columbia City, and Bill Welch and John Pesonen, of Portland; stepsons Brian Tarrant, and wife Cindy, of Bend, and Christopher Tarrant, and wife Eloise, of Eagle Point; and stepdaughter Stephanie "Taffy" Martin, and husband Larry, of Albany. A sister, Nadine Verhagen, preceded Marolyn in death.
In her own words, Marolyn's was a "wonderful life." For a book, when asked to recall her favorite memories, she wrote: "This space is really too small for that."
Donations in her name can be made to the Corvallis Boys & Girls Club, 1112 NW Circle Blvd., Corvallis, Oregon 97330.
Musgrove Mortuaries & Cemeteries of Eugene is handling arrangements. Marolyn's ashes will be spread in the Pacific Ocean at Yachats, were she had first played in the sand at age 7 and walked barefoot on the beach at 92.
To plant a tree in memory of Marolyn Tarrant as a living tribute, please visit Tribute Store.
Obituaries Newsletter
Sign up to get the most recent local obituaries delievered to your inbox.