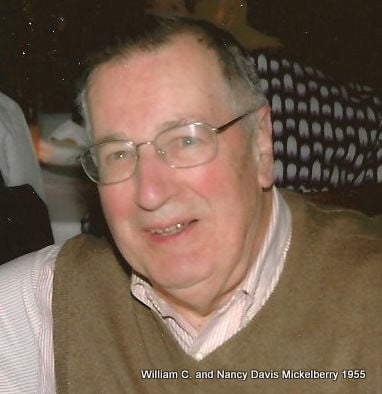 May 26, 1933 — January 19, 2020
Dr. William Charles Mickelberry, age 86, passed away at his home in Albany on Sunday, January 19, 2020. William, or Bill, as he was known by many, is survived by his beloved wife Nancy L. Davis, who he married in December 1958 in Yakima, Washington. Together, they had three sons and one daughter and just celebrated their 61st wedding anniversary.
Bill was a United States Navy Veteran who entered service in 1955 as a commissioned Ensign after completing ROTC at Washington State University and spent the next three years on active duty with the majority of his Naval Service at Naval Magazine, Subic Bay, and the Republic of the Philippines as a member of the Explosive Ordnance Disposal Command. Bill was also a Special Explosive Weapons Disposal Officer along with a rating as a Diver, Underwater Swimming and Deep-Sea Diving Officer.
Bill entered the Navy Reserve and served in a variety of Naval Reserve Units and was Commanding Officer of 3 separate units from 1958 to 1978 and retired with the rank of Captain, U.S. Naval Reserves, and is a life member of the Naval Reserve Association.
Bill graduated from Washington State University in 1955 with a B.S. in Poultry Science and after his military service earned his M.S. in 1960 and Ph.D. in Food Science in 1963 from Purdue University. While obtaining his Ph.D. from Purdue University, Bill moved his young family to Clemson University, where he was an Assistant and Associate Professor of Food Science research and a teaching appointment (tenured) from 1962 to 1968.
In 1968 Bill once again moved his growing family to Seattle, Washington, to work with Western Farmers Association as Corporate Manager of Product Development and had two research facilities he was responsible for. Bill provided new product development and product improvement in numerous commodities and preservation methods in support of some 13 foods processing plants from canned meat and poultry products to frozen vegetables. Bill also handled all food labels from the standpoint of legality, accuracy and regulatory approval. Bill also designed and had constructed a new state of the art Product Development Research Laboratory.
You have free articles remaining.
In 1973, Bill was offered a position with Oregon Freeze Dry Foods, Inc. in Albany, as the Manager of Product Development. During his career at Oregon Freeze Dry, Bill held the position of Manager Research and Product Development; Manager Technical Services; Manager of Distribution. During Bill's tenure with Oregon Freeze Dry, Bill had total responsibility for all food labels-legality and accuracy for all necessary regulatory approvals, principally the USDA and FDA, including export to Canada, Mexico and various European countries. Bill was also responsible for development of many freeze dry products for the company's recreation food line, industrial ingredients and U.S. Military foods. One would be hard pressed to name a food commodity with which Bill did not have experience in freeze-drying, either at the research or production level, from a wide variety of fruits, meats, poultry, eggs, seafood, cereal products, such as rice, fully cooked meals and entrees. Bill also did the basic design for a totally new two-story Food Research facility comprised of a pilot lab, two multipurpose product development labs, a pilot freeze dryer, dry product packaging room, walk-in freezers and office space for the entire research staff. Bill finished out his working career at Oregon Freeze Dry and retired in 1994.
Bill was a member of the Institute of Food Technologists (IFT) since 1959 and held multiple positions with IFT and was named a Fellow of ITP in 1993. In October 2006, Bill was the recipient of the Outstanding Food Science Award from Purdue University.
Bill was also active in the local community and at the state level. From 1989 to 1996 the governor appointed Bill to the Public Health Advisory Board -Oregon Health Division and Bill spent two of those years as Chairman. At the local level, Bill was involved and chaired the task force to bring a new fairground to Linn County in addition to serving on the Linn County Food Services Advisory Committee, the Linn County Health Council and the Salvation Army Advisory Board. He was also on the Board of Directors for Eola Hills Winery serving as Board Secretary.
Bill was also heavily involved in the Greater Albany Rotary Club since 1979 and has held most of the positions within the club from President to Treasurer. He is also an honorary Member of the Francisco Beltrao, Brazil Rotary Club and Francisco Beltrao III Milenio, Parana, Brazil for his efforts in bringing low cost shelter, affordable housing and literacy projects to Brazil.
At the District Rotary Level, Bill held multiple positions from District Governor, to various committee chairs to leadership Academy instructor.
At the Rotary Foundation National Level, Bill held positions as Zone Coordinator, Humanitarian Grant Program project leader and Permanent Fund National Advisor for Zone 23 to include Alaska, Washington and Oregon. Bill attended Rotary International Conventions with Nancy all over the world to include Glasgow, Scotland; San Antonio, Texas; Singapore and his home state of Portland, Oregon.
Bill was born May 26, 1933, in Seattle Washington to Herschal Mickelberry and Emily Rose Isabella Blunt. Bill is survived by his loving wife of 61 years, Nancy; son David and his wife, Ruth, of Madison, Virginia; grandson Taylor Mickelberry of Ashland, Virginia; granddaughter Sarah Mickelberry of Madison, Virginia; and granddaughter Caroline and husband Buddy of Derby, Kansas; son Thomas of Green Cove Springs, Florida; and son Patrick and granddaughters Hunter and Hayden Mickelberry of Albany; sister Joyce Irene of Washington and brother Robert Lawrence of Colorado. He was preceded in death by his parents, Herschal and Emily; daughter Marcella Mickelberry; and sister, Grace Eva.
Memorial services for Dr. William C. Mickelberry will be held Friday, January 24, 2020, at 10:30 a.m. at Neighborhood Church, 2815 Pine Street SE, Albany OR 97322. Burial will follow at Twin Oaks Memorial Gardens, 34275 Riverside Drive, Albany, OR 97321, with military honors. Friends may visit with the family on Thursday, January 23, from 2 to 5 p.m. at AAsum-Dufour Funeral Home, 805 SW Ellsworth St., Albany, OR 97321.
To plant a tree in memory of William Mickelberry as a living tribute, please visit Tribute Store.
Obituaries Newsletter
Sign up to get the most recent local obituaries delievered to your inbox.