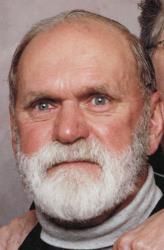 Jan. 11, 1936 – Nov. 8, 2014
"Bo" Laurance Ralph Bolen passed away from a heart attack on Saturday, Nov. 8. He was 78 years old.
Bo was born in Minnesota, to Roy and Huldie Bolen. He served in the U.S. Army. After his honorable discharge, he moved to Oregon in October 1962. He met Sharon Dillard in September 1965 and married her in February 1966. Together, they had four children, Steve, Curtis, Teresa and Michelle.
Bo was a sheet metal worker by trade and worked for Finsteads for a number of years. He was an avid fisherman, which is why he was able to start his first business "Bo's Anchor Release." He received a patent on it in September 1981. He has been lucky enough to ship them all over the world. The last number stamped on his anchor release system was 17,615. He was also a bird watcher, which is why he started his second business of "Hummer's Heated Delight" in January 2013. He loved his hummingbirds.
If there is a way to describe Bo, it would be that he was an amazing individual. He would stop what he was doing to help anyone else out anytime. He guaranteed all of his products—one of the main reasons his businesses were so successful. If you asked him about his biggest achievement, he would tell you that it was his family. He believed that he was the most spoiled man alive. He always commented on how happy he was. He never complained. He always felt blessed and he had the biggest heart. He was an incredible role model for everyone he came into contact with. His shoes will be impossible to fill.
Bo is survived by his wife, Sharon; his son, Steve Wacken; daughters, Teresa DeVaney and Michelle Fisher; siblings, Vern, Don and James "Tim" Bolen, Lucille "Cookie" Puent and Laurel "Lolly" Cavallin, all in Minnesota; eight grandchildren, Justin Bolen, Mark and Julie Wacken, Chase, Dawson and Josie-Beau DeVaney, and Danika-Larie and Braylie-Lawren Fisher; three great-grandchildren, Ava and Alexa Ausmus, and Curtis Bolen; as well as many nieces and nephews, cousins, aunts and uncles.
He is preceded in death by his parents; and son Curtis Bolen.
Bo's service will be at 1 p.m. on Tuesday, Nov. 18, at Good Shepherd Lutheran Church, 1910 34th Ave. S.E., Albany. Pastor Laura O'Brien will officiate.
All contributions can be made in lieu of flowers to Evergreen Hospice, in care of Fisher Funeral Home, 306 Washington St. S.W., Albany, OR 97321.
Memories of Bo can be posted online at www.fisherfuneralhome.com. We will also be asking people to write down their special memories on a card that will be provided at the service.
Obituaries Newsletter
Sign up to get the most recent local obituaries delivered to your inbox.