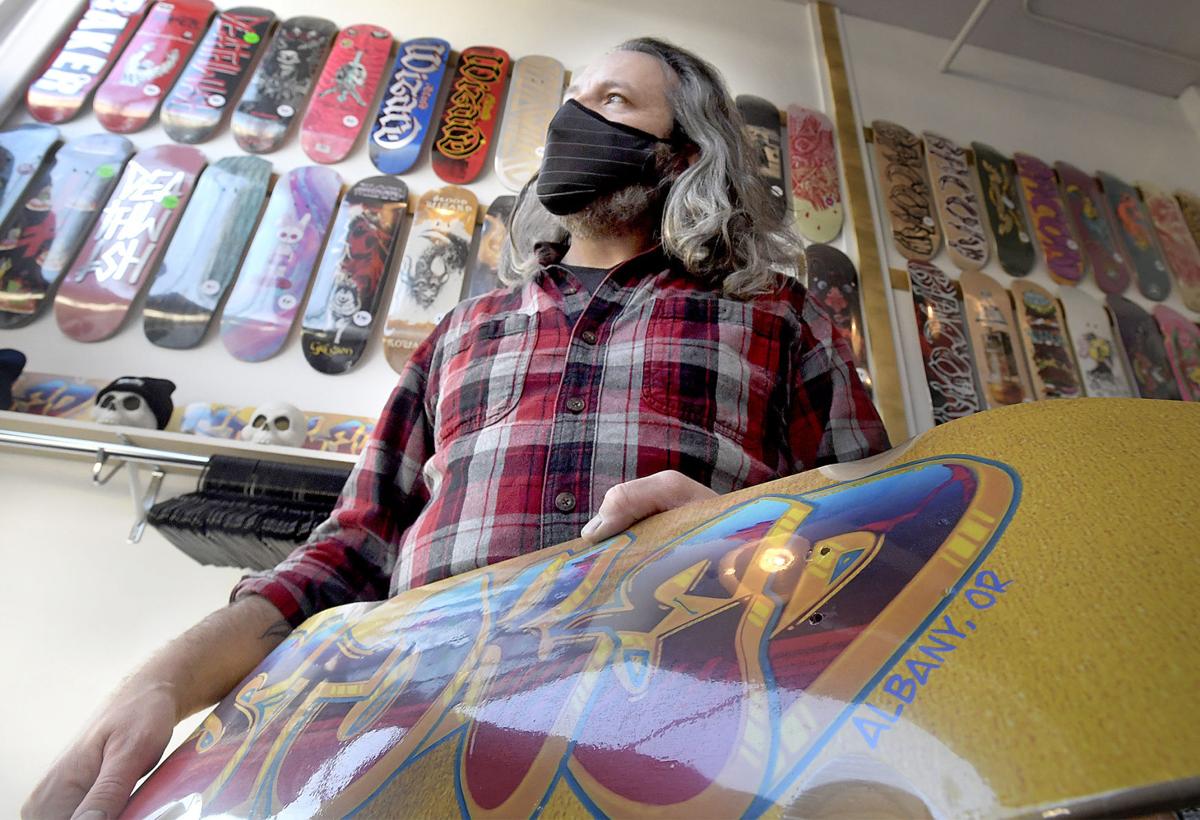 It was just a couple weeks ago that new Albany business owner Josh Slamp was hanging out at the Albany Skate Park with his 11-year-old son, Rocco. Slamp was taking a break from skating when another kid came up to him and said Slamp, 47, had to be the "oldest skater" the boy had ever seen at the Albany park.
Slamp took it as a compliment, and it's this legacy of skating that he hopes to bring to life with his new downtown storefront, Stoked 2 Sk8, located inside the Two Rivers Market business complex on Broadalbin Street.
The temporary sign for Slamp's business is made out of an old board he  skated on for years. While he plans to have a larger sign for his front window at some point, he said this is a good way to celebrate where he came from and how he's rekindled his passion for skating.
He has his son, in part, to thank for that. As his boy got into skating, Slamp himself started to get back onto a board and realize just how "rusty" he's gotten — but also how much he missed skating in the last 20 years he's spent working in the window drapery business and raising a family.
It's that rekindled passion that helped him realize how much Albany is thirsty for a skate shop.
"There's nothing really youth-centric in downtown Albany and kind of Albany as a whole … certainly nothing skate oriented. Thankfully it's more accepted than it was when I was younger," Slamp said. "There's less of a stigma … which is good. (Skating) is exercise, and it can be an art form."
Support local news coverage and the people who report it by subscribing to the Albany Democrat-Herald.
Stoked 2 Sk8 primarily sells boards and hardware, though Slamp is also a big advocate for skating safely, so he sells protective pads too.
"I always tell kids that if you really like to skate, you shouldn't care about not looking cool" by wearing pads and a helmet, Slamp said. "If you get hurt, you can be out for a week, a month, even years."
While there are some branded T-shirts and hoodies, Slamp said more apparel will likely be added to the inventory in the future.
The main attraction is the dozens of boards that line the walls, varying in size, shape and design. There are the classic "popsicle stick" ones that you probably picture when you think of a skateboard, but there are also boards with pointed tips, wheel wells cut into the wood that reduce wheel bite and many other specialty shapes.
There's even an "old school" boards section, with re-releases of the same kinds of Hosoi and Lucero branded boards that Slamp used in his youth.
"I try to accommodate a little bit of everything for all different kinds of skaters," he said.
Some of the most iconic art that goes into making boards is the design that's found on their undersides. For his inventory, Slamp has partnered with local board makers in Oregon and the rest of the Pacific Northwest, something that was difficult to do until he secured his storefront.
When Slamp first started skating during the 1980s and '90s, designer boards were few and far between. But skate culture has since gone mainstream — with televised X Games popularizing the sport and the Summer Olympics adopting skating events — leading to a boom in skateboard production, even locally.
The store also has an old PlayStation 2 loaded up with the old Tony Hawk Underground and Pro Skater games that inspired many teenagers, part of a way to draw people in and make the space into a hangout spot for local skaters.
Slamp points to that commercialization as a big reason opening a skate shop is so needed for Albany, which has been without one since another downtown skate shop, On Deck, closed down, he estimated in 2003.
"To have something to bring more of us together is crucial. … We're too reliant on online and big corporations," he said. "So it's nice to have something smaller, more community-based."
The store will host its grand opening noon Saturday, Oct. 16.
Troy Shinn covers healthcare, natural resources and Linn County government. He can be reached at 541-812-6114 or troy.shinn@lee.net. He can be found on Twitter at @troydshinn.