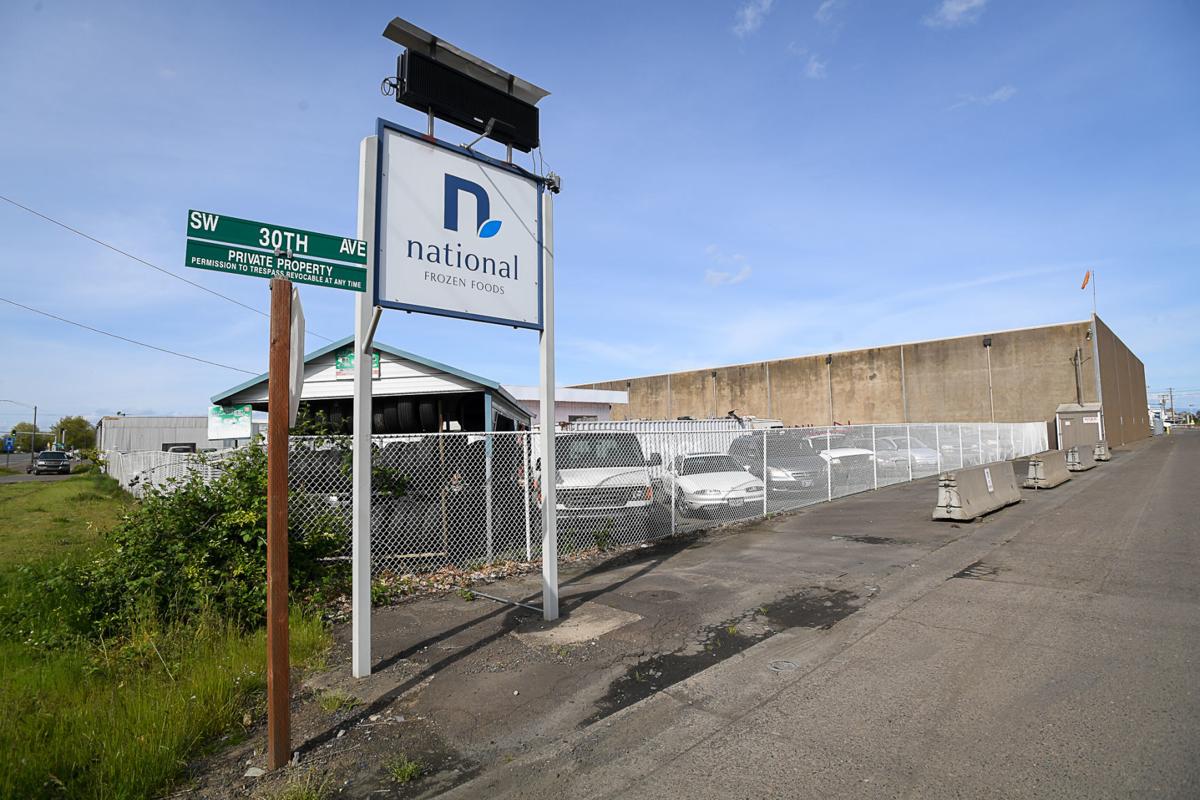 The National Frozen Foods plant in Albany has shut down production for an undetermined amount of time due to an outbreak of COVID-19 that has sickened 10 people, Linn County Public Health announced in a news release on Friday afternoon.
Of the illnesses linked to the plant, eight are workers and two are people associated with those employees.
Employees who are reporting illness will be tested, the news release states. The shutdown was a voluntary action taken by National Frozen Foods.
"It was not an order. We just worked in cooperation with them," said Capt. Michelle Duncan of the Linn County Sheriff's Office, Linn County's coronavirus pandemic spokeswoman.
Steve Schossberger, general counsel and vice president of National Frozen Foods, said that the voluntary shutdown started on Friday and will continue at least through the weekend. A deep cleaning of the Albany plant will be conducted with the oversight of Linn County Public Health, he added.
"We'll look at opening back up on Monday, but only on automated lines. ... That's still yet to be determined," Schossberger said.
On the automated lines, workers would be stationed at least 20 feet apart from each other, he said.
Schossberger said that it was unclear whether family members of National Frozen Foods employees transmitted the illness to workers.
In a prepared statement, Linn County Commissioner Will Tucker expressed sympathy for employees and their families at National Frozen Foods.
"Our health officials are committed to working with the company and OHA to restart production in a manner that will ensure the safety of the workers," Tucker said.
Employees will be notified by National Frozen Foods regarding how to get tested and the next steps of the process.
Oregon Occupational Safety & Health, a division of the Department of Consumer & Business Services, is investigating workplace safety complaints regarding the coronavirus, social distancing and other safety precautions at the plant, said Michael Beranbaum, secretary-treasurer for Teamsters Local Union No. 670, which represents about 270 workers at National Frozen Foods.
He added that an Oregon OSHA investigation does not mean there are problems at the facility.
"They're doing the steps we've asked of them, which is the temporary closure and the full deep clean, so that it's safe for our members to come back," Beranbaum said in a brief interview on Friday. He added that workers who return will be in full personal protective gear. 
An April 16 memo from plant manager Larry Hargreaves to National Frozen Foods employees obtained by the newspaper discusses two initial confirmed cases of COVID-19 at the facility. "We have verified with the Health Department we should continue our regular work schedule. If you feel you have been exposed and need to self-quarantine, please inform the HR department," Hargreaves wrote.
The memo details steps the company is taking to limit exposure of COVID-19 to its work force, including increased sanitization in high-traffic areas, providing face shields, keeping employees 6 feet apart as much as possible and making hand sanitizer available. "If we follow the guidelines that are in place, we greatly reduce our risk to exposure," Hargreaves concluded.
Workers at National Frozen Foods have contacted the newspaper saying that they are concerned with their safety and potential exposure.
National Frozen Foods opened its Albany plant in 1982. The facility, at 745 30th Ave. S.W., sits on about 20 acres off Pacific Boulevard.
The plant puts out millions of pounds of frozen produce each year. During a good day in the summer, the facility can churn out a million pounds of beans alone, according to a 2012 article.
National Frozen Foods' Albany plant processes beans, cut corn, squash, vegetable purees and cream-style corn, according to the company's website.
Other hotspots for coronavirus in the mid-Willamette Valley are the Edward C. Allworth Veterans' Home in Lebanon and Corvallis Manor, a nursing home in Corvallis.
The Lebanon veterans' home had 36 cases and six deaths associated with it, according to a report released on Tuesday by the Oregon Health Authority. The number of cases includes residents and staff members.
Three of Benton County's COVID-19 deaths have been former residents of Corvallis Manor. A statement on the facility's website explains that seven residents and five staff members have tested positive for the disease.