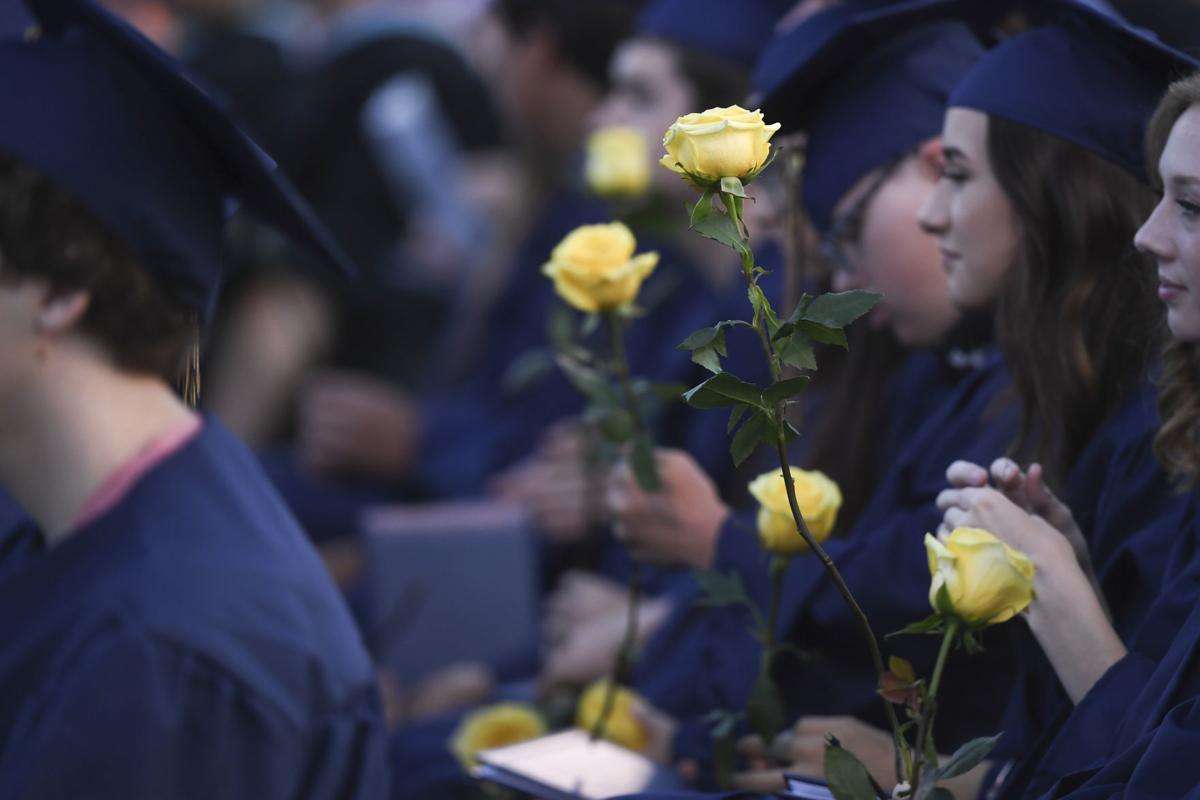 Schools in Corvallis and Albany saw more students graduate from high school in the 2018-2019 school year than in previous years, according to newly released data from the Oregon Department of Education. 
Oregon's graduation rate — which has traditionally hovered at the bottom of the national rankings — crested at 80% last year, a high for the state. 
In the mid-valley, districts topped that number.
Greater Albany Public Schools saw 87.62% of its 785 student cohort graduate. That's an increase from 86.23% the previous year and includes gains for underserved students as well. 
Hispanic and Latino graduation rates climbed from just under 81% to 82.40% in 2018-2019. Students experiencing homelessness also saw an increase in graduation rates, from 81.1% to 82.84%. 
Last year, English learners in high school and students with disabilities were specifically targeted as a group for improvement for GAPS. Those groups saw a 17% and 9% gain, respectively. 
"I think this directly reflects the work schools have done in Quality Teaching methods (QTEL), and the more broadly this is embedded across the system, the greater success we expect to see," said GAPS Assistant Superintendent Lisa Harlan. 
"We are super-proud and excited at our graduation rates this year," she added. "We show marked improvement in almost every area."
Corvallis recorded its highest graduation rate ever with a rate of 89%, up from 87% the previous year. That number includes an increase in traditionally underserved populations as well.
The graduation rate for Hispanic and Latino students jumped 5 percentage points, from 84% to 89%. English learners also saw a big increase with 47 of the districts 48 students graduating, an increase from 92% the year before. 
You have free articles remaining.
"This impressive gain has a lot to do with our dual language immersion program and the collective efforts to pay attention to what students need in order to succeed," said Superintendent Ryan Noss.
"These students benefit from the work our district is doing including teacher collaboration and programs like AVID and JUNTOS that engage families as well as students," he added, citing programs aimed specifically at helping first generation and Latino graduation rates. 
The ODE report highlighted both challenges and successes for the district, noting a stagnant 68% for the third year in terms of graduation rates for students with disabilities. 
Students navigating poverty, however, saw an all-time high with a rate of 78%.
"Our high schools have been focused on the success of each student. Data teams that track student progress and ensure supports are in place are making a big difference," said Noss. "Along with school-level supports, the Corvallis Public Schools Foundation plays a vital role in bringing targeted resources to meet a variety of needs."
He added, "I am proud of the work of Corvallis School District staff and their commitment to each and every student.  More Corvallis students are graduating because of our belief that when students are known and feel connected, they have greater academic success. We have incredible students and our entire community should be proud of them and have great confidence in their future."
Alsea School District's rate decreased from 50% to 37.25% though smaller districts like Alsea can experience wide swings in percentages due to the small number of students enrolled. A handful of students could equate to a large increase of decrease in any given rate. 
Monroe School District increased its graduation rate as well, reporting 87.10% up from 86.49% joining Philomath which increase approximately two percentage points to 90.30% and Sweet Home, which saw a giant leap from 70.83% in 2017-2018 up to 84.52% in 2018-2019. 
Lebanon School District jumped to 77.50% from 76.74% the prior year. 
The graduation rates include only those students who graduated within four years. Five-year completer rates were not included but often show a dramatic increase for alternative schools like Albany Options School, where students may transfer after becoming credit deficient at comprehensive high schools. 
AOS' four-year graduation rate was 55.96% in 2018-2019, representing more than a 10 percentage point increase from the year before when its rate was 43.3%. 
"I am so fortunate to work with such a great staff and group of students," AOS Principal John Hunter said. "Every year we try to refine and reevaluate our practices to better serve the ever-changing needs of our students. While the graduation and completer data is only one indicator of our hard work and success, I am confident that the work we are doing at AOS every day is making a significant and positive impact on our students and on our greater community. I am so proud to be the principal of AOS, where we are one of the leaders of credit recovery alternative education in the state."