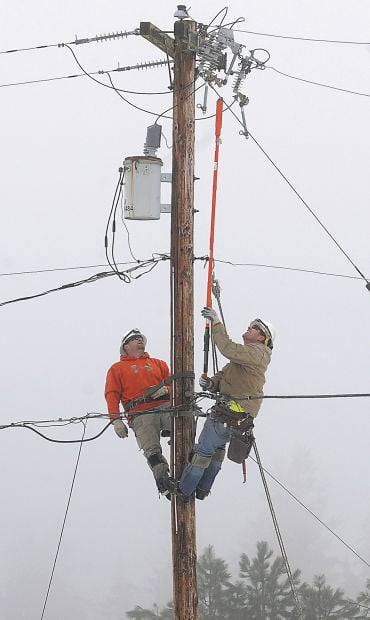 Weekend snow and ice storms haven't finished wreaking havoc across the mid-valley, although road and power crews say they hope for a slowdown soon.
With a good foot of slush remaining on side streets throughout Linn County through much of Sunday, most mid-valley school districts — including Albany, Central Linn, Corvallis, Jefferson, Monroe, Lebanon, Philomath, Scio and Sweet Home — stayed shut another day.
Alsea and Harrisburg schools are on a 2-hour delayed start.
Linn-Benton Community College and Western Oregon University are closed. Oregon State University and the University of Oregon are open.
Power was expected to remain out today in some parts of Sweet Home, Brownsville, Halsey and Corvallis. Albany, Jefferson and Scio customers were to be back up Sunday night.
Pacific Power crews traveled to the mid-valley from Ashland, Medford, Roseburg, Coos Bay, Klamath Falls and Portland to help get power back on.
All together, the utility company said, more 120 crew members are on the job, some of them round the clock.
"With the melting that's gone on, you fix something and you go back and half an hour later, another one's gone down on the same street. So you're not necessarily gaining in numbers," Pacific Power spokesman Tom Gauntt said Sunday. "It's roughly the same numbers as yesterday, but hopefully different people."
At least 2,500 Linn County residents remained without power at 6 p.m. Sunday, mostly in the Sweet Home area, and another 1,800 were still out in Corvallis.
Crews with the Oregon Department of Transportation worked overtime all weekend, reducing snowpack on state highways. Drivers are warned to watch for spots of ice and slush, and some county and side roads may still be covered, but the key highways in Linn, Marion and Lane counties have been brought back to bare pavement.
The Democrat-Herald received reports of ice and snow caving in at least six barn roofs in various locations Sunday around Linn County. Road crews are warning drivers to watch for fallen trees and tree limbs.
Rick Spaziani of Lebanon reported losing his family's favorite oak tree, the one they called the "family planner" for the hours spent underneath it talking about future plans.
"Through the years we all jumped into the hammock and watched the leaves above. Every spring we would all watch quietly in the hammock as the mother Western Blue bird fed her chicks in the bird house. It was the perfect backdrop to Snow Peak," he wrote in an email to the Democrat-Herald. "There were quite a few trees damaged but I would of traded all of them for our 'family planner'."  
Fire stations received more than 30 calls about downed wires and another 15 for trees or power poles ablaze between midnight Saturday and 2:30 p.m. Sunday.
Battalion Chief Scott Cowan at Albany Fire Department's Station 11 said Albany firefighters officially responded to 38 calls Saturday and 12 Sunday, but probably doubled that total unofficially.
Firefighters would respond to a request to assist a motorist, for instance, and in some cases ended up driving the person home if the car could not be unstuck, Cowan said. In at least two cases, firefighters drove people who otherwise would have been trapped to Urgent Care. Another got a lift to her job as an in-home caregiver.
The trips are not part of a firefighter's regular job, Cowan stressed. Residents can't call on the fire department for transportation needs under normal circumstances.
But in an emergency, he said, staffers were glad to help out. "We're just out there making sure the community's taken care of," he said.
Best of all, Cowan added, everywhere firefighters went, they saw other people doing the same: pushing stuck cars, digging tires out, giving rides.
"The cool thing was a lot of neighbors helping neighbors," he said. "That's a good thing to see."
Jennifer Moody is the education reporter for the Democrat-Herald. She can be reached at 541-812-6113 or jennifer.moody@lee.net.