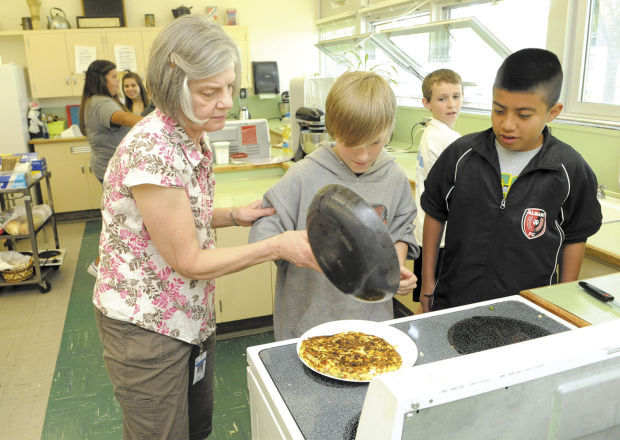 Calapooia Middle School's Rosalind Robbins earns 2013 Teacher of the Year for her work preparing kids to live independently and healthy
The name has gone from "home economics" to "family and consumer sciences," but what hasn't changed is what students learn in Rosalind Robbins' classes: skills for life on their own.
Through her Foods class, the Calapooia Middle School teacher shows students not only how to cook, but the elements of healthy eating.
Robbins' students practice their math skills through measuring and budgeting. They practice new vocabulary, reading for information and following directions. They develop skills in cooperative learning and in problem-solving.
Best of all, at the end of each lesson, they set the table, sit down together and eat something healthy they've learned to make themselves.
Yet Robbins, 64, who has been named Oregon's 2013 Teacher of the Year for Family and Consumer Sciences, said she doesn't feel deserving of the statewide honor.
"Until you reach every kid, you never feel like you're great. There's always kids you can't quite reach," she said with a wry smile.
At Calapooia, however, students learn a great deal. Their lesson on May 2 taught them that a Spanish "tortilla" is a savory mixture of eggs, potatoes and peppers.
Sixth-grader Moises Mendoza, 11, who said he took the class to help out at home when his mom works late, said he wasn't sure about Robbins' poblano chile chicken recipe at first, but it turned out to be great.
And Charlie Solomon, 12, said he thinks his teacher definitely deserves the state award. "If I could vote, I'd vote for her," he said.
Robbins said some of her students have never peeled a potato or washed a dish or even wiped down a counter before taking her class.
She worries about the drastic spikes she's seen in childhood obesity, diabetes and high cholesterol levels, things that were unheard of when she was in school. She worries about low-income families who rely on high-fat, high-cost fast foods because they don't know how to make an inexpensive meal at home.
When she retires at the end of the school year, she said she'll miss the students the most.
"I do love the kids," she said. "It's not just a job for money."
Robbins did her undergraduate work at Brigham Young University, then decided to apply for a home economics scholarship in Yreka, Calif. She got it, enjoyed the work and began to look for teaching positions.
She did substitute work at West Albany High School for several years and has taught child development and consumer finance in addition to foods. She's been with Greater Albany Public Schools for 15 years, most of those with the alternative program that became Albany Options School. She joined the Calapooia faculty about nine years ago.
It's been a great job, she said, but she's ready to retire, to spend more time with her husband, children and grandchildren.
"She will be greatly missed," Assistant Principal Leo Huot said. "We're committed to keeping this program ... but whoever follows her is gong to have a lot to live up to."
Jennifer Moody is the education reporter for the Democrat-Herald. She can be reached at 541-812-6113 or jennifer.moody@lee.net.