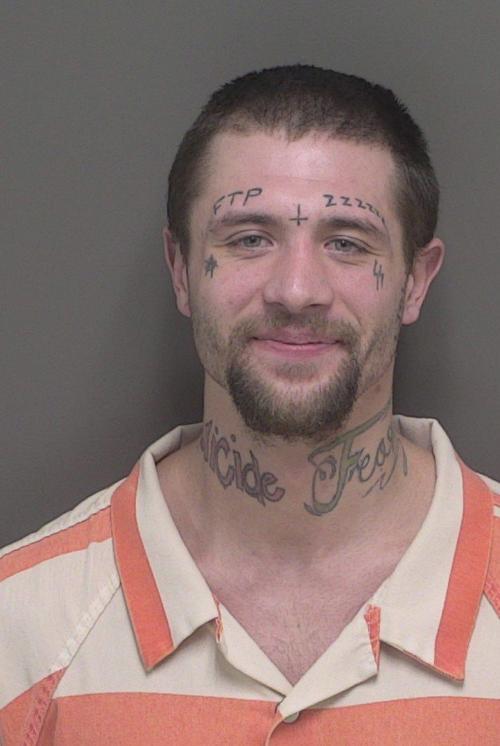 A Lebanon suspect has been accused of causing the Champion Mill fire in February, which destroyed a shuttered 50,000-square-foot building at the property behind the Lebanon Walgreens.
Owen Daniel Mercier, 23, was charged with second-degree arson and first-degree criminal mischief in Linn County Circuit Court on Tuesday afternoon.
Mercier was taken into custody on the charges by the Lebanon Police Department and lodged in the Linn County Jail on Friday.
On Monday afternoon, the last remaining 8,500-square-foot building at the Champion Mill property in Lebanon — the site of illegal homeless camps, according to authorities — was scorched by another fire.
You have free articles remaining.
Authorities believe that squatters in the structure may have caused Monday's blaze. The fire was reported at about 2:50 p.m. and firefighters from Lebanon, Albany and Sweet Home helped save the structure. "Based on the information gathered from our investigation it is possible that this fire was caused by a warming fire which was either left unattended and spread or simply got out of control," said Lebanon Fire Marshal Jason Bolen, in a news release.
Bolen said in a previous interview that the Feb. 25 fire also might have been caused by people trying to stay warm in the aftermath of a winter storm that dumped snow on the mid-Willamette Valley. "When cold weather hits like this and when we have properties known to have transient individuals moving through them, it's a possibility it was a warming fire and that could have been the cause," Bolen said.
Court paperwork alleges that Mercier intentionally damaged a mill building by starting a fire or causing an explosion, and the damage to the property was $10,000 or more.
On Tuesday afternoon, Mercier also was arraigned for probation violation and, in a separate case, for first-degree trespass and two counts of failure to appear. The trespass allegedly occurred in March in the 400 block of Gilbert Street near Lebanon. Mercier and two other men were staying in a house where the residents had been evicted and the structure was boarded up.
The Champion Mill property is believed to have been recently remitted to Linn County due to unpaid taxes, according to the Lebanon Fire District.
Another fire in 2008 destroyed a different 50,000-square-foot building on the property.
Get local news delivered to your inbox!
Subscribe to our Daily Headlines newsletter.