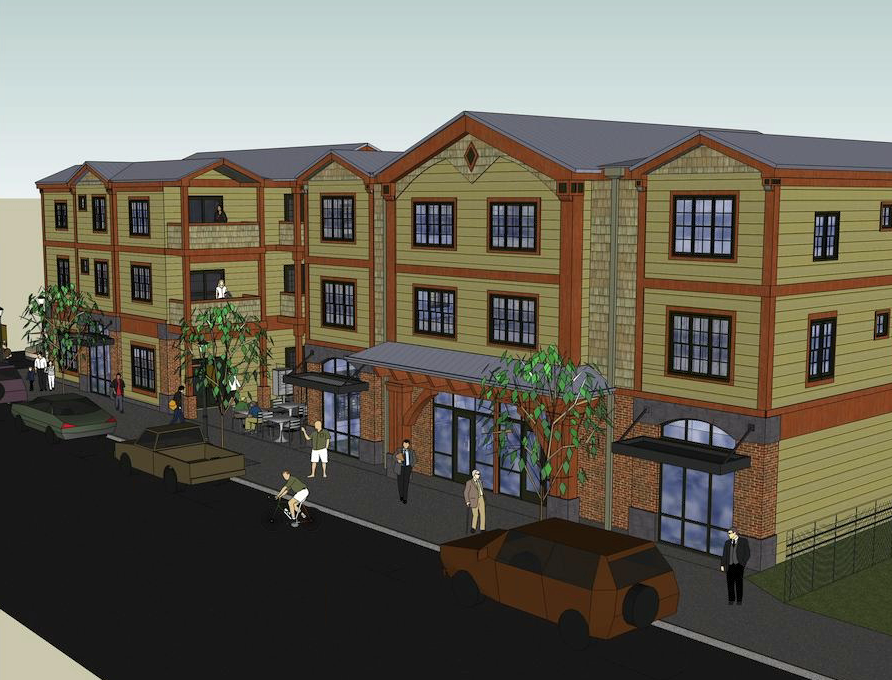 After two hours of public comment and additional discussion from the board, the Albany Landmarks Commission denied plans for a new development in downtown Albany. 
The project, headed by Mark and Tina Siegner, would have replaced three historic houses at the corner of Calapooia Street and Fourth Avenue. The property was the subject of intense back-and-forth between the city, the commission and the Siegners, with the state Land Use Board of Appeals stepping in as referee last year.  
On Tuesday, the commission continued its public hearing on plans for the lot, now empty after the three houses were demolished in June. 
The Siegners, with Commissioner Bill Ryals — who recused himself — presented plans to build two three-story buildings on the site. 
Arguing that the property was zoned for mixed use and that the plan met all the necessary criteria, the developers said upper floors would include apartments and the ground level would incorporate retail and a courtyard. 
On May 8, the commission discussed the project for over two hours, remotely hearing testimony for and against the project. Additional public comment was taken on Tuesday that stretched for just under two hours and was divided nearly evenly. 
Concerns about the project included its impact on the historic neighborhood, issues with the unhoused loitering and its size — a sticking point that ultimately saw four of the six commissioners vote against the project. 
"As far as size and scale, I think it's too large for the neighborhood," said Commissioner Cathy LeSuer, adding that she was in favor of multiuse projects but that the proposal as presented detracted from the neighborhood. 
Chairperson Kerry McQuillin summed up the board's deadlock by noting members were split on whether city code was advice or a finding. 
"I think it's finding," she said, adding that she appreciated the amount of time and work the Siegners put into their project and presentation.
Commissioner Jolene Thompson redirected the board to what she described as its job, saying, "The root fundamental fact exists — this does not fit a national historic district. ... These are often very simple decisions. The decision may make a lot of people angry, but it's an easy decision. As presented, these (buildings) don't belong here." 
The commission denied the plan 4-2, citing its size. 
The Landmarks Commission's decision can be appealed to the Albany City Council. 
Get local news delivered to your inbox!
Subscribe to our Daily Headlines newsletter.