Albany's first tiny home village is one step closer to construction after receiving the green light from the Planning Commission.
Commissioners unanimously approved at their Monday, April 17 meeting a plan to construct 27 tiny homes for those experiencing homelessness.
Spearheaded by the nonprofit The Creating Housing Coalition, the project is described as a "self-governing, self-sustaining, democratic co-op" by Gary Goby, land development chair of Creating Housing Coalition.
Residents will also serve as board members, making decisions about the community they live in. The tiny home concept has been a success in Eugene, Goby said. He is confident it could be in Albany too.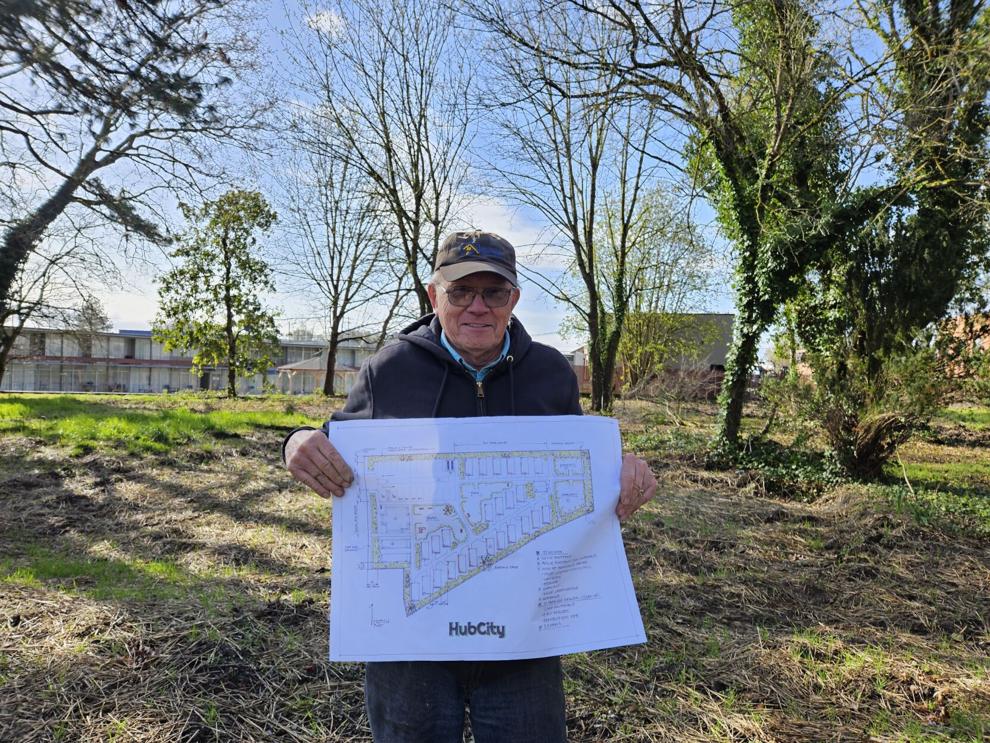 "The intent is to empower people to work together in a co-operative," Goby said.
Who will live there?
A selective process will determine who gets to live in the tiny home village, Goby said. Prospective residents are referred, then there is an application process with vetting, followed by interviews.
That said, they're not just looking for one kind of resident; there's a wide range of people who could be living there, Goby said.
Residents could be young adults aging out of foster care or veterans and widows who aren't able to make rent with social security — all who have experienced homelessness or are housing insecure.
Priority will be given to those who have experienced homelessness but have some sort of financial support — as long as they're making less than 30% of the area's median income, Stacey Bartholomew, president of Creating Housing Coalition, said.
Bartholomew, a former city councilor, currently serves on the Planning Commission and recused herself from the decision making at Monday's meeting.
The goal is to have rent prices be one-third of a resident's income, Bartholomew said.
"We wanted to make a permanent tiny home village people could afford," she said.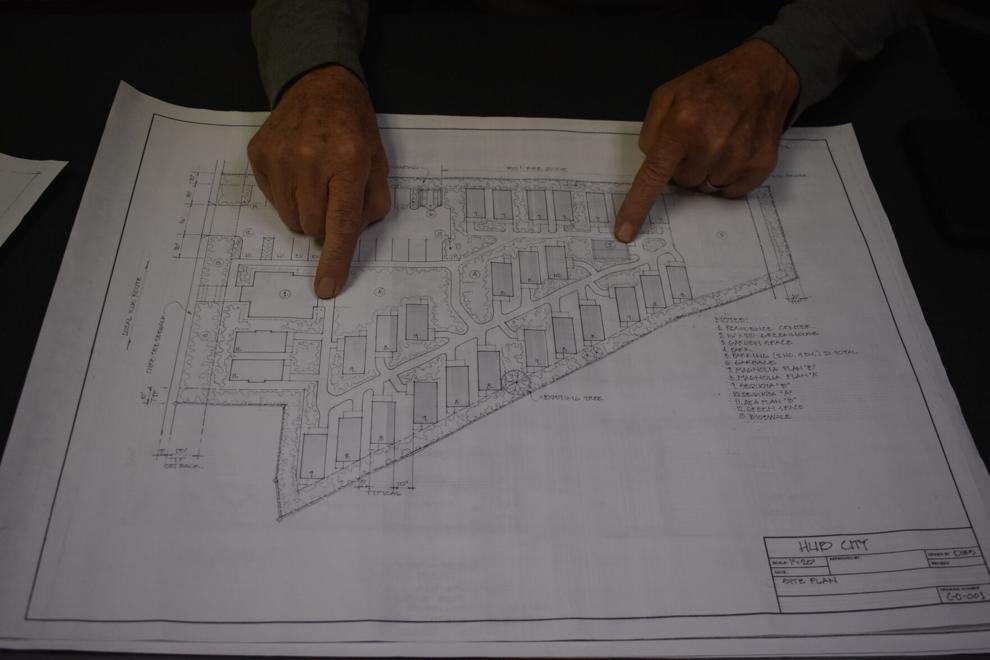 It's difficult for people to stabilize when people don't have stable housing, Bartholomew said. And even if they get off the street temporarily, there's no place to transition because they are limited by income.
Services will be available for residents, some of which aim to help them reenter society, Goby said.
"Some people have been pushed out so many times, and they get a chip on their shoulder," Goby said.
Those services may include anger management classes, literacy classes and learning how to set up a bank account and other practical life skills.
There will also be someone on site to help handle conflicts and reach resolutions, Goby said.
The intention is to create a self-sustaining village that won't need funds year after year, he said.
Making headway
Each tiny home is between 300-450 square feet. Two of the units will comply with the Americans with Disabilities Act and will be around 550 square feet.
Those units will have lower cabinets, accessible showers and spaces beneath counters where wheelchairs can more easily access, he said. All of the other amenities and homes will be able to be accessed by people with wheelchairs, he said.
Support local news coverage and the people who report it by subscribing to the Albany Democrat-Herald.
With a 2024 completion date, there's still some prep work needed before construction.
At the site of 241 Waverly Drive SE, gone is the house overgrown with vegetation. And gone are the discarded car parts, appliances and trash. They were removed early this year, according to Bartholomew.
Clusters of maple, cedar and pine scatter the 1.3 acres of land. Some willowy and covered with ivy, others towering 100 foot specimens. By the end of the week, they will be cleared to make way for 27 tiny houses, a residence center, garden and greenhouse.
Some commissioners expressed concern over the removal of more than 40 trees.
Goby said they are sympathetic to the removal of the trees, but there was no way to save them. Their spacing limited the number of proposed tiny homes on the property, he said. The roots are also an added issue, making it difficult to develop the land.
The goal, Goby said, is to plant more trees than are those scheduled for removal. And that isn't counting the brush and shrubbery that is intended to border the property, he added.
Goby's fingers traced the illustrations of shrubbery, garden and greenhouse on the site plan. Edible landscaping, such as apple trees, are also in the site plans.
While organizers are hoping for a 2024 debut, exact dates aren't secured because they don't have a contractor yet, Goby said.
A first
Hub City Village will be Albany's first tiny home community.
There are tiny homes in Sweet Home, but that model differs from Albany's plan. The shelter in Sweet Home is low barrier, meaning it accepts people who may be using drugs and alcohol. It's designed to be transitional. 
Goby acknowledges there have been some misconceptions of what Hub City Village will be, and some fear surrounding it. Some people ask if there will be more trash in the neighborhood, not understanding the project will have long-term residents and is a space for those who are trying to get out of homelessness.
For the most part, he said, people in the neighborhood are supportive.
"There's been almost no pushback," Goby said.
Goby said the nonprofit went door-to-door to discuss with neighbors the plans, and from those conversations, coalition members were able to explain the project's goals.
At the public hearing at the Planning Commission on Monday, no one voiced opposition.
When Bartholomew first got the idea for a tiny home village, she was trying to find a solution to a need, she said. Using her experiences working at Linn County Mental Health and a shelter in Corvallis, she became familiar with people on the street she said.
Humans need a space to be an individual but also crave community, she said.
After a tour at Emerald Village in Eugene, Bartholomew said "the lightbulbs went off."
The tiny homes give people a sense of "dignity and ownership," she said. That sense of ownership makes people want to care, she said.
Bartholomew hopes that after this project, there can be a tiny home village in every city ward.
The commission's nod was a pivotal one, Bartholomew said.
"I feel the support of the city and the community, and I look forward to Albany engaging with the members of the village," she said.
Related stories: