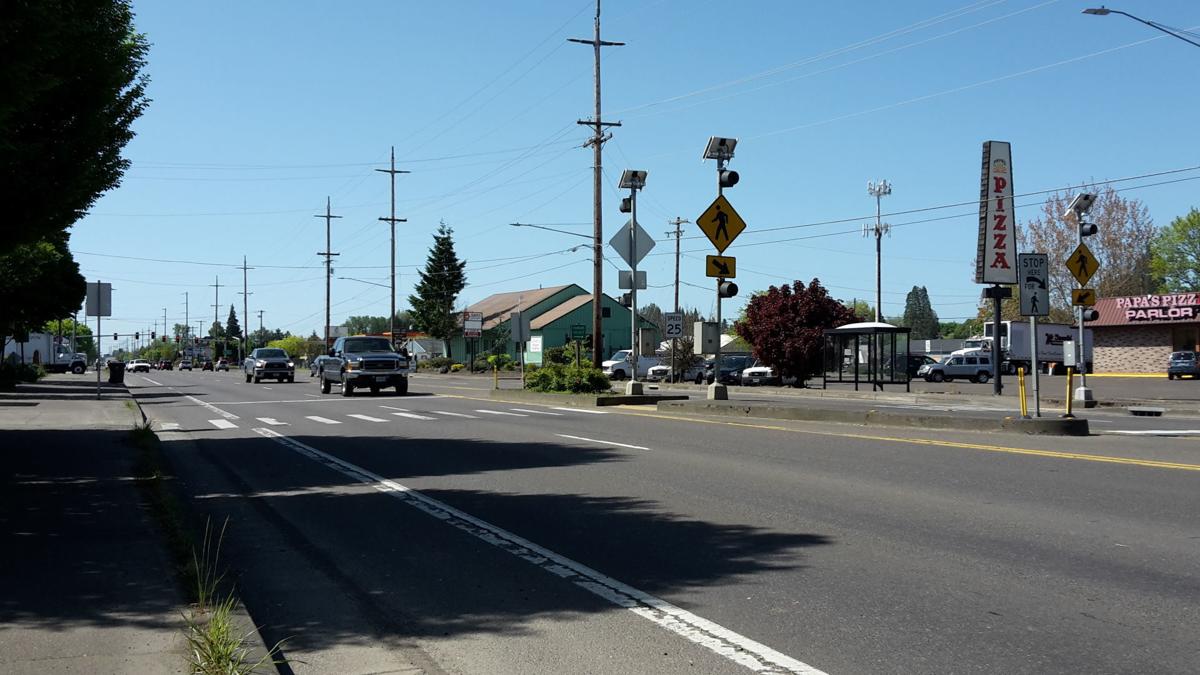 Members of the Corvallis Bicycle and Pedestrian Advisory Board received a couple of pieces of good news last week.
First, an Oregon Department of Transportation official advised the group at its Friday meeting at the Madison Avenue Meeting Room that planned safety work on Highway 99W in South Corvallis is about to move into the design phase.
Jenna Berman, the active transportation liaison for ODOT's Region 2, said that the work includes updating the flashing beacons and signs on the four mid-block crosswalks and adding green safety striping for the section of Highway 99 between Southeast Chapman Place and Crystal Lake Drive that serves as the multiuse path on the east side of the highway.
The path, which heads south from the downtown area, ultimately will move off of Highway 99 and be routed to Crystal Lake but that project remains in the right of way acquisition and design phase.
Berman said that the Highway 99 design work will take place in the next four to six weeks and "we're really hopeful for all of it to be done by this summer."
The key factor in the progress of the $120,000 project, Berman said, is being able to schedule contractors, particularly for the electrical work.
You have free articles remaining.
"It's really important that this is happening," said board chair Dylan Horne, an Oregon State University doctoral student in transportation engineering. Horne also counseled patience as the work moves forward.
The Bicycle and Pedestrian Advisory Board has been advocating for safety improvements in the Highway 99 corridor since the death last June 27 of cyclist Eric Austin, who was struck by a motorist in a pedestrian crosswalk across from the First Alternative Co-op.
The group assembled a list of recommendations, and board members and advocates packed the downtown fire station at an Aug. 20 City Council meeting, with Horne and the board's Sarah Bronstein, George Brown and Mac Gillespie delivering the recommendations. Eight residents spoke in support of the suggestions during the community comments period.
The second bit of good news came from Corvallis Police Sgt. Jeff Marr, who briefs the board on a quarterly basis on crashes and other incidents involving cyclists and pedestrians (see the website for the latest report).
Marr announced that the CPD is implementing a "community action plan" today that will target violations involving motorists, cyclists and pedestrians in the areas north of the Oregon State University campus between Monroe Avenue and Harrison Boulevard.
Marr said that department data shows that citywide there were 59 incidents involving vehicles and cyclists/pedestrians in 2017, with 37 involving bicycles and 22 with pedestrians. A total of 18 of those incidents occurred in the Monroe-Harrison corridor.
Implementing the plan means that officers are directed to spend unobligated time looking for violations in an effort to "raise the level of safety."
"This is an excellent initiative. It's good to hear," Horne said. "There are crashes in that area every quarter."