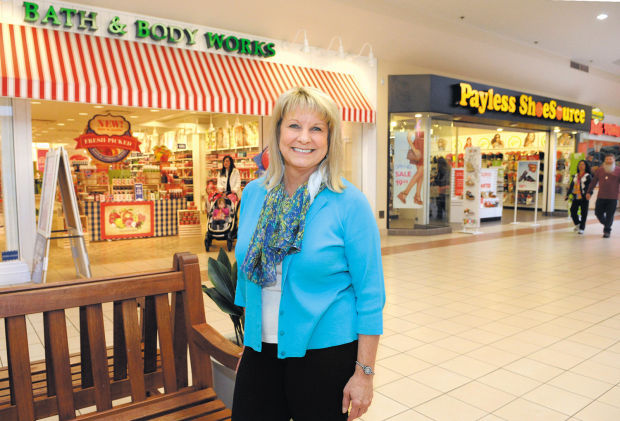 Within a year, Betsy Penson is expecting to see 90 percent occupancy at Heritage Mall, including a new tenant in the former Gottschalks anchor location.
Penson, who took over as the mall's general manager in December, is confident that will happen. Backed by Vintage Real Estate, the new owners of the mall, Penson has already started making improvements she believes will entice new businesses and bring in customers.
"This mall has great bones. There are strong national merchants," Penson said. "When I was asked if I knew of anyone who might want the job here, I didn't hesitate. I said, 'yes, me!'"
Penson said the owners are in negotiations now to fill the space left vacant when Gottschalks left in 2009. And she is eagerly in talks with additional merchants to fill other vacancies.
"I hope we will have an announcement about the Gottschalks space in the next couple of months," Penson said. "Nothing is certain but we're working hard to get someone in. And I believe that it is realistic to say we'll have 90 percent of the space full by this time next year."
She said the goal is to focus on stores with particular specialties. A children's apparel store and a women's plus-size shop are high on her list.
In the meantime she said one space has already been filled. Pixel Battles, an interactive video gaming store, will open soon.
With several store spaces still empty, Penson has been working on changes she thinks will make an immediate impact. Most are cosmetic, but she set three early goals for improvement.
"I believe we need to have WiFi, music and a coffee shop," she said. "The owners gave me complete autonomy to run the show and make the changes and improvements."
She actually began by cleaning up the mall parking area. Parking spaces are better marked and the lot is now swept monthly.
Exterior walls are being pressure washed and touched up with new paint. New plants have been added.
Penson is repairing the audio system that pipes music throughout the mall. She has worked a deal with Peak Internet to add WiFi in the food court, where she wants a national or perhaps local coffee shop to take over the large kiosk at the front.
"Espresso is the fuel for shopping," Penson said with a smile. "I'd love to see someone bring a coffee shop here. It's a great opportunity for a local entrepreneur."
Penson wants a warmer look inside the mall with conversational seating. To that end she has recruited the Oregon State University interior design class to rework common areas between stores as a spring project.
Also new will be a play area for children surrounded by comfortable adult seating.
Penson, 59, comes to the store with plenty of experience. She managed the Lancaster Mall in Salem and was at Bridgeport Center in California when she opted to come back to Oregon.
"I had two years of sunshine and that was enough," Penson said. "I wanted to get back home."
Penson said ultimately she wants a mix of local or regional stores and national brands. The mall is launching a new branding effort behind the slogan "Find it Here."
"The idea is that whatever people can find in Salem or Eugene they can find right here," she said. "It would be nice to see this become a meeting place for friends and the community."
Steve Lathrop is the business reporter for the Albany Democrat-Herald. He can be reached at 541-812-6076 or by email at steve.lathrop@lee.net.