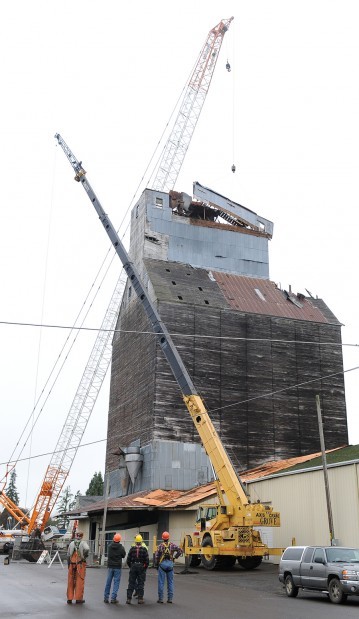 It's the tallest wooden building in town
HALSEY — Working inside his family's grain elevator during the Columbus Day storm of 1962 was good training for young Martin Cross, who was about to enlist in the Marine Corps.
"I was running the cleaners by myself, cleaning ryegrass. Holy cow, the building was croaking and groaning," Cross said. "I finally went to my dad and he said to shut it down."
The tallest wooden building in Halsey — 180 feet at its peak — is coming down, the victim of age and a changing farm economy.
Owner Harold Miller and his son, Marty, plan to reclaim the more than 2 million board feet of old-growth Douglas fir lumber that compose the building's many outside walls and interior bins. The two own Reclaimed Accents, which specializes in recycling old materials nationwide.
The building is coming down due to safety issues. Portions of it have started to lean.
This week, crews from Axis Crane are using a 269-foot-tall boom to remove the "doghouse," the framed structural area that sat on top of the stacked walls and covered the elevator heads that distributed the wheat, barley and ryegrass that was stored in the building.
Cross, who now lives between Lebanon and Brownsville, said his uncles Eldon and Jess and his father, George, bought the original grain elevator in the 1930s and it burned in 1953.
The Cross brothers worked with a Czechoslovakian master builder, and the new elevator was completed in 1956.
"It's built of old-growth Douglas fir," Cross said. "It was state-of-the-art at the time and today that wood is worth a fortune. When the economy turns and people start building houses again, that wood will make beautiful flooring. They just don't cut wood like that anymore."
Cross said the family turned over management of the company to W.R. Grace about 1958, although the three brothers continued working there for several years.
"It was a great operation," Cross said. "My cousin Bart and I were talking about it the other day. Now, grass seed is in 25-pound bags. We used to fill 100-pound burlap bags and stacked them in boxcars from floor to ceiling."
Cross graduated with the first combined class of Central Linn High School in 1959 and spent four years in the Marine Corps. He then had a 35-year career as a metallurgical research technician in Albany.  
"We had a lot of great memories in that building, but the truth is, it has to go," Cross said.
Alex Paul is the Linn County reporter for the Democrat-Herald. He can be contacted at 541-812-6114 or alex.paul@lee.net.