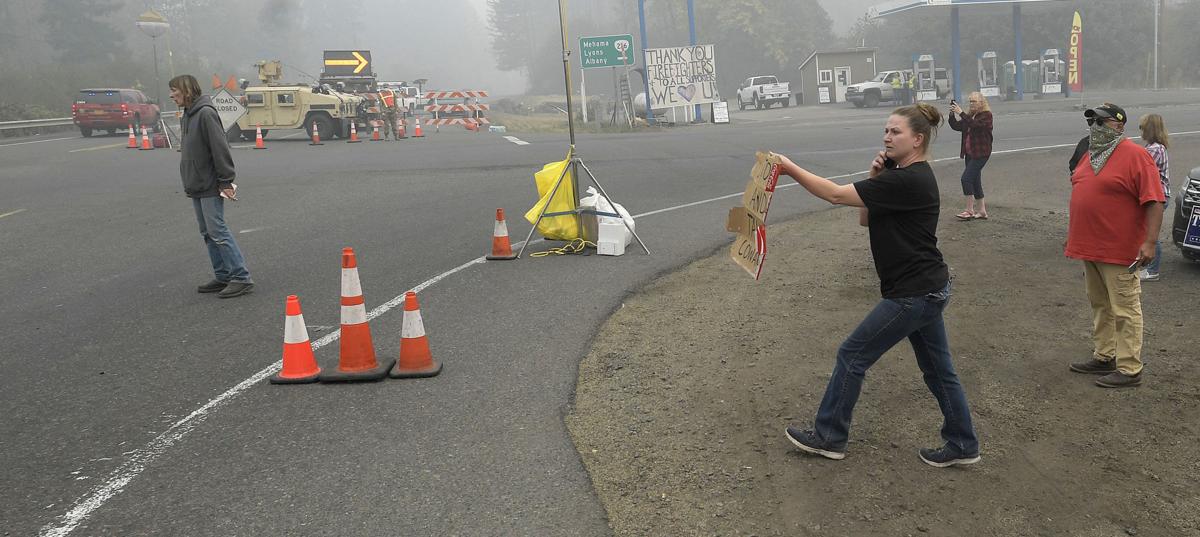 Gov. Kate Brown on Wednesday toured portions of the Santiam Canyon ravaged by the Beachie Creek Fire, accompanied by a group of state officials and fire managers.
According to a news release issued by the governor's office, the group stopped in Lyons and Mehama along the Linn-Marion County line, got a briefing from an incident management team at the Beachie Creek Fire command post, talked with National Guard members staffing highway checkpoints and visited the site of the fire command post in Gates, which burned down last week while people were being evacuated ahead of the fast-moving wildfire.
Traveling by motorcade, Brown was accompanied by Oregon Senate President Peter Courtney, Adjutant General Michael Stencel, Oregon Military Department Director Dave Stuckey, Oregon Department of Forestry Chief of Fire Protection Doug Grafe, State Fire Marshal Mariana Ruiz-Temple, Oregon Office of Emergency Management Director Andrew Phelps, State Forester Peter Dougherty and fire incident commanders Les Hallman and Brian Gales.
Members of the media were not invited to cover the governor's visit.
"In my meetings today at the Beachie Creek Fire, again and again I was awed by the brave, dedicated and empathetic people who have been doing anything and everything it takes to help their fellow Oregonians," Brown said in the news release. "Thank you."
Not everyone seemed pleased to see Brown.
A small group of Santiam Canyon residents stood beside a checkpoint on Highway 22 in Mehama as the governor's motorcade rolled past. Some held homemade signs berating the Brown or demanding that she stop and talk to them.
The Beachie Creek Fire started Aug. 16 in the Opal Creek Wilderness. It is one of several forest fires that were whipped into raging conflagrations by strong east winds on Memorial Day, causing them to spread rapidly toward populated areas west of the Cascade crest.
As of Wednesday, the Beachie Creek Fire had grown to more than 190,000 acres and was 20% contained. At least four people are believed to have died in the blaze.
Get local news delivered to your inbox!
Subscribe to our Daily Headlines newsletter.