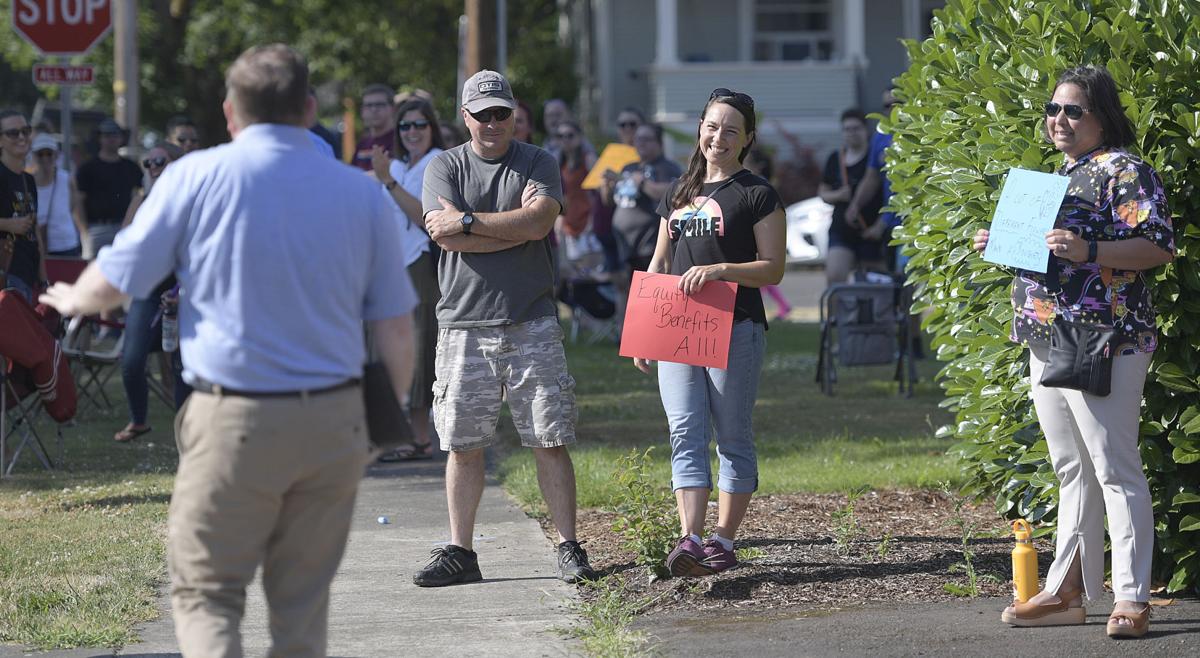 Members of the Albany School Board voted Monday to immediately dispense with masks in most school district circumstances, and to open meetings to the public, starting with a special meeting Wednesday.
That meeting will be at 7 p.m. at the district office, 718 Seventh Ave. S.W, and may be attended by the public in person. However, public comment is not taken during special board meetings.
Andrew Tomsky, district spokesman, said the district will continue to livestream board meetings on the GAPS YouTube channel.
Russ Buttram, executive director of operations for Greater Albany Public Schools, asked the board for Wednesday's special meeting to handle some proposals that weren't completed in time for Monday's meeting, including approval of lifts for the new transportation facility, information from the Albany Administrators Association and discussion of a potential donation for Calapooia Middle School.
As part of Monday's agenda, board members acted to lift mask requirements as allowed by the latest guidance from the Oregon Department of Education and the Oregon Health Authority.
The two agencies sent out a new report on health and safety measures in light of the ongoing COVID-19 pandemic. Another update is expected later in July.
The agencies have shifted most decisions on masks and distancing to advisory only and are allowing local districts to decide how they will be handled. Board members had the choice to delegate actions on health and safety measures to Superintendent Melissa Goff or to make those decisions themselves.
Support local news coverage and the people who report it by subscribing to the Albany Democrat-Herald.
Board members unanimously backed making the decision themselves, then voted 4-1, with Director Michael Thomson dissenting, to eliminate masks in all areas in which they are allowed to do so. The board made no decisions on social distancing or other precautions.
The board acknowledged there are some places, such as on school buses and in any circumstance involving transportation, where masks still will be required. Wearing masks on buses is currently required by federal law.
Thomson said he feels younger children need extra protection. "As a parent of a 10-year-old who will not be vaccinated — I don't know when they'll get to the under-12 crowd — I think we have to make an exception for the under-12 crowd," he said. "They are completely at risk."
Director Brad Wilson said nothing prevents a person from making the choice to continue wearing a mask. "I would say certainly parents can make that choice and there should be no mask shaming at all," he said.
In answering a question from Thomson, Goff said students who choose to wear masks or whose families want them to wear masks might face ostracism. To make them feel more at ease, she said, teachers also could wear a mask if they chose.
She also said the board likely will hear complaints from union members if the board declares "mask-free for everyone at all times" because no vaccine yet has been approved for students pre-K to age 12.
"I think that is the challenge before the board, is how do you address that concern for families when we really want 90 percent of our kids to be back in person?" she said. "And we have families who are in that distance learning group who aren't coming because they're concerned about the spread of COVID. I think that action could have negative impacts that the board may not be predicting."
In other business Monday, the board voted unanimously to move forward with purchasing modular classrooms for both Waverly and North Albany Elementary schools, which Goff said would allow kindergarten classes to top out at 17 students.
GAPS is expecting a boom in kindergarten class sizes this fall because many families opted to keep their children home a year rather than participate in remote learning. The goal this fall is to have no more than 10% of students using distance learning options.
"Our limitation with getting to 17 students at first grade will be the available space," Goff said following the meeting. "We know we will have the space for kindergarten and will be reducing first grade as space allows."
Board members also agreed to use Robert's Rules of Order, a specific form of parliamentary procedure, beginning with Wednesday's special meeting.
Director Roger Nyquist asked to use the rules, saying he thinks it's important that any motions made receive a second before a vote and that consent agendas other than routine personnel matters be subject to a vote and possible discussion rather than receive automatic passage.
On June 7, the Albany School Board passed a consent agenda without a formal vote or discussion that included adding a year to the superintendent's contract and raising her base salary.
North Albany resident Tom Cordier filed a complaint with the Oregon Government Ethics Commission about the meeting, alleging the board violated executive session law by reviewing and coming to an agreement on the draft contract addendum during the closed session.