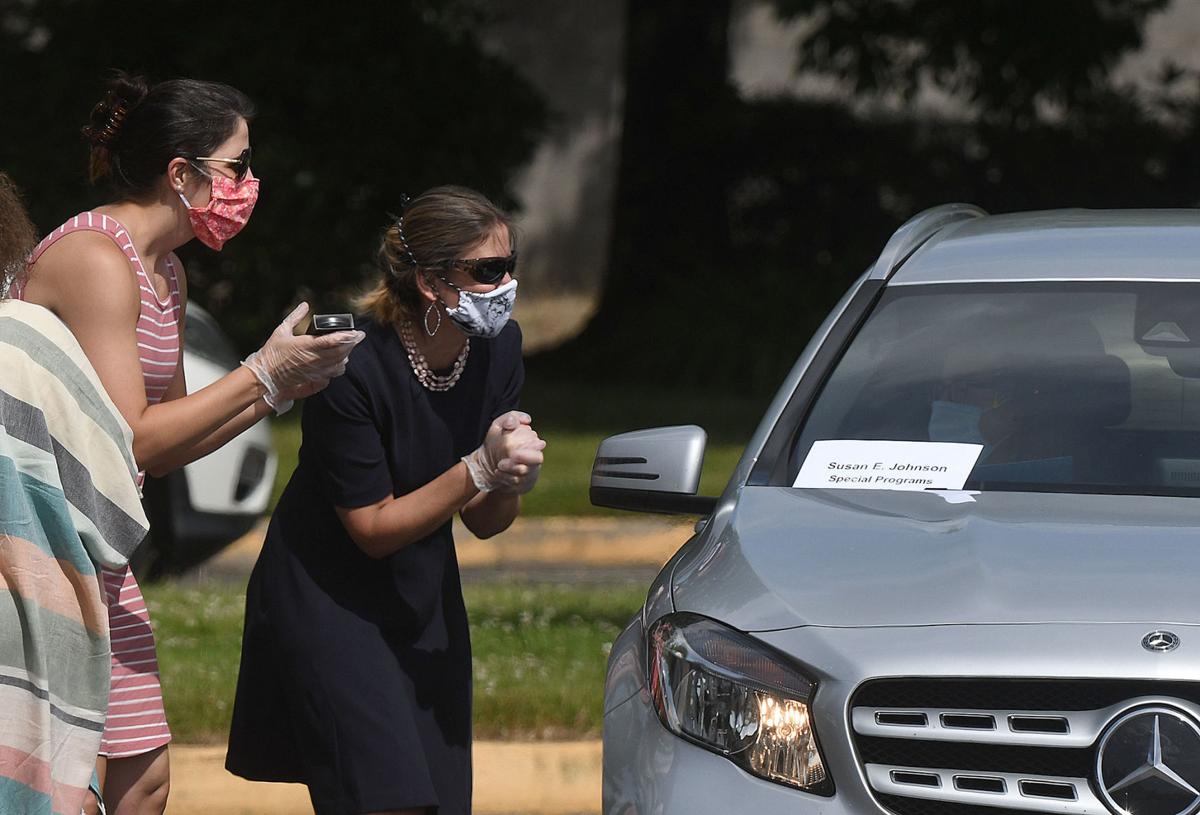 The first Greater Albany Public Schools board meeting Lisa Harlan attended as assistant superintendent, the board fired her boss. Melissa Goff was hired in 2019 and, shortly thereafter, faced the challenge of navigating the district through a possible school shooting incident, an outbreak of Norovirus that closed schools for a bit and the threat of coronavirus that ended the school year.
Schools statewide are still prohibited from opening classrooms to all students, so this morning there will be no buses rolling into GAPS schools or kids rushing through the hallways. Instead, they'll log onto their devices for some face-to-face time with teachers and engage in self-directed activities.
When COVID-19 first closed schools in the spring, GAPS administration made a bet — things would closely resemble normal by the end of the summer. Graduations were pushed back and additional sanitation steps for the fall were taken. But the district lost that bet, and the class of 2020 graduated outdoors with masks, in small groups, with their families watching nearby in cars. Classroom doors are closed, and the hybrid model the district spent all summer creating is on hold.
The model would have seen students return to classes on a rotating schedule, utilizing distance learning at home and with extra social distancing and hygiene measures in place at schools.
That plan will still go into effect should state metrics allow kids back in classes, but for now GAPS is settled heavily into the fact that at least they have a plan in place — one that's unique in the area.
"When you talk about planning, there are several layers of that," Harlan said, noting that district leadership begins at policy and organizational decisions first. The cabinet — made up of the heads of each department — then tackles the logistics.
"At the start of the summer, we really thought we could have kids back in school but would need PPE and other types of equipment and how that would impact health checks, custodial, maintenance and so on," she said. "Then we had to look at what tech specs we would need for students, what learning platforms and what model we would need. Those were big decisions that had to be made early on."
Once logistics and equipment were in the works, Goff said the key to making it work for the community was communication.
Every few weeks, the entire GAPS staff has a meeting —  virtually — with Goff and Harlan. And each week, families are sent information about the district's progress.
"We have prioritized communication with staff and families to lower anxiety within our community," Goff said. "When we found a platform or technology and found it wouldn't be viable, we would let folks know we tried and ended up having to go in a different direction. I think we've built relationships through that effort and virtual meetings with families and staff."
The district polled parents, families and staff continuously throughout the summer as well and maintained an equity lens as it planned to teach during a pandemic — finding opportunity in the challenges it presented.
"I think that there's an opportunity to be able to look at education differently and construct things that are more differentiated for students," Harlan said. "One of the things I think about is, now that we're in a virtual setting, we know students learn at different rates. And having those times with teachers focused on a specific activity and then having independent time self-paced for each student, I think students will be better able to access their education and pace it according to their own learning rate. That has been difficult to do in the past."
"The pandemic created this space where we had interests converge," Goff added, noting the willingness of large companies to provide internet hotspots. "You want an equitable world and everyone to have technology access, and I believe it'll be more equitable for our kids."
But on the eve of Sept. 14, as students ready to log on for the first time, there are still things that keep the GAPS administration awake at night.
"I will still be concerned that we've reached all the students that we've needed to reach and every child has access to a free and public education," Goff said. "I will worry that night and will continue to be worried about that. We know that this pandemic has put an incredible strain on our families … Our community needs to pull together to provide supports for our families who can't do this alone, and we still have a big gap."
"I always worry about kids at the end of the day," Harlan said. "I worry they feel supported, seen and heard and have what they need. Those are the things that keep me up at night always and will keep me up on Sept. 13."
Concerned about COVID-19?
Sign up now to get the most recent coronavirus headlines and other important local and national news sent to your email inbox daily.