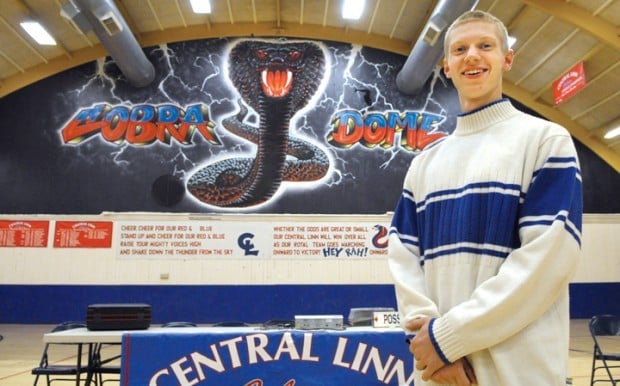 HALSEY — Mathias Hansen hopes he'll be helping Central Linn's varsity basketball team win games long after he's back home in Denmark.
The 16-year-old Rotary Club exchange student contributed three baskets as point guard to the Cobras' victory Wednesday over Days Creek. But he'd like to think the giant, fanged snake he painted on the wall of the Central Linn High School gym also might have had something to do with it.
"It makes the gym look a little bit more intimidating," Hansen said with a grin.
Administrators, the associated student body and the Central Linn School Board gave Hansen the go-ahead to paint the mural, which was unveiled Dec. 9 at a basketball jamboree.
Hansen spent more than 30 hours over two three-day weekends and a couple of extra afternoons creating the mural with spray paint over a rolled-on background.
He modeled the basic shape of the hooded cobra, poised to strike, from a picture on the Internet, then used his own designs for the trailing tail and the words, "Cobra Dome."
You have free articles remaining.
A self-taught artist, Hansen once painted the name of his class on his teacher's car (with her permission). But at more than 20 feet tall and close to 100 feet long, the Central Linn cobra is the biggest art project he's ever done.
Student body funds paid for the first part of the work. The high school is now holding a coin drive for Phase II, which will include more artwork in the gym.
"I'm going to try to fill the whole back wall," he said.
Hansen said he came up with the mural idea as "a great opportunity for me to leave my mark as a one-year student."
His first host father, Tim Smith, encouraged the plan, he added. "I didn't expect Americans to be so into it," he said, "but I guess they were."
A sophomore who speaks flawless Pacific Northwest Adolescent, Hansen said he's enjoying the differences between Halsey and his hometown of Copenhagen.
The American mindset is different from the Danish, he said, and one he prefers.
"Not to come to any conclusions, but I like the 'winner' mentality a lot better. I hate to lose," Hansen said with a smile. In Denmark, it's all about "doing a good job and getting by. I'd rather be successful, man."