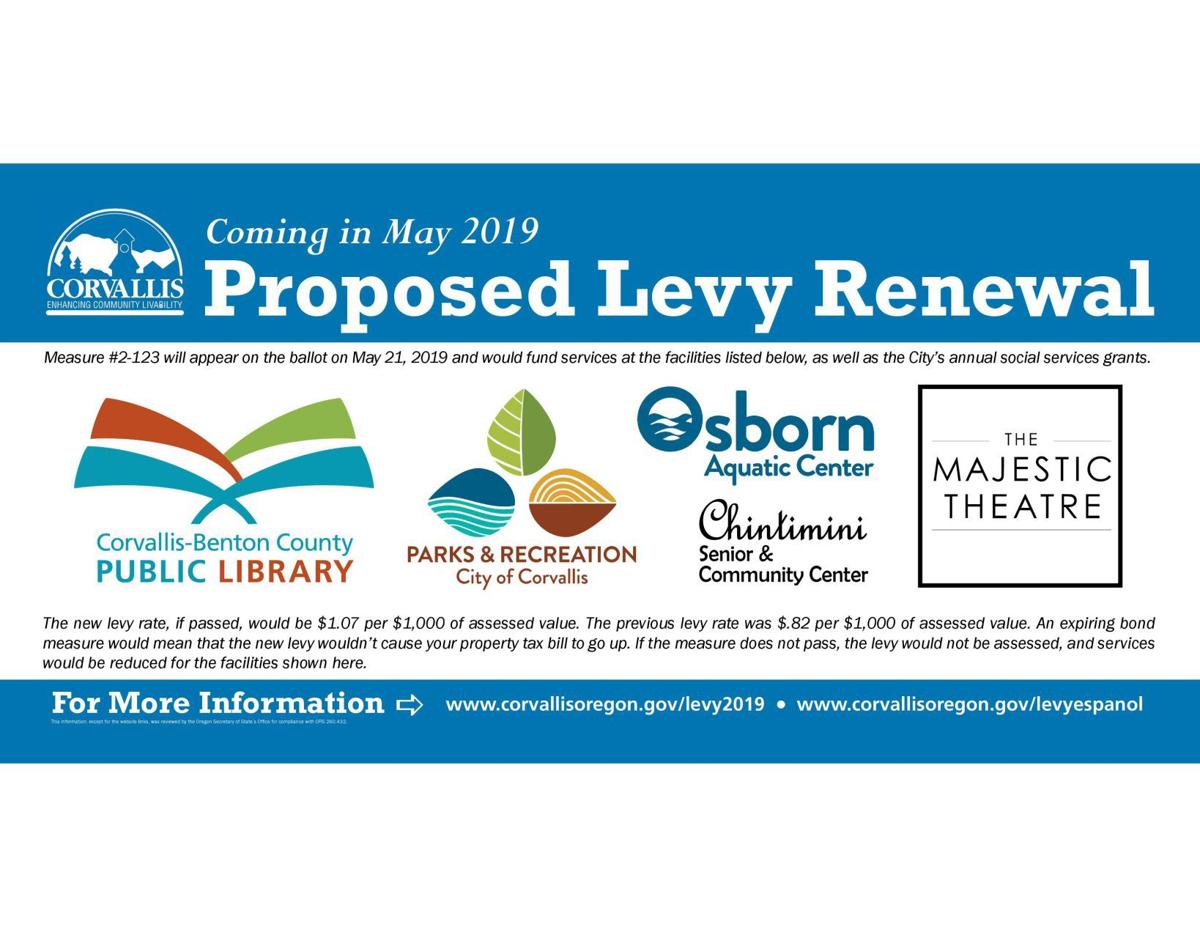 The current mayor, a former mayor and a former pool director offered their support for Measure 2-123 at a Corvallis City Club forum Tuesday at the Corvallis-Benton County Public Library.
No panelist spoke against the extension and renewal of the city's local option property tax levy, which goes before the voters May 21. Measure opponent John Detweiler was in the audience and moderator Steve Schultz, in a gesture aimed at fairness, gave Detweiler a series of opportunities to make his points.
The levy, if passed would raise approximately $6 million per year, primarily for Parks and Recreation and library services. 
"This is a big part of who we are in Corvallis," said Mayor Biff Traber. "We're meeting right here in the library, which has a real high ranking for checked out materials and our parks and recreation programs are also highly valued."
Julie Manning, Traber's predecessor, who noted her campaign experience with money measures as well as her nine years as a citizen member of the Corvallis Budget Commission, said that "one of the things I appreciated about this process was the deep dive the city made at other alternatives. Every year during the budget process city staff is trying to balance the needs of residents given the revenue and expenses."
The city formed a sustainable budget task force, chaired by veteran Ward 9 Councilor Hal Brauner, which met 22 times from June 5, 2015 through Dec. 24, 2016. The group considered a series of revenue-raising ideas, including local gas and income taxes before recommending a renewal of the levy.
Ultimately, the city came up with a "three-legged stool" of revenue measures: the levy, a public safety fee that starts in July and a 9-1-1 emergency services taxing district that goes before the voters in November. Traber noted two of the legs by mentioning the public safety fee in his remarks, but he did not bring up the 9-1-1 district.
The third panelist, community volunteer and former Osborn Aquatic Center director Mark Worden, offered some insights into the impact of the pool.
"When I'm asked questions about tax increases I always say that you should look at what you are getting for what you are paying," he said, noting the importance of pool safety programs that help keep youngsters safe. "I think it affects those who don't use the services. Those kids in pool programs are going to have to go somewhere else. Parks and Rec programs affect so many families."
Detweiler, meanwhile, said "we've got to cut back on luxuries. Sell the Majestic and put it back on the tax rolls. Osborn? Can we afford it? Maybe we should see if private business can run it. This can't go on."
Discussions in public meetings, the Benton County Voters' Pamphlet, literature distributed at Tuesday's forum, informational signs posted by the city and a mailer sent out out to residents all indicate that if the levy fails the city plans to close Osborn, the Chintimini Senior and Community Center, the Majestic Theatre, end all recreation programs and close the library on Sundays and Mondays.
Yet when asked a direct question by an audience member about the city's plans should the voters reject Measure 2-123 Traber said that the information will come out when the city unveils its fiscal 2019-20 budget on May 2. City Manager Mark Shepard has noted that the budget he and his staff will present will be based on the levy not passing. Shepard said that it is easier to add spending if the levy passes than cut spending at that point.
Audience members also seemed a bit confused about whether Measure 2-123 would raise property taxes.
The levy renewal, if approved, would charge property owners $1.07 per $1,000 of assessed value. City officials have noted that a general obligation bond that is paying for open space will expire June 30, the same time as the current levy. The open space bond is set at 25 cents per $1,000. Thus, city officials say, renewal of the levy at $1.07 technically would mean no property tax increase. Voters, however, might feel that they would prefer to have that quarter back or that the services provided by the levy are just not worth the tax bite.
Detweiler emphasized the folks can argue about whether their tax will go up with levy passage, but they definitely will not go up as much if it fails because the city is limited by state law to a 3 percent general increase.
The city has passed similar levies in 2011 and 2013. Traber said that should voters approve Measure 2-123 the city will almost assuredly come back to the voters for another levy in five years. And he added that one of the benefits of doing that is that there are meetings such as Tuesday's where residents get to chime in and play a role in the debate.
Manning noted that many of the programs at risk have even greater value than their budgetary expense because of the hundreds of volunteer hours that are part of the equation. Manning also said that when she talks to newcomers about why they chose to live in Corvallis "they always mention the quality of life we enjoy here. That's why people come here. That's why businesses come here.":
Other audience members expressed concerns about the impact of the loss of the pool and the recreation programs on low-income residents, many of whom receive scholarships or pay reduced fees to participate.
"A city that does not take care of marginalized people is not a place where I want to live," said audience member Bill Gellatly.
Be the first to know
Get local news delivered to your inbox!