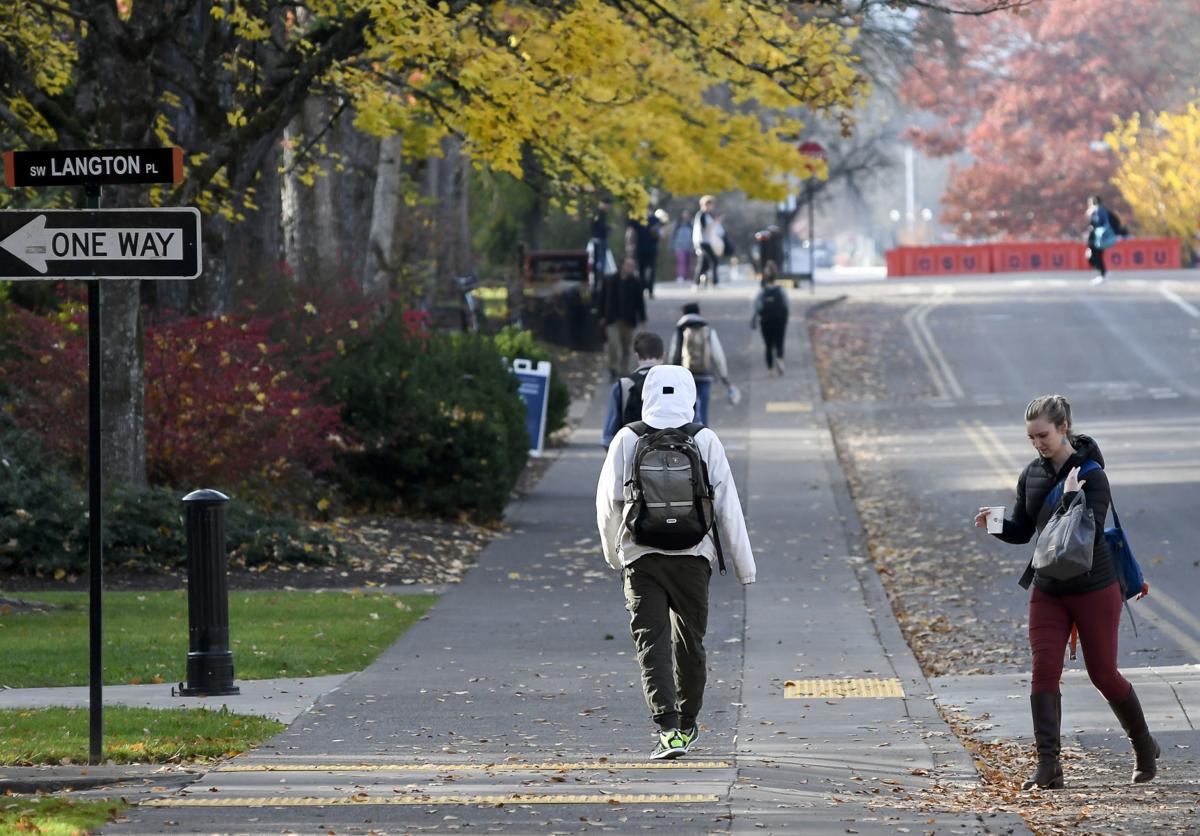 When the coronavirus pandemic hit the U.S. during the spring semester, international college students, like everyone else, had to switch to online learning models.
This fall, some of those same students may be deported or denied access to the country for continuing to use them — but Oregon State University officials say they'll do what they can to keep that from happening.
U.S. Immigration and Customs Enforcement announced on Monday its plan to effectively block many international students from continuing their studies here during the upcoming fall semester, which could potentially affect 3,500 OSU students.
Originally, the ICE-run Student and Exchange Visitor Program — which keeps track of international students, their visas as well as the schools that enroll them — temporarily relaxed its policies restricting the number of online courses international students could take during this year's spring and summer semesters. This was in response to many universities switching to online teaching models due to the coronavirus pandemic.
On Monday, however, ICE announced that some international students "attending schools operating entirely online may not take a full online course load and remain in the United States." The agency has also made it harder for students attending universities that are reopening with a blended course model to remain in the U.S.
"We are closely tracking the guidance issued by ICE on Monday and the expected rulemaking so as to mitigate potential impacts on Oregon State University students," said OSU spokesman Steve Clark in an email to the Gazette-Times. "International students are vital contributors to the university's mission as a 21st century global land grant university. They also contribute significantly to the diversity and culture of Oregon and our state's economy."
In the previous semester, the Student and Exchange Visitor Program allowed students holding F-1 and M-1 visas to take more online courses than normally permitted to maintain their nonimmigrant status during the spread of COVID-19.
Starting this fall, "if students find themselves in this situation, they must leave the country or take alternative steps to maintain their nonimmigrant status such as a reduced course load or appropriate medical leave," ICE officials said in a news release.
If not, those students could face consequences as severe as "removal proceedings," which is jargon for deportation trials.
The executive director of Causa, an Oregon immigrant rights group based in Salem, said in an email to the Gazette-Times that the decision by ICE is only furthering the struggles minority communities endure in the U.S.
"The Trump administration is leveraging the pandemic and the difficult circumstances facing universities to harm international students and immigrant communities," said Adriana Miranda. "It's a disgraceful and cruel decision that only weakens our educational institutions and undermines our economy."
F-1 students are those who attend traditional academic institutions, while M-1 students are typically in vocational programs, according to the Department of Homeland Security. Both types of visas have differences in benefits, including whether student visa-holders may take a vacation to their home country, transfer between programs, what types of employment they can seek and how long they can remain in the U.S.
"The U.S. Department of State will not issue visas to students enrolled in schools and/or programs that are fully online for the fall semester nor will U.S. Customs and Border Protection permit these students to enter the United States," ICE announced. "Active students currently in the United States enrolled in such programs must depart the country or take other measures, such as transferring to a school with in-person instruction to remain in lawful status."
ICE specified that F-1 students going to universities with "normal in-person classes" may continue to do so based on pre-existing regulations, and they're only allowed a maximum of three credit hours (typically a single course) of online instruction.
F-1 students at schools with a hybrid model of online and in-person classes may take multiple online courses. But university officials have to vouch to ICE that those students do not have an entirely online courseload and that the number of online classes they take is minimized.
M-1 students "are not permitted to enroll in any online courses," according to ICE. The exemptions also do not apply to F-1 students in English language training programs.
"Unfortunately, (neither) 'in-person' nor 'online' was defined in the (previous semester's) guidance," Clark wrote. "During spring term at OSU, in compliance with Gov. Kate Brown's executive order for colleges and universities, OSU offered course instruction using remote conferencing tools, such as Zoom. In fact, approximately 4,000 spring term courses were converted to Zoom delivery."
But for the fall semester, Clark described OSU's reopening plan as having "mixed-modality, low-density instruction" — meaning there will be plenty of online classes as well as in-person classes with smaller rosters. This fits in with the hybrid model ICE described in its announcement.
If universities change their reopening models, they must provide an update to the ICE Student and Exchange Visitor Information System "within 10 days of the change if they begin the fall semester with in-person classes but are later required to switch to only online classes, or a nonimmigrant student changes their course selections, and as a result, ends up taking an entirely online course load," according to ICE.
So if Benton County were to experience a surge in COVID-19 cases and OSU reverted back to only online classes in response, they'd have to report those changes to ICE. Then students who may have been protected under the hybrid model could face deportation unless they changed schools.
"OSU also will work with Oregon's congressional leaders and federal agencies to strongly urge that the federal government rescind these changes to the Student and Exchange Visitor Program," Clark said.
Miranda said it's encouraging to see universities clearly showing their support for international students.
"I am hopeful that our united opposition to this policy here in Oregon and across the country will force ICE to do what's right and reverse course," she said.
Concerned about COVID-19?
Sign up now to get the most recent coronavirus headlines and other important local and national news sent to your email inbox daily.