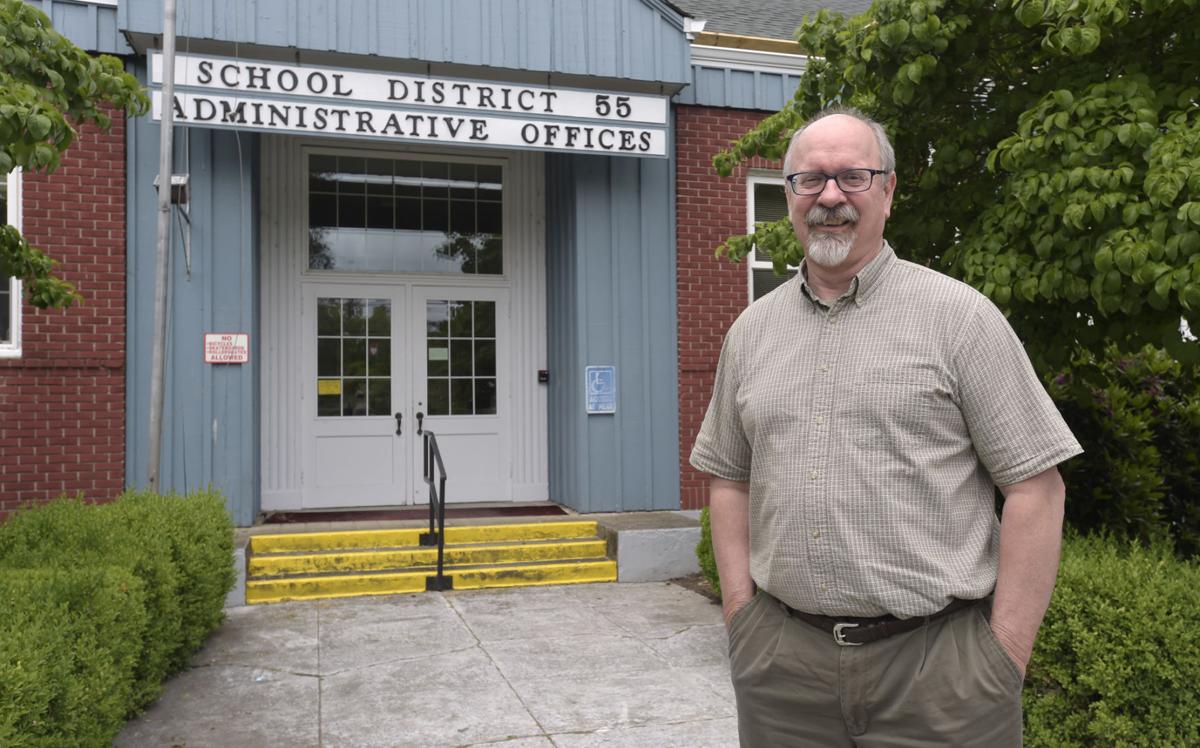 Keith Winslow didn't use a business card for most of his 35 years with the Sweet Home School District.
He would instead take out a laminated slip of yellow paper bearing two quotes about education, one on each side. He kept the same two quotes on the wall of his office during his year and a half as Sweet Home's interim superintendent and is leaving them there for his successor, Tom Yahraes, when Yahraes takes over next month.
One quote, by Michael Fullan, stresses the need to serve all children, especially those who may not have been well served in the past. The other, by Haim Ginott, reminds educators it's within their power to color a child's entire day; to humiliate or heal as they choose.
Through the years, the quotes became Winslow's literal calling card to remind him of his mission.
"You have that power on a daily, daily basis, to make that kid's life or make them miserable," said Winslow, 58, who formally steps down as superintendent at the end of June. "You've got to remember that every stinking day."
And if even one student remembers Winslow as an educator who came down on the side of healing, he said, "it will be worth all my 35 years."
Winslow's contract ends June 30, but he's agreed to stay on for the first part of July to help his successor learn his way around.
"If things are working well, the next person comes in and fills your spot. That's the way it ought to be," he said. 
Born in Canada, Winslow grew up in the world of education, from his grandmother's one-room schoolhouse in Ontario to his father's classroom at a junior college in McPherson, Kansas.
He attended that same junior college, Central College, then enrolled in Seattle Pacific. (At the time, all the colleges were affiliated with the Free Methodist system, and as the child of an instructor, he was able to access free tuition at any.)
Winslow's sister's fiance was the son of a missionary couple and his mother was principal of a school in Paraguay, South America. The school needed another math and science teacher, so between his junior and senior years of college, Winslow answered the call. 
He taught one class with 16 different nationalities; children whose parents were working at embassies or in the military. Some of them spoke three languages.
The experience: "Phenomenal," Winslow recalled. "I learned so much more than I ever taught them."
You have free articles remaining.
It would have taken two more years to complete his education if he had returned to Seattle, so Winslow went instead to Greenville, Illinois, to finish his degree.
By then, his brother was a pastor at Hillside Fellowship in Sweet Home — Winslow and his brother and father had helped build the church itself — and Winslow had fallen in love with the mid-valley. He learned of an open position at Oak Heights School and was hired the same day.
He never left. For the next 18 years he taught mainly fifth and sixth grades, with a little fourth grade now and again.
He became a part-time principal there, then moved to Crawfordsville for a couple of years, then came back as full-time principal at Oak Heights for eight more years. After that, it was three years as vice principal at Sweet Home High School, then a year and a half as principal before board members tapped him to fill the superintendent's slot.
Winslow had been planning to retire soon anyway, and now that Yahraes has been hired to be the next superintendent, he said it's a good time to follow through.
"I have a lot that I want to do," he said. "I see so many people having these ideas of traveling or doing this and that and the other thing, and they wait so long that they can't." 
By the start of the next school year, Winslow plans to be in a cabin nearly 6 miles off the public road near Anaconda, Montana. Fishing, hiking, camping and woodworking will be his new priorities.
He's never minded giving his time to education. It's been good, he said, to see the public emphasis shift to more accountability in terms of making sure students meet particular academic standards. 
He's less certain about the emphasis on career readiness. That's a lot harder to measure, and he doesn't like the overwhelming pressure he sees, especially on teachers. Those who make the laws about education seem to forget that relationships are critical, especially when it comes to students who struggle with poverty, as is providing the time to create them, he said.
Students have changed, too. In Winslow's own student days, he said any trouble he got into at school would have earned him trouble at home.
In recent years, however, "A parent will bring the kid back and while the kid is cussing at the principal, the parent is, too," he said, shaking his head. 
That doesn't describe everyone, however, he added. Again, it's the making of connections that counts.
"The things that have kept me going over the years are the little successes of the kids who really were kids that you wondered about, but you put the time and energy and effort into, and you found they're really unique people and they're going to go a long way."
Winslow said he's been glad to be a part of the Sweet Home district and would encourage any educator to make community involvement a priority.
"And work hard," he advised. "Give it your all. And do it because you love the job."