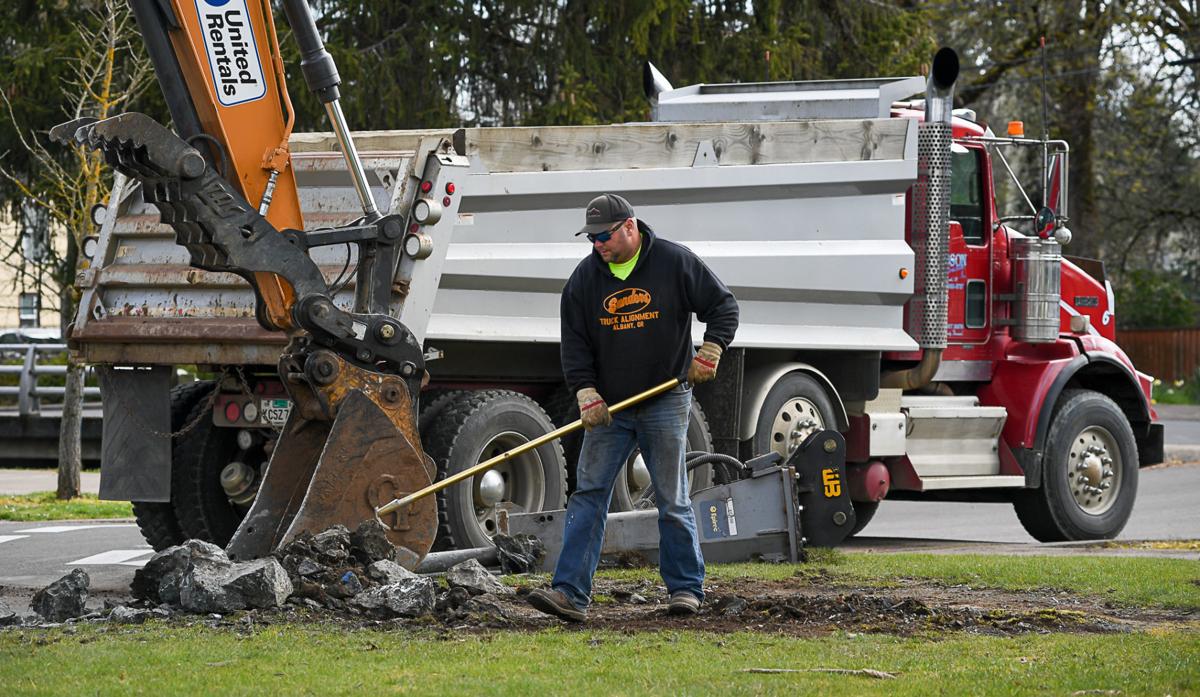 A beloved rock outside of Corvallis High School, much like Nevaeh Bray's senior year, was unexpectedly broken to pieces this week.
"It's like a kick in the gut," she said.
Both public high schools in Corvallis have long had large rocks on school grounds that are meant to act as canvases for students to show school spirit and advertise upcoming sporting events or plays. They also give CHS and Crescent Valley — its rock is still standing — places to boast in their friendly competition.
But the CHS rock was located near the edge of school property, enabling people to tag it inappropriately, according to principal Matt Boring.
There'd been an "upswing" in inappropriate messaging, including sexist, racist and homophobic comments, Boring said, so he had been advocating for its removal since last spring.
Boring insists he's not anti-rock. Instead, he's "just anti-rock at that location."
But he said he didn't know when the rock was going to be removed. Assuming it would be taken away in the summer, Boring said he was unaware it was destroyed until a student emailed him about it Wednesday evening.
Cathy Law, the mother of Bray's boyfriend, said the boulder was there while she was out exercising that afternoon.
"Well, at least the rock is still there," Law said she thought to herself. With uncertainty following the COVID-19 outbreak and statewide shelter-in-place order, Law said it was nice to be reminded of such a steadfast pillar in the community.
An hour later, the rock had been reduced to a pile of rubble.
Boring acknowledged the timing of its removal was not ideal. He hadn't gotten the chance to alert students about his plans for the rock. He said he had scheduled a meeting with student body leaders and teachers to discuss this year's senior gift before the state ordered schools to close. The meeting was never held.
The gift, per the student's wishes, was supposed to be a new rock. Meanwhile, Boring's plan to remove the original rock was still in motion, rising up the ladder of projects on the Corvallis School District's to-do list.
Boring said he would have tried to stop the demolition if communication had been more fluid between the school district and its contractors. That's hard when most administrators are working from home.
"It's not anyone's fault," Boring said. "Had I been at work, I would have heard a big noise and gone out and said, 'What's going on?'"
Boring addressed the issue in a news release Thursday afternoon.
The new new plan, he said, is to let the senior class leaders pick out a replacement rock that will be nestled inside the school's courtyard. Students will have similar access to the rock, but surveillance and security will be easier Boring said.
Law said this situation also can be used as an opportunity to discuss bias in the community.
"If that's what was happening … the rock's not the problem," she said.
"It almost felt like a right-of-passage to be able to write on the rock," said CHS sophomore Janessa Minta. But, she agreed, "the misuse is definitely not OK and having any surface to allow that type of behavior is definitely problematic."
According to Boring's plan, Minta and other students will have a brand new rock to express themselves with come next school year.
As for the seniors, this has only added to their heartbreak "over the demolition of their senior year," Boring said.
"They're going to get through it and we'll have something to symbolize their ability to get through something so unprecedented," he said. "That will be a great legacy for this senior class."
Be the first to know
Get local news delivered to your inbox!