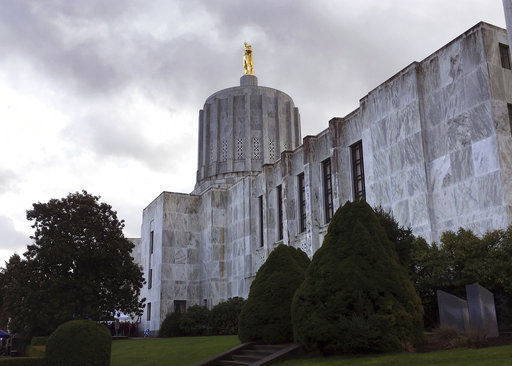 The Oregon Legislature's special session, which kicked off on Wednesday, is only special if you take the sarcastic tone of the Church Lady from "Saturday Night Live."
The Dana Carvey character's ironic catchphrase for something she considered heinous: "Well, isn't that special?"
The word "debacle" might be a better description of the gathering in Salem. "Catastrophe" could also be fitting, and we're not referring to the health risks associated with a large group of people getting together.
No, what we're concerned about is a process that is largely exclusionary, including to regular Oregonians who would prefer a more transparent government.
It's a shame that things appear to be headed this way at the Oregon Capitol.
After all, there are pressing issues that our elected representatives need to discuss, including racial justice and police reform, the novel coronavirus pandemic and the tens of thousands of Oregonians who haven't received their unemployment benefits.
(We wish that budget shortfalls and job cuts due to COVID-19 also would be addressed sooner rather than later, but that topic appears to be headed to another session later this summer. We already know there will be substantial monetary problems for the state — there is near universal agreement on this point — so it seems foolish not to start addressing the matter in a meaningful way immediately.)
We understand the sense of urgency. But the process underway in Salem still feels very rushed, as many legislators couldn't see bills in advance, nor can they make amendments or introduce bills during the session.
Again, because this deserves repeating: Many legislators haven't been able to review the bills that are set to be discussed.
State Sen. Dallas Heard (R-Roseburg) said in a news release that he was angered by the tone and approach of the special session, which comes as the country has essentially acknowledged that changes must occur regarding racial justice.
"No member can bring forward a bill. Only a select few in the Democrat supermajority can do so. If we are to combat the ills of racism, bigotry and ignorance, we must do so together. We are here to bring about some of the largest reforms in a generation, and yet there is no honest debate, collaboration and partnership," Heard said.
Senate Republican Leader Fred Girod was blunt in his assessment of the special session's rules. "Without the ability to create or amend legislation, my colleagues and I are legislators by name only during the special session," Girod said, in a news release.
Republicans, quite understandably, voted against special session rules on Wednesday. Their concerns about this process were valid.
And, of course, with legislation largely hidden from politicians, this means that the bills have been concealed from the general public, as well. Are you an Oregon resident who wants to weigh in on these important matters? Too bad. Cue the "Church Chat" punchline once again: "Well, isn't that special?"
The process underway in Salem feels very much like an attempt to rush things through without a lot of oversight or review. Governing via this sort of mad sprint is a disservice to every Oregonian.
The Oregon Capitol suffered a black eye recently when the Republican minority walked out to try and prevent a climate bill from passing. As we've said before in this space, we're never in favor of walkouts by elected officials to prevent a quorum and therefore prevent lawmaking.
Now here's another shiner for the golden pioneer, courtesy of the Democratic majority. And it will be hard for common folk not to wonder if a bit of retaliation isn't at play.  
Perhaps good work and prudent lawmaking will come out of this special session. We sure hope so. The process so far, however, is the sort of governance that erodes trust in our elected officials and institutions at a time when they're critically needed.