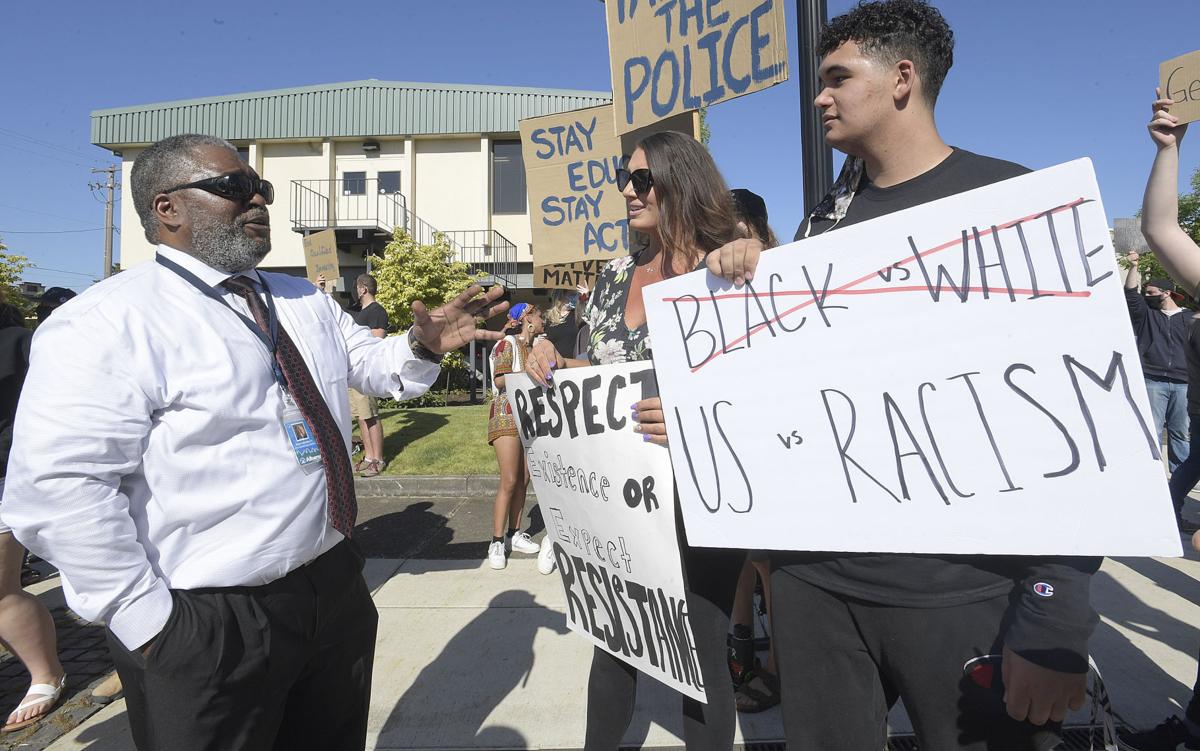 With the mayoral races in Albany and Philomath, local voters are in a can't-miss scenario thanks to the quality of the candidates.
These cities are winners no matter who wins the election because they can be assured that a worthy public servant will lead them.
In Albany, we give a slight edge and our endorsement to City Council member Alex Johnson II over the incumbent, Mayor Sharon Konopa.
In Philomath, our endorsement goes to Doug Edmonds, who is facing off against fellow City Councilor Chas Jones.
Johnson gets our nod, despite the accomplishments of Konopa, because we believe he's the best person to energize the city of Albany and gently push it forward during these challenging times.
The local businessman understands the challenges small shops and stores face during the novel coronavirus pandemic. Johnson also wants to take a more active role in attracting companies small and large to town. "There's so much potential for Albany," he told our editorial board.
Johnson's most notable characteristic is his charisma. He's gregarious and vibrant and able to engage others with his good nature.
Case in point: On social media and elsewhere, Johnson has made waves with his suggestion of a tax on sodas and other sugary drinks for Albany. We were initially leery, as we don't generally like these sort of taxes. But Johnson then detailed how a small fee of this kind has brought in millions of dollars for other communities. We're now far more willing to listen to the idea as a way to fill potholes or hire more public safety workers.
Konopa, the mayor for 12 years and a city councilor for 12 years before that, has a resume that includes the revitalization of downtown Albany, including the development of the Albany Historic Carousel & Museum. This was no small feat given the condition of downtown a decade ago.
She wants to be reelected to continue that process. As mayor, Konopa also has done a good job to address the problem of homelessness in Albany.
There's no doubting her work ethic. "I've worked my tail off for the community," she told our editorial board, and that's very true.
The City Council, however, has become fractured in recent years, with a bickering tone that has spilled over into at least one city committee. This problem perhaps shouldn't fall at Konopa's feet, as it could have happened under any mayor's tenure. But we think that Johnson is better able to bridge divides at this juncture.   
During our editorial board interview, Johnson made no mention of his race. But we'd be remiss not to point out that Johnson is Black, and because of this, he understands diversity issues in a way that most other local politicians can't. 
Johnson is Albany's first Black City Council member. We hope he becomes Hub City's first Black mayor.
For Philomath, Edmonds came across in his editorial board interview as knowledgeable and well-rounded in talking about the issues facing his community. He had a sort of no-nonsense but relaxed manner, which bodes well for his ability to handle any political storm. This being Philomath, there are bound to be storms. The city is growing and continuing its transition from a pure timber town to include elements of a bedroom community. You can feel the political winds starting to swirl again around the topic of growth.
Edmonds, a longtime resident, seems better positioned than his opponent to understand the community and deal with this dynamic.
But Jones, who wants to generate more money for infrastructure improvements, is a fine candidate as well. Like Edmonds, he also understands the challenges of growth and aims to beautify the town while celebrating its heritage and identity.
It will be a shame that either Edmonds or Jones will lose the race, because that means one of them won't be on the Philomath City Council next year. But that's sometimes the nature of elections when you are blessed with great candidates to choose from.
House District 16
Incumbent state Rep. Dan Rayfield, a Corvallis Democrat who also represents the Working Families Party, is the easy vote for House District 16. He's gathering some serious clout in Salem, and he's doing good work for the mid-Willamette Valley.
We generally agree with Rayfield on many topics, though one notable exception was cap and trade. However, Rayfield has transitioned to push for rules that would be far less punitive to agricultural businesses. When the state purchases products, he wants the government to take into account the complete carbon footprint of items, including the emissions generated by transporting them. The result would encourage the state of Oregon to buy more locally produced products and therefore support local jobs. And it would be environmentally friendly.
Apologies if we're getting too deep into the weeds of public policy, but this sort of "positive" mechanism for addressing climate change could get broad support among Oregon politicians.
Other key goals for Rayfield are affordable health care and campaign finance reform.
Rayfield's challenger, Republican Jason Hughes, the owner of a Corvallis logging firm, did not respond to requests for interviews from the editorial board and a reporter.
A note to candidates in the future: If you're representing a major political party for a position in the Oregon House of Representatives, you should make more of an effort. If you're not willing to talk to a newspaper, why would the public believe that you'd hustle for them?
It appears that Hughes is nothing more than a token candidate.
We wish there were someone on the level of Tom Cordier and John Sarna, the Republican candidates for the Benton County Board of Commissioners. These gentlemen are serious about their politics and serious about addressing the issues facing the area. They didn't earn our endorsement, but they have our respect.
Get local news delivered to your inbox!
Subscribe to our Daily Headlines newsletter.