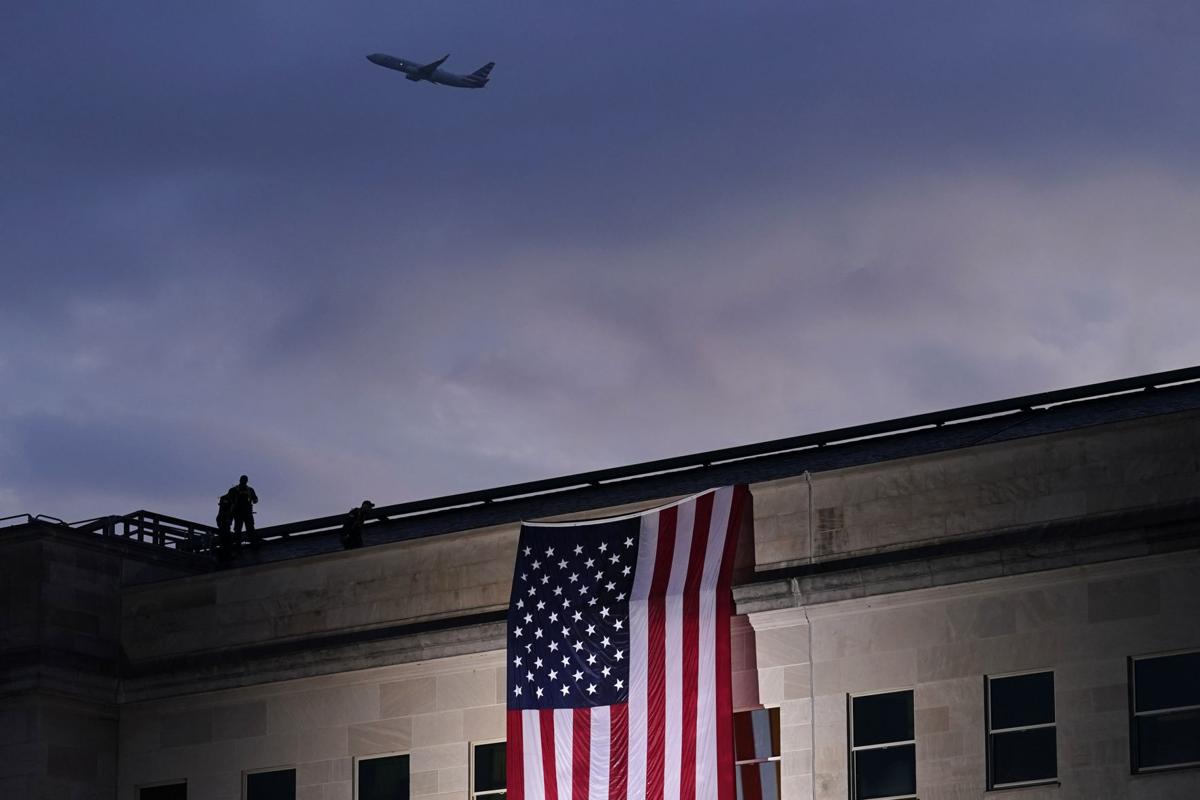 The United States and mid-Willamette Valley residents came together to try and help in any way they could in the aftermath of the Sept. 11, 2001 terrorist attacks.
Hundreds of people gathered at a prayer vigils and memorials.
Prep football fans at West Albany High School held candles during a moment of silence before the Bulldogs' game versus the Corvallis Spartans a few days later.
Middle school students washed cars to raise money for victims, and companies small and large did fundraisers, too.
There were blood drives, and local volunteers with the Red Cross and other organizations traveled to the East Coast.
Flag sales surged, and residents displayed their patriotism on pickups and porches.
In the wake of the attacks, there was shock and sadness and anger. But Americans also showed determination and a willingness to cooperate for the common good.
Journalists in our newsrooms weren't immune to these feelings, and we banded together with laser focus, scrapping plans that had been in the works for weeks, and hustling to create extra editions on Sept. 11 for the Democrat-Herald and the Gazette-Times.
Pundits immediately drew parallels to the surprise attack on Pearl Harbor. You'd forever remember where you were when you learned about the planes crashing into the Twin Towers at the World Trade Center, when you learned that the world had irrevocably changed, both for worse and for better. It was one of those moments that galvanized the nation.
Support local news coverage and the people who report it by subscribing to the Corvallis Gazette-Times.
The distance between the mid-Willamette Valley and the East Coast is nearly 3,000 miles, but New York City and Arlington, Virginia, never felt closer to Albany or Corvallis.
We were Americans, and we were going to try and do something about this injustice. We would make it through this crisis stronger and more unified.
And for a while, that actually happened. We passed that test of our character.
Twenty years later, with the United States finally out of Afghanistan, 2001 seems like ancient times. America is facing a new crisis, and a new attack by an insidious enemy. But rather than come together to confront COVID-19, our nation feels incredibly divided.
We're in the midst of a global pandemic that has killed 650,000 Americans — far more than 9/11 or even the war in Afghanistan — and there are some who would apparently like to score political points with posturing or by sowing disinformation.
For what seems like the millionth time, here are some reminders: COVID-19 is far deadlier than the flu. Masks and social distancing work. Vaccines save lives.
There are differences between 2001 and today, of course. Most notably, a virus is a different type of enemy than a terrorist organization.
A key factor 20 years ago, however, was the leadership of President George W. Bush. Whether you liked his politics or not, Bush did a solid job of unifying the country and convincing regular folks and politicians that the freedom loving U-S-of-A needed to trade some liberty for security, because we were a nation under attack.
There was no such push under the abysmal leadership of President Donald Trump, who preferred to divide the citizenry into "us" and "them." Trump willingly disregarded the science and convinced many of his followers to do the same. His failure to combat the pandemic and treat it seriously cost him the nation's top job.
(To be clear, President Joseph Biden has been more effective on COVID-19 than Trump, but the Afghanistan withdrawal remains such a debacle that we're questioning every facet of his leadership.)
The 18 months of the pandemic, in many ways, has been far more detrimental to the United States than 9/11. Our entire way of life has changed, including our economy, our education and our social interactions. After a year-and-a-half of the pandemic, it's appears that we'll survive this era not because of our unity, but despite our differences.
Still, we found glimmers of hope recently in responses to a natural disaster. With Hurricane Ida, there are countless examples of neighbors helping each other, such as the "Cajun Navy" rescuing residents trapped by floodwaters. The outpouring of support shows the possibility that the United States can still come together.
Americans were in need. So Americans rushed to lend a hand. Just like 20 years ago, when our country showed a sense of solidarity and purpose.