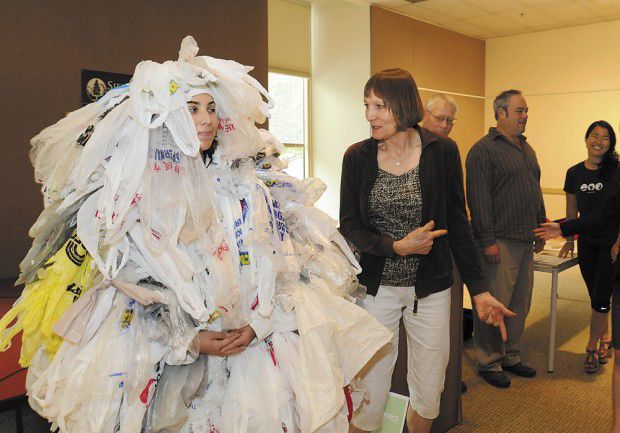 We have mixed feelings about Oregon's new plastic bag ban, but ultimately we support the law, which is set to take effect in January.
That's right, residents of Albany, Lebanon, Sweet Home and other communities: If you live anywhere in Oregon, "single-use" plastic bags won't be an option offered at checkout when you go to the grocery store and many other locations starting in 2020. Customers can choose to purchase a paper bag for at least 5 cents, however.
The bag ban isn't new for Corvallis, which passed its own prohibition on single-use carryout bags in July 2012, becoming the second city in Oregon to do so.
The process to create Corvallis' bag ban was contentious, though it also contained a touch of the ridiculous. A "Bag Monster" with a costume made entirely out of plastic bags attended meetings, like some fever dream of a knockoff "Scooby-Doo" villain hell-bent on providing public testimony. ("And I would have gotten away with it, too, if not for you pesky City Council members!")
The venom about the bag ban continued even after the local law passed. A recall effort regarding the ordinance ultimately failed due to a lack of verified signatures, which in turn prompted unsupported accusations of shenanigans.
Fast-forward to this week, and the controversy has largely disappeared. On Monday night, the Corvallis City Council voted unanimously to repeal the local bag ban, as the state law trumps ordinances passed earlier in several communities throughout Oregon.
An article published in Wednesday's paper noted the differences between Corvallis' ban and the new state law, which we consider relatively minor.
You have free articles remaining.
Of course, the change in January won't seem insignificant to Linn County residents, or those living in rural Benton County. We expect more heated rhetoric about the state law as it takes effect. But the good news is that shoppers throughout the mid-Willamette Valley eventually will get used to it and adapt.
Many Corvallis residents and visitors who frequently shop there often carry reusable fabric or heavy plastic bags in their cars, and members of our editorial board are among them. Of course, we also grumble about paying 5 cents if we forget our reusable bags, and shuffle off to our vehicles carrying an armful of goods.
(We wish that paper bags remained a free option for shoppers, seeing as how they're easy to use, easy to recycle and benefit Oregon's economy. Timber jobs are still good jobs, especially locally.)
And there's more grumpiness because the single-use plastic bags aren't, in reality, used only a single time by many residents. They become lunch bags, or bathroom or kitchen garbage can liners, or bags for litter box Almond Roca before making their way into our big garbage bins. Many pet owners now will have to buy poop bags for their critters for the first time ever.
So, yes, the state's bag ban will be an inconvenience for some mid-valley residents and a small additional burden for the pocketbook.
But we also know that we have a plastic pollution problem. If you need a sobering dose of reality, search our websites for articles on the "Great Pacific Garbage Patch." Locally, you often can spot plastic bags tangled in shrubs, trees and powerlines, blowing down the street or floating in waterways. You might be responsible with plastic bags, but many people aren't.
Facebook experts like to argue that other nations are worse polluters than the United States, but that doesn't apply with plastic bags. Among the numerous countries with plastic bag bans are China and India. The United States, and even Oregon, is late to the party.
According to the Earth Policy Institute, Americans use about 100 billion plastic bags each year, or about one per day per person. The recycling rate on these bags is very low, according to various sources, so most of the bags are thrown away. And even if properly disposed of, this trash will take hundreds of years to break down into small pieces of microplastic that will continue to pollute the environment.
The ban on plastic bags is only one part of the solution to our plastic problem, but any step in the right direction is a welcome one. After all, one-time-use bags are forever.
Get local news delivered to your inbox!
Subscribe to our Daily Headlines newsletter.