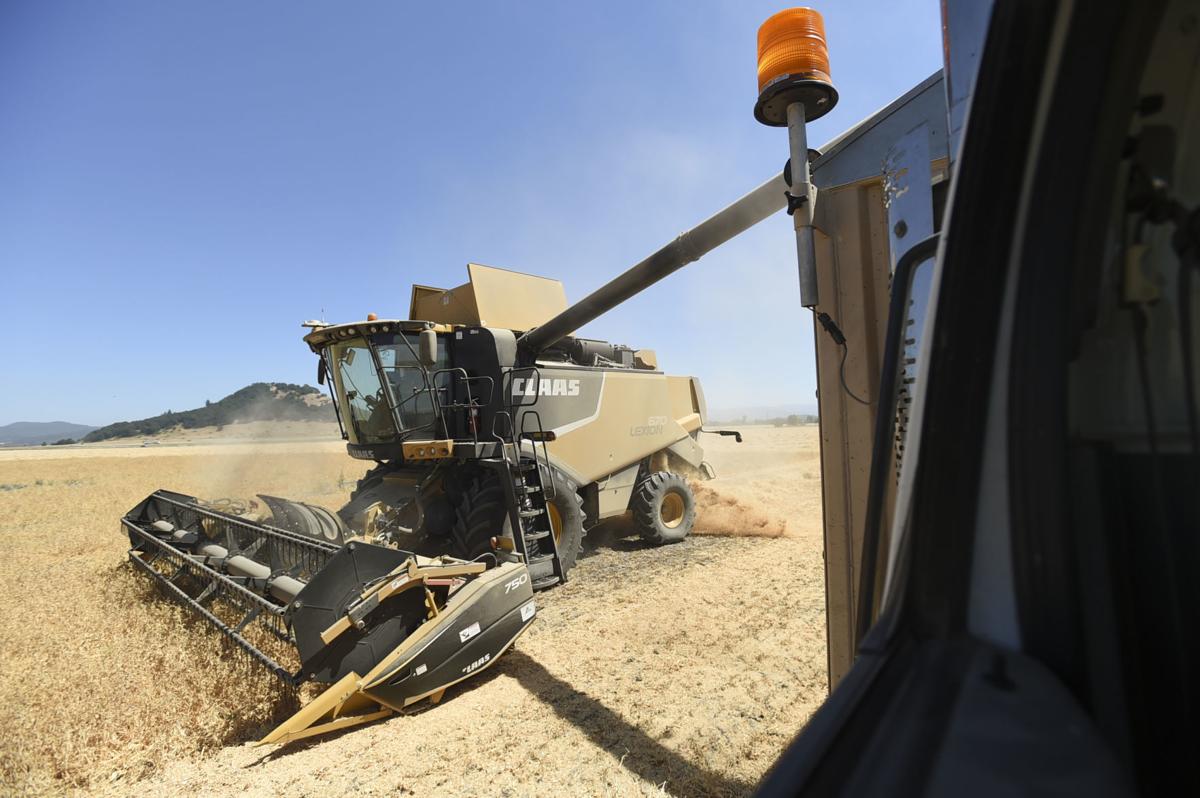 Oregon amazes residents and visitors for so many reasons, including the fertile soil that makes crops bountiful and provides a cornucopia of delicious produce for chefs and diners.
July is an extremely busy time of year for the agricultural industry, as grass seed, hay, wheat, berries, cherries, beans and more are being harvested right now.
That means that a plethora of farm machinery is traveling on state highways and country lanes. Combines, tractors, swathers and big trucks rumble along from field to field.
So here's a valuable reminder: When you're out driving, watch out for this ag equipment in the road. If you see farm machinery, slow down.
Use some common sense, courtesy and patience. Don't gamble your life and others' by trying to make an ill-advised pass.
The same goes for slow-moving RVs and pickups hauling trailers and boats that you may encounter out on the roads.
Most Oregonians have witnessed dangerous moves — and near head-on wrecks — from drivers who think they're Mario Andretti or Lewis Hamilton and try to zoom past a slow-moving vehicle. It's amazing the risks some people will take to shave a few minutes off their travels. And that risky behavior seems to be increasing in regard to agricultural equipment.
According to a news release from the Oregon Farm Bureau, significant crashes with injuries involving farm machinery are on the rise. That should be no surprise seeing that Oregon's population continues to climb. More people equals more motorists equals more conflicts out on the roadways.
In general, farm machines are designed to travel at speeds of no more than 25 mph and must display a reflective, triangular, orange-and-red "slow moving vehicle" sign while out on public roads. They have a legal right to be there.
We realize that for many drivers caught behind these big rigs, 25 mph is a snail's pace. Honking won't get farm machinery moving any faster, however.
Also, please realize that many pieces of equipment are being driven by teenagers who probably are quite anxious about the line of cars forming behind them. It's not as if their dreams for the day included clogging the road and causing meltdowns from motorists.
In our experience, the drivers of combines and tractors, once it's safe, will do everything they can to give you as much passing space as possible.
When you do pass, be watchful of other vehicles behind you that may also try to pass. Also, don't automatically assume that a farm vehicle that pulls to the right side of the road is going to turn right or is letting you pass. Due to the size of some machinery, the Farm Bureau notes, operators sometimes must make wide left-hand turns. If you're unsure, check the operator's hand signals and look at the left side of the road for gates, driveways or other places where a vehicle might turn in.
Sometimes on narrow two-lane stretches, of course, there isn't much that can be done. You'll simply be stuck puttering along.
If you're caught driving behind a combine or tractor on your journey, we'd advise you to relax and enjoy Oregon's splendor. Perhaps check out the silhouette of Marys Peak, the peaks of the Cascades, the Willamette River or rustic barns. We live in a beautiful state, right?
And part of that beauty, again, is the agricultural industry. Think of farm machinery as a timely reminder of the importance of farms to the mid-Willamette Valley's economy, and to your own meals. It's berry season and you're an Oregonian. Rejoice!
We'd encourage you to leave early and give yourself an extra 10 minutes of wiggle room as you head out and about the mid-Willamette Valley this time of year.
Even if you're a little late to your destination, it won't kill you. Being impatient behind the wheel just might.
Get local news delivered to your inbox!
Subscribe to our Daily Headlines newsletter.