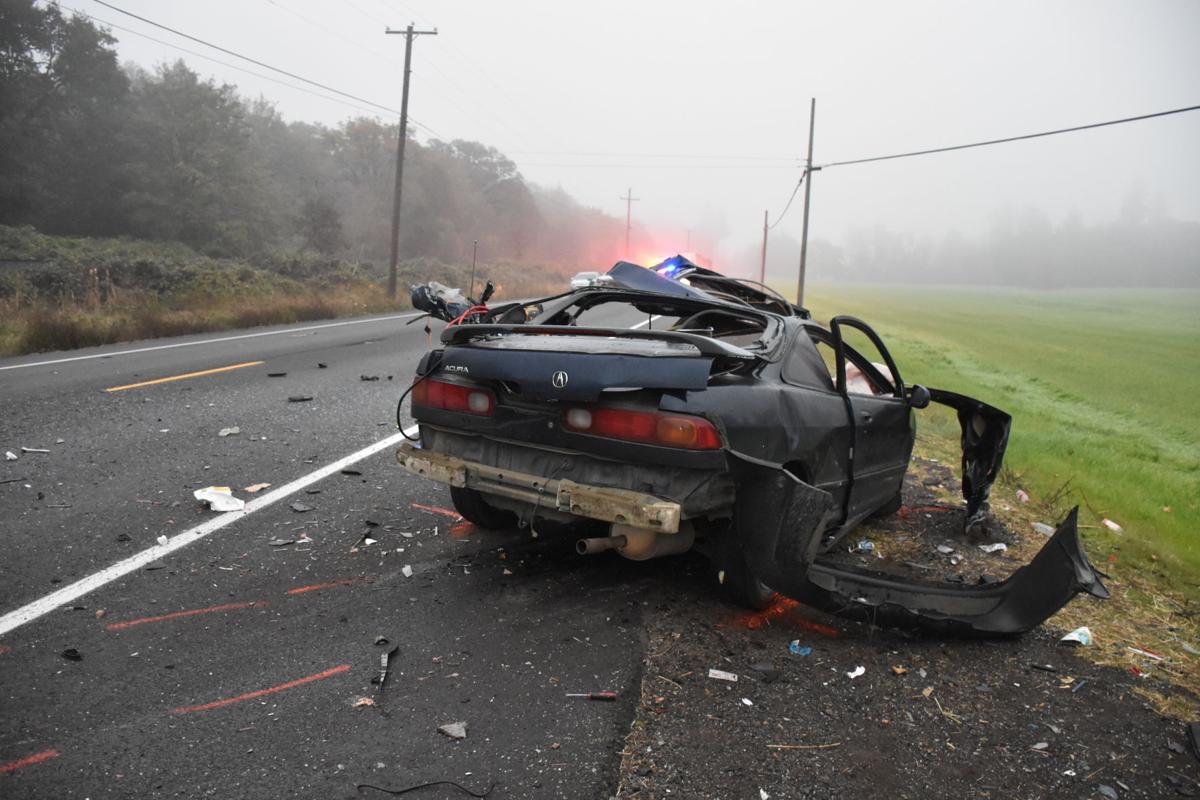 Lately, it seems like almost every day brings a new tragedy on area roadways.
On Friday morning, a Eugene man, Kenith Laster III, 27, died west of Sweet Home when his car lost control on Highway 20, crossed over into oncoming traffic and collided with a large pickup.
On Sunday, Terri Kilby, 64, of Lyons, was found dead in her submerged SUV off of Evergreen Lane. It appears she was leaving family property in the Lyons area on Saturday night, took a corner too sharply and her vehicle rolled into a pond.
On Monday night, William Miller, 66, of Scio, was killed in a crash on Highway 22E east of Mehama when his van went into the oncoming lane and crashed into a pickup.
Benton County had two fatal crashes in two days a few weeks ago.
On Oct. 29, Keith Merritt Lee, 35, of Independence, died in a head-on crash about 3 miles west of Albany on Highway 20 when his car crossed the centerline and collided with a large pickup.
On Oct. 30, Anderson Martin Burrus McDonough, 26, of Philomath, died in a crash on West Hills Road north of Philomath when his pickup went into the oncoming lane and crashed into a SUV.
Also on Oct. 30 in Lincoln County, 20-year-old Lebanon resident Lexi Brockmann was killed when a large pickup crossed the center line and smashed into her car. The driver of the pickup, 27-year-old Monroe resident Daniel Dionicus Ruiz, has been charged with second-degree manslaughter, driving under the influence of intoxicants and several other crimes.
We could backtrack more into October, but you probably get the point. It's been a particularly bad stretch around these parts.
So we urge you to slow down and pay attention behind the wheel, because the consequences could be horrific, and if not for you, then for others. Maybe they could be passengers in your vehicle. Perhaps these could be other motorists minding their own business and traveling with their families.
Every fatal crash ends a life and all its possibilities and creates a wake of devastation for family and friends and others, including witnesses. These incidents even impact the public safety workers who respond to help.
Most fatal crashes are preventable and caused by simple driver errors. Driving too fast for the conditions often is a factor, and with the winter in Oregon, the roadways can be unpredictably slick in spots. Distracted driving also contributes to many wrecks, so put down that cellular phone and focus on the task at hand.
Also, the wreck on the Coast Range should serve as a reminder not to drink and drive (or drive high for that matter). Thanksgiving and the holidays are fast approaching, and as our readers know, we love a glass of holiday cheer, especially from our local wineries and craft beverage producers here in the mid-Willamette Valley. But there's no excuse for driving intoxicated, and if you're involved in a serious or fatal wreck while under the influence, you could face felony charges and potentially years in prison.
Thankfully, there are a bit of safety upgrades planned for one of the more dangerous areas of roadway in the mid-Willamette Valley.
About $28 million in improvements are scheduled for the 9.25-mile Highway 20 corridor between Albany and Corvallis. The upgrades have been in the works for years. There have been five fatalities in that stretch of road since 2016, including the Oct. 29 wreck.
Key additions set to be under construction in 2023 include two-way center turn lanes between Conifer Boulevard and Merloy Avenue near the Children's Farm Home and between Blossom Lane and Scenic drive in North Albany.
These improvements may sound expensive, but if they save even one life, they'll be worth every penny.