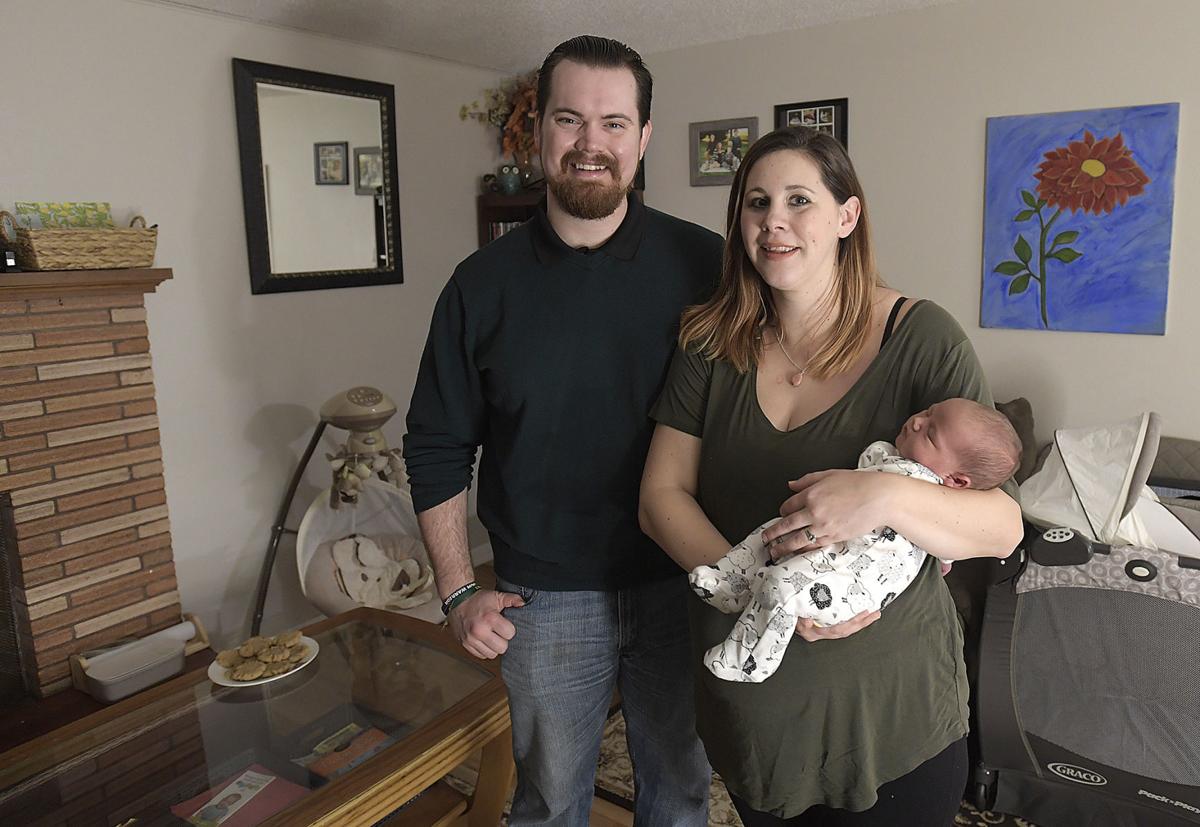 ROSE (roz) n. One of the most beautiful of all flowers, a symbol of fragrance and loveliness. Often given as a sign of appreciation.
RASPBERRY (raz'ber'e) n. A sharp, scornful comment, criticism or rebuke; a derisive, splatting noise, often called the Bronx cheer.
• ROSES to Megen Osborn and Wyatt King of Lebanon, who welcomed baby Thatcher Osborn King into the world last month under some pretty exciting circumstances.
Osborn had been working with a midwife during her pregnancy and had planned on having the baby at the Growing Family Birth Center. But when she went into labor on Jan. 23, five days past her due date, things happened so fast that there wasn't enough time to get there, so she had Thatcher the old-fashioned way: at home.
Following midwife Debbie Cowart's advice, Osborn was taking a relaxing lavender bath when the contractions started, but they quickly become longer and more intense. King called Cowart, who advised him to bring his wife to the birthing center, but by then Osborn had gone into full-blown labor and couldn't be moved. So Cowart told King to hang up and call 911.
With medics from the Lebanon Fire District on their way, the 911 dispatcher (whose name was unavailable) coached King and Osborn through the process of delivering their own baby, telling Osborn to keep pushing and warning King to support the infant's head and hang on tight to the slippery newborn.
With Osborn in a standing position, King got behind her in what he described as "kind of like a quarterback and center stance" as she delivered the family's newest member. The dispatcher instructed King to wipe the baby's face and vigorously rub his back and chest, then guided him on how to unwrap the umbilical cord from around the baby's neck so he could breathe freely.
You have free articles remaining.
When the EMTs arrived with Cowart close behind them, they were greeted with a 10 pound, 8 ounce baby boy. Mother and child reportedly are doing fine, and Dad appears to have recovered from the experience as well.
• RASPBERRIES to the appalling lapses in safety procedures that contributed to the death of Pete Neuman, a veteran road maintenance worker with the Benton County Public Works Department who died Aug. 9 while working on a road-building project south of Corvallis.
Investigations by several agencies revealed a number of concerning circumstances surrounding the incident. Among them were these: Neuman was operating a poorly maintained piece of rented logging equipment, called a skidder, that was owned by his supervisor's son; Neuman was not properly trained to operate the machine; the company that rented the skidder to the county never inspected the machine to ensure it was safe to operate; the skidder was not taken out of service even after county operators experienced problems with the engine stalling and the brakes failing; and the seat belt was poorly maintained and may not have been usable by some operators, including Neuman.
Last week, the Oregon Occupational Safety and Health Division cited the county for five serious safety violations and fined it $30,500.
County officials say they have taken a number of measures to improve worker safety, including hiring a full-time safety officer and conducting training sessions. But they have declined to answer questions about the policies and procedures that were in place prior to the fatal accident or disclose what disciplinary actions have been taken since then, saying they can't talk until a pending insurance claim is settled and a civil lawsuit is no longer a possibility.
That leaves the citizens of Benton County with far more questions than answers about just how seriously their local government takes life-and-death matters of workplace safety.
• ROSES to Samaritan Health Services for being prepared to deal with potential public health emergencies such as the novel coronavirus outbreak that began in China and has now spread to other countries, including at least a dozen cases in the United States.
Samaritan, which operates five hospitals in Linn, Benton and Lincoln counties, set up the Northwest Biopreparedness Training Center at its Lebanon hospital several years ago in the wake of an international Ebola outbreak. The center provides training in the use of protective equipment, isolation of infected patients and safe disposal of infected materials, both to Samaritan's own health care providers and those from other health systems.
"We are well prepared to screen, isolate and treat patients with possible novel coronavirus both at inpatient and outpatient locations," the Lebanon hospital's infection preventionist, Jody Califf, said last week.
That's comforting news in an era of rapid international travel, when new infectious diseases can spread around the world in a matter of days or weeks.