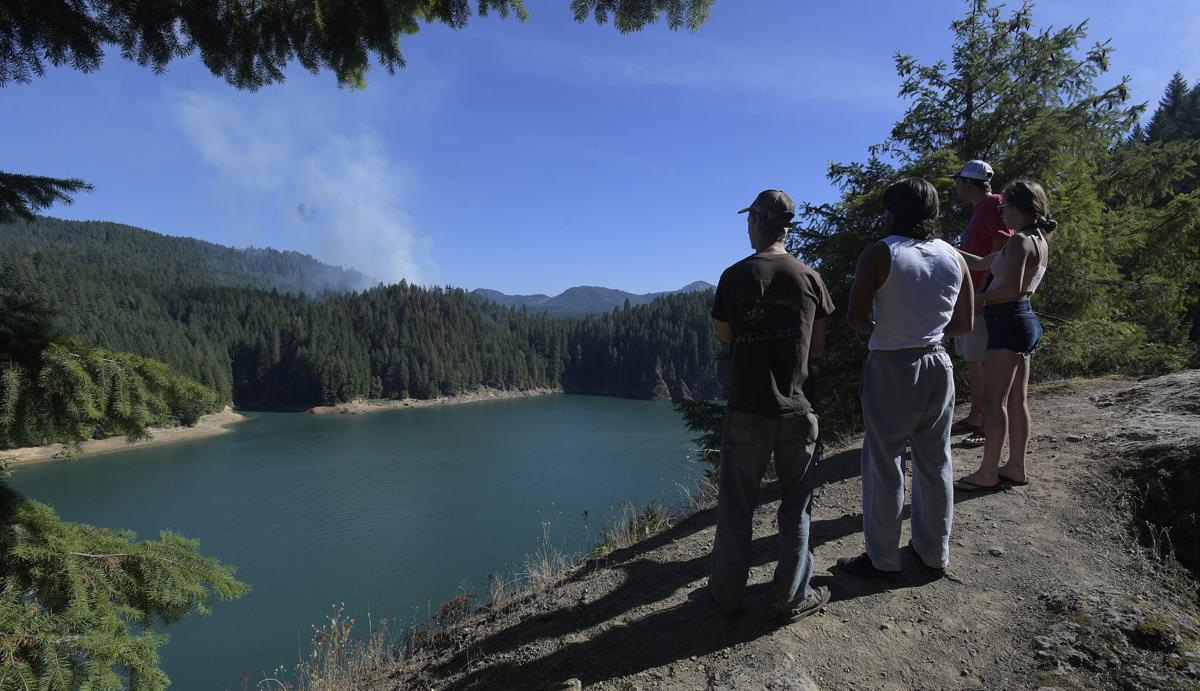 ROSE (roz) n. One of the most beautiful of all flowers, a symbol of fragrance and loveliness. Often given as a sign of appreciation.
RASPBERRY (raz'ber'e) n. A sharp, scornful comment, criticism or rebuke; a derisive, splatting noise, often called the Bronx cheer.
•ROSES to private boaters who helped ferry firefighters, pumps and hoses across Green Peter Reservoir last weekend so crews could battle a blaze in a section of roadless forest. The flotilla also included vessels from the Linn County Sheriff's Office, Linn County Parks and the Sweet Home Fire District. The swift response kept the fire small and manageable at 18 acres. We love seeing stories about locals who are willing to help out when there's a need — and we'll have more on this trend in a bit.
•ROSES to firefighters who are working hard throughout the West. It's no secret battling wildfires is a tough, dirty and physical job. COVID-19 has made things even more difficult for these workers. Kudos to these men and women for doing a real public service for the area by keeping fires from spreading. Linn County and the Sweet Home area in particular benefit greatly from outdoor recreation, with hikers, backpackers, campers and boaters flocking here, buying gas, food and more at local stores. When a fire turns into a massive inferno and spreads throughout the hills, the economic losses for the area mount. Obviously, with the pandemic, keeping fires contained seems even more critical.
•ROSES to those who searched for Ava Carey, as well as businesses and organizations that helped. We can all be thankful this missing teenager was found safe. We're still waiting to hear more details about Ava's disappearance, but it's comforting to know that the Corvallis community will step up en masse in times of need.
•ROSES to farm stands. Summer is almost over, but farm stands still will be operating for a while in the area. Take advantage of the tomatoes and other fresh produce while you can, because cold weather will return to the mid-Willamette Valley soon.
•RASPBERRIES to litter out in the woods. We love the outdoors, but on our hiking and camping trips this year, we've noticed far more trash in Oregon's forests. Perhaps this is because there are so few entertainment options during COVID-19. More people are hiking and backpacking, including people who normally wouldn't be outside. It's pretty clear there are plenty of newcomers based on a lack of trail etiquette. (As a reminder, people going uphill generally have the right of way, because they're doing all the hard work. Plus, those going downhill can usually see spots to step aside better. Hikers should yield to horses. Also, that techno music blaring out of the speaker on your backpack? Maybe that isn't the best idea. The basic rule is to simply be polite and courteous, not barge through groups on a singletrack. And we're in Oregon, so it's state law to be so overly polite that you're mistaken for a Canadian, right? But we digress. Sore-ee.) Logically, more people equals more garbage. But we think inexperienced folks simply aren't being careful with their granola bar wrappers and beer cans. Or maybe they just don't care. The great outdoors help make Oregon a wonderful place to live. Please don't trash our scenic splendor.
•ROSES to people who still pick up trash out in the woods. Yes, even during a pandemic, these underappreciated and soulful do-gooders exist. Being an outdoors garbageman has always been gross, but now there's a public safety element to this bit of philanthropy. That being said, all you need for this activity is a pair or two of disposable gloves, a good trash bag and a few gallons of hand sanitizer. You can probably find room for those in your backpack. When you remove garbage from the woods, even just a few pieces, that feeling of bliss after a great hike is even better.
Concerned about COVID-19?
Sign up now to get the most recent coronavirus headlines and other important local and national news sent to your email inbox daily.