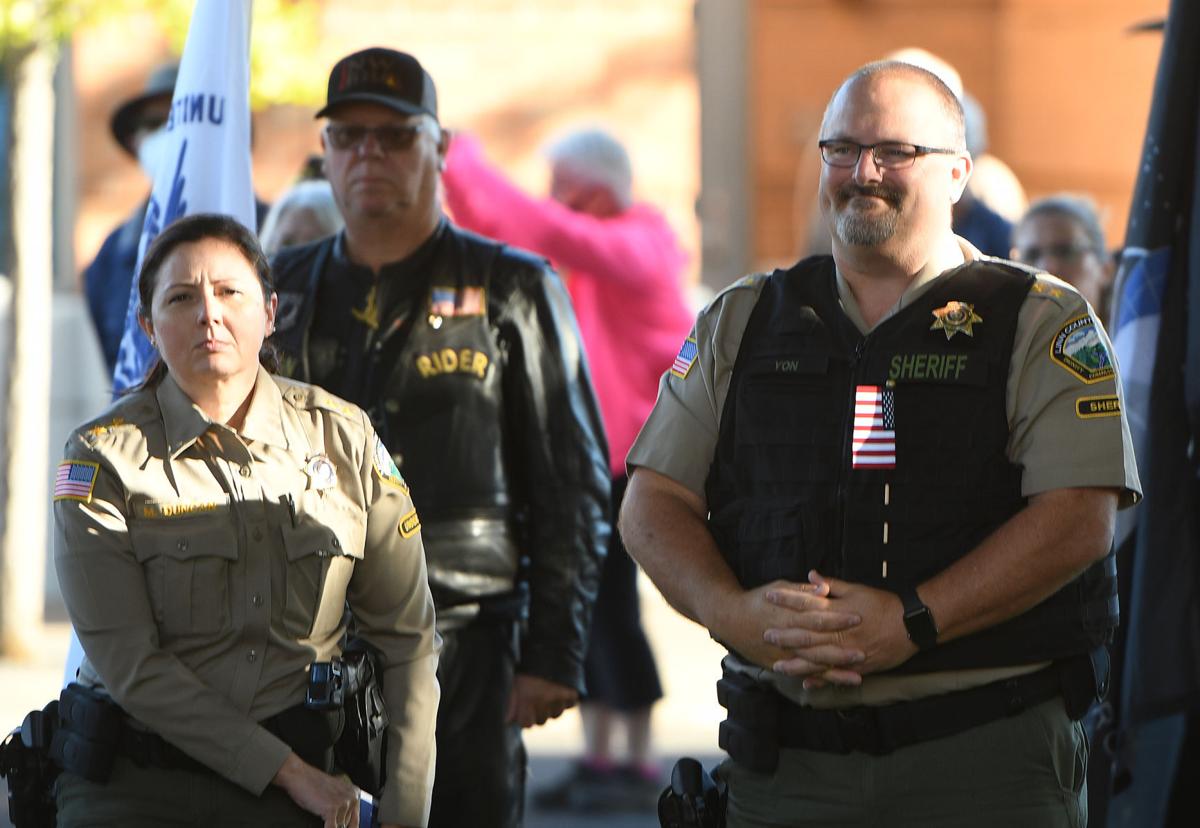 ROSE (roz) n. One of the most beautiful of all flowers, a symbol of fragrance and loveliness. Often given as a sign of appreciation.
RASPBERRY (raz'ber'e) n. A sharp, scornful comment, criticism or rebuke; a derisive, splatting noise, often called the Bronx cheer.
•ROSES to Linn County Undersheriff Michelle Duncan, the first woman to fill that role.
She joins Albany Police Chief Marcia Harnden and Oregon State University Police Chief Shanon Anderson as high-ranking females in mid-valley law enforcement.
Women leading public safety agencies are still relatively rare in Oregon and across the United States, but that's become less so and that's for the best. Good people should be considered for good jobs, regardless of race, sexual orientation, gender, age or faith.
As savvy readers understand, Duncan's appointment means that she is highly likely to become the first female sheriff of Linn County when Sheriff Jim Yon decides to retire.
Benton County has already had its first female sheriff in Diana Simpson, who faced no small deal of hostility when she ran for office and when she served simply because she was a woman.
But Simpson did a fine job, and we're confident Duncan will do the same if given the chance.
•ROSES to renaming three Corvallis elementary schools for women of color: Benton County pioneer Letitia Carson; prominent Grande Ronde tribal member and Benton County resident Kathryn Jones Harrison; and Bessie Coleman, the first Black woman and first indigenous woman to earn a pilot's license.
The schools were formerly named for three presidents whose actions were inarguably racist in hindsight — Thomas Jefferson, Woodrow Wilson and Herbert Hoover.
Support local news coverage and the people who report it by subscribing to the Albany Democrat-Herald.
We still wish, as we wrote in this space back in August 2020, that there would have been more discussion about removing these presidents' names from the local schools. Oregon State University got things right by holding a series of public hearings when considering renaming some of its buildings with controversial monikers.
A similar set of hearings regarding the Corvallis schools almost certainly would have produced the same outcome in ultra-progressive Corvallis, but resulted in more of a sense of community.
Other school districts and organizations should keep this in mind when they consider the legacy of buildings named for those whose actions now look hideous.  
Again, we're pleased with the ultimate results of CSD's renaming, and especially so with honoring Carson and Harrison, who have strong local ties.
Representation matters, and local girls and students of color can understand that their aspirations of greatness — perhaps having a school named after them for their accomplishments — are quite real, indeed.
•RASPBERRIES to the pandemic and its continued impact on Oregon.
According to the Oregon Capital Bureau, an updated forecast by Oregon Health & Science University predicted that novel coronavirus hospitalizations in Oregon will finally drop back to pre-surge levels of under 200 by Thanksgiving.
Let's hope that's the case and there isn't another uptick for COVID-19.
Dr. Dean Sidelinger, state epidemiologist, said it could be another chilly year of celebrating the holidays in garages, porches and the like, according to the OCB.
These sorts of open-air gatherings are probably the best idea because people are far more likely to catch COVID-19 indoors.
There's probably already been a run on outdoor space heaters, backyard fire pits, cozy blankets and comfortable patio furniture. But next time you're shopping, you might keep an eye out for the safety of your family.
•ROSES to the Oregon Legislature opening its session up to the public. Being able to see our government in action, in person, is a huge win for the people, whether that's in a small town of 250 people or at the Oregon Capitol.
We should note, things could change in an instant if there's an outbreak of COVID-19 in the Capitol, which sits inside Marion County, one of the harder hit areas of the Willamette Valley during the pandemic.
•ROSES to well-attended local ceremonies marking the 20th anniversary of the terrorist attacks of Sept. 11, 2001.
Much like Pearl Harbor, this is a moment that the United States should never forget. Our government and residents should continue to assess the successes of our nation in the aftermath of 9/11, as well as our failures before and following that fateful day.