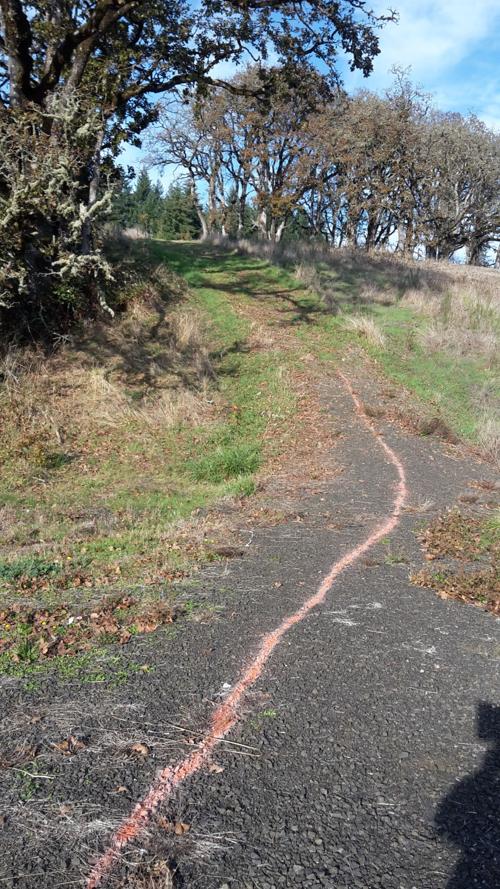 ROSE (roz) n. One of the most beautiful of all flowers, a symbol of fragrance and loveliness. Often given as a sign of appreciation.
RASPBERRY (raz'ber'e) n. A sharp, scornful comment, criticism or rebuke; a derisive, splatting noise, often called the Bronx cheer.
•RASPBERRIES to an absolutely vile use of profanity from an unidentified man during a Corvallis City Council meeting held via videoconference last week. We'll fully admit that we're prudes about using foul language in public here at our newspapers, but this was shocking by any standard. The statement directed toward Councilor Nancy Wyse included an f-bomb and what sometimes is called the c-word, generally considered the most offensive term in American English.
What's more is that the misogynistic comment seemed to be completely unnecessary. Wyse had just made a motion to make a multi-use path follow industry standards in the Brooklane Heights subdivision. The path is about 325 feet long and connects two streets in the development, and city staff was concerned that the steep grade of the slopes on the path, which are as high as 28 percent, make it unsafe. Wyse's motion supporting the staff's direction, which passed 6-3, seemed standard, reasoned and non-controversial.
The path, to be sure, also doesn't seem like it will cost all that much to fix, at least not compared to the total dollars the developers stand to make. Brooklane Heights has 42 lots, valued at between $165,000 and $250,000 apiece. The development, even without houses, is worth millions. So the statement was overkill.
The words were uttered by someone whose camera wasn't turned on, and the identity of the perpetrator hasn't been confirmed, but there isn't exactly a long list of suspects. The city of Corvallis should try to determine who was responsible and censure them. And the person who uttered that phrase needs to apologize in public to Wyse.
•ROSES, two dozen of them, to Mayor Sharon Konopa of Albany, who appears to have lost her reelection bid, according to unofficial results from Linn and Benton counties.
Why 24 roses? Konopa has served the city of Albany for 12 years as a City Council member and for 12 years as mayor, and she's served her hometown well. She has been a leader who has helped transform downtown Albany, which was in rather poor shape just a decade ago. Now, the heart of Hub City is a worthy destination for dining, shopping and that magnificent carousel.
The mayor also has done a good job in addressing homelessness in Albany. As we've mentioned in this space before, she has a strong work ethic and a heartfelt desire to serve her community.
So we hope that Konopa stays involved locally, either with politics or with nonprofits. She's made the mid-Willamette Valley a better place to live and can continue to do so, regardless of the outcome of this election.
•ROSES to candidates who are taking their responsibilities seriously, such as Marilyn Smith, former city of Albany spokeswoman and newly elected City Council member. Smith said her first priority as a newly-elected local official would be to take down her election lawn signs in a timely fashion, and we thank her for that. (In Albany, the deadline to remove election signs according to city code is seven days after an election, or Tuesday, Nov. 10.)
We hate seeing election signs blown by winter winds into gutters or ditches, or those which are still in place, tattered or even vandalized, long after the ballots are counted. In case there's any doubt, that's not a flattering look for a public official or aspiring community leader.
•RASPBERRIES, once again, to the continued spread of COVID-19, which is accelerating at the local, state and national levels as we head into colder weather. Oregon had a record with 805 new cases on Thursday. The uptick is driven by indoor social gatherings, and Gov. Kate Brown said that residents are most likely to get COVID-19 from their family and friends.
With that in mind, we'd urge you to rethink your holiday plans, especially given that the elderly are particularly vulnerable during the novel coronavirus pandemic.
Thanksgiving dinner with 15 relatives might not be the best idea for the grandparents or really anyone this year. Socially distanced cider and pie on the back patio with a few select guests might be a solution.
Concerned about COVID-19?
Sign up now to get the most recent coronavirus headlines and other important local and national news sent to your email inbox daily.