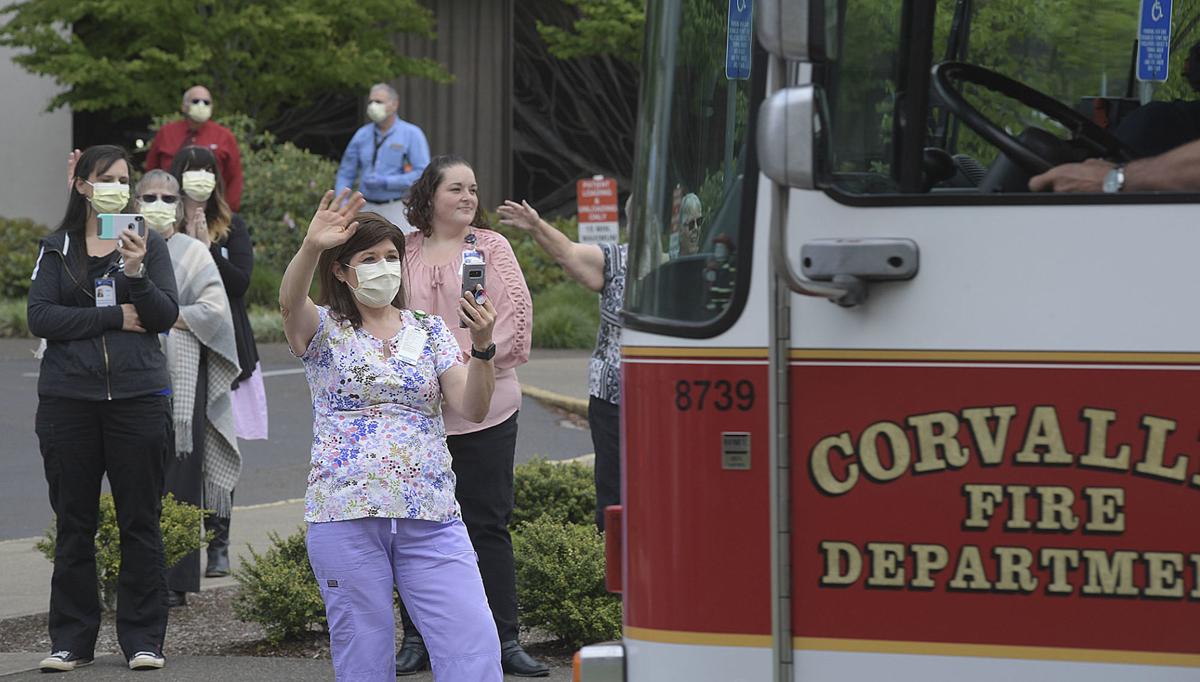 ROSE (roz) n. One of the most beautiful of all flowers, a symbol of fragrance and loveliness. Often given as a sign of appreciation.
RASPBERRY (raz'ber'e) n. A sharp, scornful comment, criticism or rebuke; a derisive, splatting noise, often called the Bronx cheer.
•RASPBERRIES to COVID-19, the illness caused by the novel coronavirus, which continues to lurk in the mid-Willamette Valley.
As of Tuesday, the illness had sickened at least 18 people associated with National Frozen Foods in Albany.
A large percentage of cases linked to the Albany plant are workers there — these aren't elderly folks. The National Frozen Foods cases should serve as a bit of a warning sign to people who think that life should return to normal immediately.
•ROSES to public officials carefully considering how to reopen the state and local communities as the coronavirus pandemic continues. It's an awful bit of calculus, weighing the economy versus public health while noting the interplay between the two concepts.
There haven't been any protests regarding stay-at-home orders here in the mid-Willamette Valley — at least, not yet — and that could be because of the serious tone that the Linn County Board of Commissioners has taken. Yes, people may actually take their cues from political leaders, even in small towns.
The Linn County commissioners are three business-friendly Republicans, and they seem eager to let businesses reopen, but in a fashion that promotes social distancing. They clearly don't want the coronavirus to gain another foothold in the mid-valley.
•ROSES to Costco, Samaritan Health Services and other businesses and organizations that are requiring customers and visitors to wear masks or protective face coverings.
Obviously, this safety measure makes perfect sense for medical facilities. Masks also are logical for places where large numbers of people congregate, such as supermarkets or Costco. After all, COVID-19 can be spread by asymptomatic carriers.
Many commenters online have blasted Costco for its mask decision, citing the restriction on their freedoms. But the company is free to enact this rule to protect its customers and employees. And those who disagree are free to take their business elsewhere.
We're guessing that Costco won't see a big dip in business due to its new mask rule. In fact, this might just be a competitive advantage and encourage people to shop at Costco if they've been avoiding the retailer during the pandemic.
The coronavirus may well wane this summer, as sunlight tends to be an amazing disinfectant. But there's also a chance that it returns in force with the colder weather later in the year. And if that occurs, expect mask requirements in many more places next fall and winter.
Unless we develop a vaccine soon, Costco might simply be ahead of the curve with its mask requirement.
And other businesses should consider following Costco's lead, because masks, as it turns out, may be good for business right now.
•ROSE-BERRIES to views of the Cascade Mountains. With fewer people driving to work and for fun around Oregon, the views of the snow-capped peaks to the east have been majestic. Yet they're also a bit of a tease, as we wish we could be out past Sweet Home hiking on some of our favorite trails again. Perhaps by July, Gov. Kate Brown? We'd even take August.
•ROSES to our public safety workers and their impromptu parades through neighborhoods, which can bring a bit of sunshine to young residents on even the dreariest of days.
We were extremely charmed, however, by a parade on Wednesday afternoon that took firetrucks and law enforcement vehicles past Good Samaritan Regional Medical Center and the Corvallis Clinic. Police officers and firefighters wanted to show their appreciation for the nurses and doctors who are dealing with COVID-19 every day, said Corvallis Fire Chief Ken McCarthy.
•RASPBERRIES to our mangled spelling of the fruit in the headline of this column last week. A few readers seemed offended because raspberries, though our official "thumbs down" symbol, are such a delicious part of Oregon's summertime bounty.
We acknowledge that the typo was egregious. We're burning the candle at both ends trying to bring you important news during these strange times. Mistakes happen, especially when we're this frazzled, but we'll try to do better in the future — and we'll try to be particularly careful with our berries and not pop a drupelet.
Concerned about COVID-19?
Sign up now to get the most recent coronavirus headlines and other important local and national news sent to your email inbox daily.