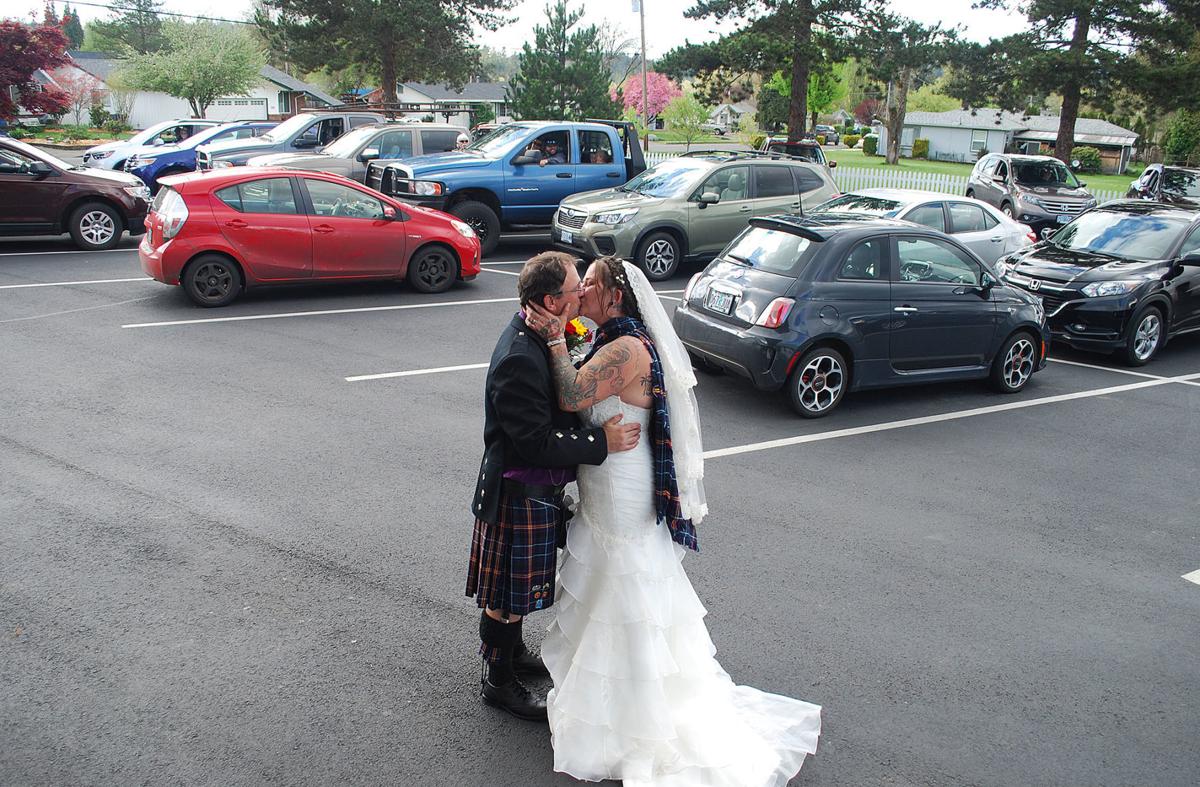 ROSE (roz) n. One of the most beautiful of all flowers, a symbol of fragrance and loveliness. Often given as a sign of appreciation.
RASPBERRY (raz'ber'e) n. A sharp, scornful comment, criticism or rebuke; a derisive, splatting noise, often called the Bronx cheer.
•ROSES, a dozen of them, to love in the time of COVID-19. We're not talking about hook-up culture, which hopefully has been curbed due to the new risks involved right now. We're talking about true romance. Linn and Benton County clerks have said that the novel coronavirus pandemic isn't stopping weddings from occurring in the mid-Willamette Valley.
People are still getting married and moving on to the next phase of their lives together. It isn't the wedding many brides dreamed of, to be certain. Adjustments have to be made for social distancing, and gatherings are limited. But residents are still getting to the church on time, even if they can't have many family members or friends in attendance.
We fully respect those who have postponed their weddings. But we have a fond spot in our hearts for those who have forged ahead with some can-do spirit in these strange times.
•ROSES to toilet paper fairies rolling through Philomath with a wheelbarrow full of the precious paper commodity last week.
A group of five local women put on tutus and wings and surgical masks and made sure their neighbors had enough TP.
It was an outrageous bit of fun that helped neighbors and likely inspired other bouts of oddball community service. Who can't use a bit of whimsy right now?
•RASPBERRIES to "The Last Dance," a documentary on ESPN. We don't need to be reminded of the greatness of the Chicago Bulls and Michael Jordan, destroyer of hoops dreams for cities including Portland — and the entire state of Oregon, really.
Perhaps you were a Blazers atheist back in the day. For some of us, this is a gut punch, a basketball trauma revisiting us from three decades ago.
We really didn't need an opus on the "shrug game" against the Trail Blazers. When we could finally afford to buy Air Jordans, we refused to purchase them for years and years, because that guy was the enemy.
Jordan might very well be the best to ever lace them up, but No. 22 is emblazoned on our hearts, not No. 23. Rip City forever.
•ROSES to the new executive director of the Greenbelt Land Trust, Jessica McDonald. McDonald, who previously served as the group's assistant director after a stint as development director, succeeds Michael Pope, who retired in January after a decade in the position.
Pope tripled the size of the nonprofit's land holdings to 3,695 acres in Benton, Linn, Polk and Marion counties. McDonald hopes to continue the run of success for the conservation group while forming stronger relationships with government at the local, state and federal level.
•RASPBERRIES to issues with clean water at Knoll Terrace, a mobile home park north of Corvallis. There have been six boil water notices since January 2019 at the site; Benton County sent the most recent notice to residents on April 26.
Herb Miller said he's lived at Knoll Terrace since 2013, and the longest his neighborhood has had clean water without fail is four months. He added that last week, the tap water looked like root beer.
Let's hope these ongoing issues can be solved at this mobile home park in the future. For now, it's shocking that in Oregon, of all places, some of our neighbors can't reliably get clean water for bathing, laundry or drinking.
• ROSES to Betty Johnson for a lifetime of service that few will ever equal. Johnson, who died April 29 at the age of 97, came to Corvallis in 1970 and began a 15-year career in senior services, spearheading the implementation of programs we now take for granted, including Dial-A-Bus, Meals on Wheels and Benton (now Lumina) Hospice Service.
Her retirement in 1987 was just the beginning of a second act as one of the state's leading health care reformers that would run for an astonishing 32 years. Johnson worked tirelessly for single-payer health care, leading the charge for an unsuccessful ballot measure in 2002 and becoming a familiar figure in newspaper offices, legislative hearing rooms and rallies on the Capitol steps.
A devout Catholic, Johnson's commitment to universal and affordable health care was driven by compassion rather than  ideology. Even those who opposed Johnson's views liked and respected her, while her fellow activists adored her, giving her the affectionate nickname of "Mother Superior." Retired Corvallis physician Mike Huntington remembered her this way: "She would say something like, 'I'm counting on you,' and you couldn't say no to her." We'll miss you, Betty.
Concerned about COVID-19?
Sign up now to get the most recent coronavirus headlines and other important local and national news sent to your email inbox daily.