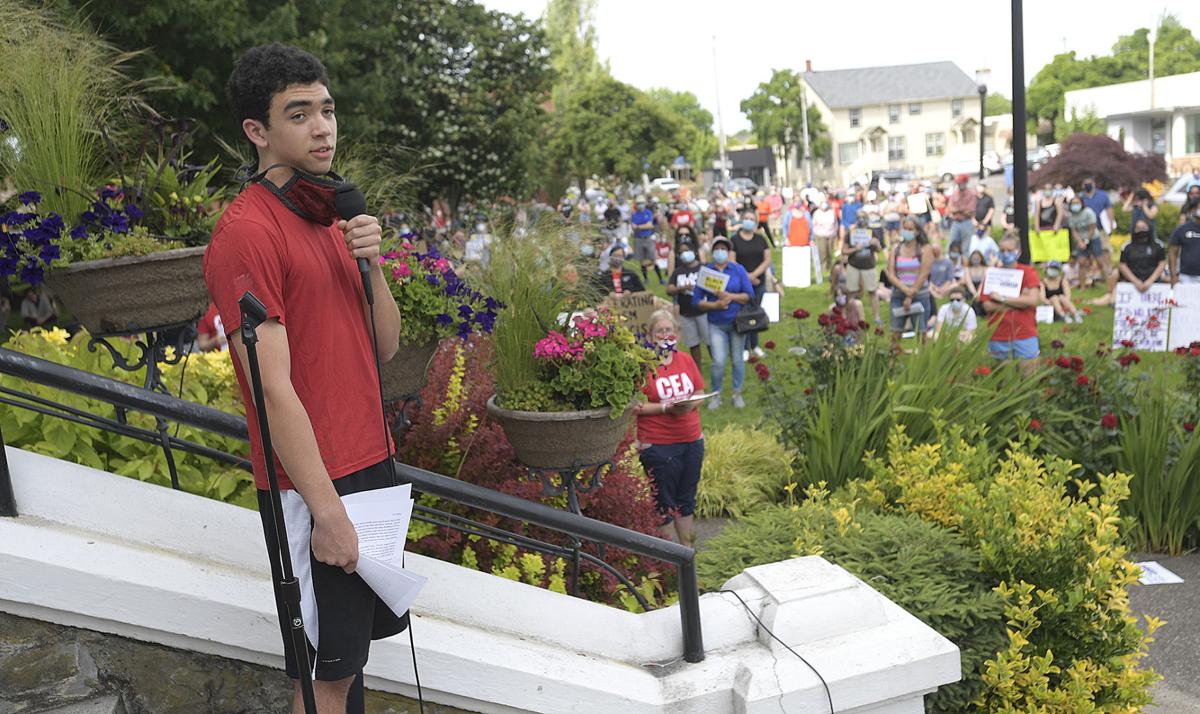 ROSE (roz) n. One of the most beautiful of all flowers, a symbol of fragrance and loveliness. Often given as a sign of appreciation.
RASPBERRY (raz'ber'e) n. A sharp, scornful comment, criticism or rebuke; a derisive, splatting noise, often called the Bronx cheer.
•ROSES to teen speakers at recent protests and rallies.
We're used to hearing speeches from high school students around this time of year, but in far different venues, such as packed gymnasiums or football stadiums for graduation.
Rallies against racial injustice have featured students and recent graduates who have talked magnificently about their experiences and hopes for the future, the challenges they've faced and what is needed to overcome these difficulties.
Ronny Junkins, a Crescent Valley High School student, stood out in particular during a rally that commemorated Juneteenth on June 19 at the Benton County Courthouse in Corvallis.
Junkins discussed how institutional racism extends down past grade school. He noted how Black students are suspended more often than their peers — even in kindergarten.
"I want people to look at me and say, 'Yeah, that kid's Black, and he's an excellent student,'" Junkins said.
Every protest and rally we've attended in the last month included eloquent youths who are helping to educate their communities about difficult topics. We welcome hearing more from these talented teens, who are truly making a difference.
•RASPBERRIES to the opposite of eloquence and a Harrisburg High School teacher's apparent appalling lack of judgement.
Misty Bisby has come under fire for an ill-advised selfie that included the phrase "f*** the police" as well as a middle finger emoji and Black Lives Matter sticker. A Linn County Sheriff's Office deputy was in the background of the photograph she allegedly took and posted to social media.
The image went viral and stirred controversy.
We strongly believe in the first amendment, and employees shouldn't be punished for their political beliefs. But there are more complicated considerations at play here, and, in this case, the statement of "Black Lives Matter" isn't the problem. Black lives matter.
The more galling issue is the other behavior that's reportedly being shown by a local English teacher.
Beyond the cursing, it's also distasteful that Bisby seemingly singled out a random public safety worker who was minding his own business. Are police reforms needed? Sure. But pick a random deputy, officer or state trooper in the mid-Willamette Valley, and they're probably a hero or heroine.
Some workers have a duty to model responsible behavior — and this is especially the case for public school employees, as well as law enforcement, who are being paid by the taxpayers.
High school teachers do far more than simply instruct on subject matter. They help guide teens to become accountable adults. In many cases, teachers help students navigate through tough times, such as parents divorcing, a family member's death, or other issues.
Tons of people know law enforcement officers. So Bisby's alleged photograph, for many teens, damages trust, as well as the expectation of a safe and respectful learning environment.
And, let's face facts, a potty-mouthed online outburst that's spread across the nation probably isn't the best optics for classroom management.
•RASPBERRIES to the Harrisburg School District, which isn't talking about the Bisby matter at all because it's a personnel issue. Yes, this is complicated, and it's a certainty lawyers are involved. But a bit of transparency, just a smidge, could go a long way right now and ease outrage. We hope the district can be more forthcoming in the future.
•ROSES to the city of Sweet Home's department heads who will forego their 3% cost of living adjustments and save about $30,000 in the coming fiscal year.
Their selflessness may mean an employee will not have to be laid off if property tax revenues and other income sources come in less than projected due to the COVID-19 pandemic.
Those giving up wages for the good of all are: Ray Towry, city manager; Brandon Neish, finance director; Blair Larsen, community development director; Rose Peda, library director; Greg Springman, public works director; and Jeff Lynn, police chief. Other middle managers may also participate. Their actions show strong leadership during these trying days.
Get local news delivered to your inbox!
Subscribe to our Daily Headlines newsletter.