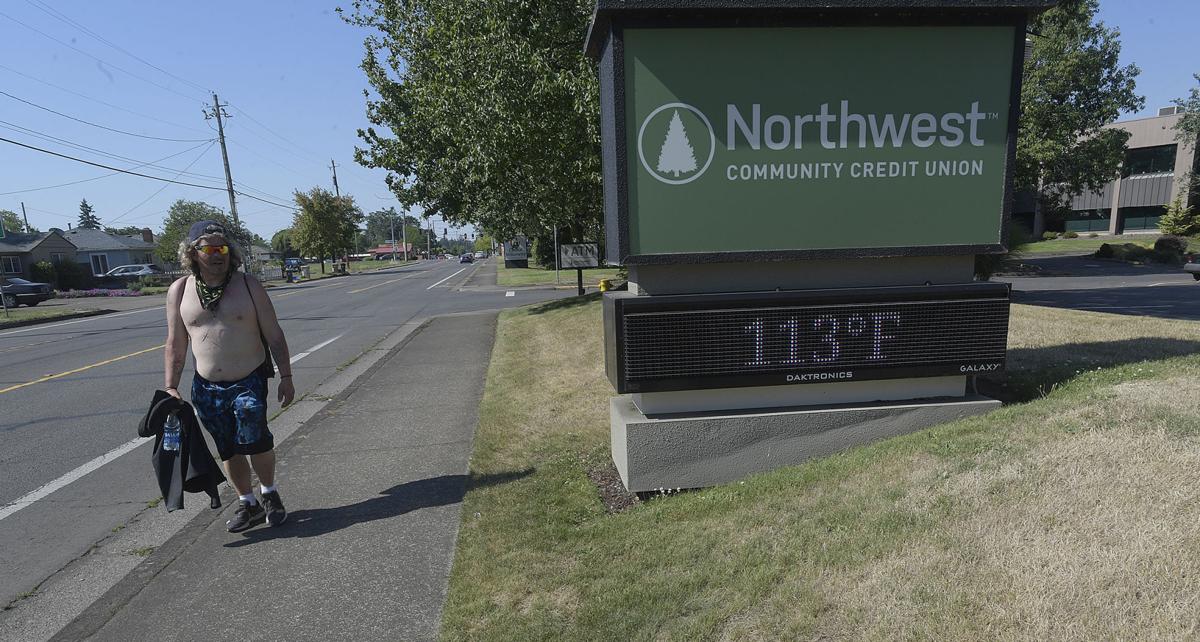 ROSE (roz) n. One of the most beautiful of all flowers, a symbol of fragrance and loveliness. Often given as a sign of appreciation.
RASPBERRY (raz'ber'e) n. A sharp, scornful comment, criticism or rebuke; a derisive, splatting noise, often called the Bronx cheer.
•RASPBERRIES to the unprecedented heat wave that hit the Northwest — and to climate change.
On June 27, the Albany and Corvallis areas set an all-time temperature record of 110 degrees at Oregon State University's Hyslop Research Farm, which sits about halfway between the two communities on Highway 20. We should note that temperature readings at Hyslop generally are milder than in nearby cities.
All-time temperatures were smashed in several other communities across the state.
The heat wave was truly devastating, especially since many Oregonians don't have air conditioning for their homes. According to the Oregon State Medical Examiner, as of Friday afternoon, 95 deaths in the state were related to the scorching temperatures. None of those deaths, thankfully, were recorded in Linn or Benton counties.
It used to be there were just a few days of more than 90 degrees each summer in the Willamette Valley, so air conditioning units weren't considered all that necessary. My how things have changed.
In case you've missed it, things are getting considerably warmer in the valley, the Pacific Northwest, and on Earth, and there are no signs that the trends will be slowing down, according to scientists.
According to NASA and the National Oceanic Atmospheric Administration, 2010-2019 was the hottest decade ever recorded on the planet. NOAA data indicates that 2020 was the second-hottest year on record, trailing only 2016. That means that 2019 now ranks as the third-hottest year in 140 years.
Before last decade, the hottest 10-year span was 2000-2009, and before that, it was the 1990s.
NOAA figures show the trend of hotter temperatures holds true for Portland, Salem and Eugene. High, low and average temperatures for the three largest cities in the Willamette Valley were all hotter in 1991-2020 than in the three decade-period of 1981-2010, and that's especially true in the summertime.
For example, July's average max temperature for 1991-2020 was: 81.9 degrees for Portland, up 1.3 degrees over 1981-2010;  83.5 degrees in Salem, up 1.5 degrees over the previous time frame; and 84 degrees in Eugene, up 1.7 degrees over 1981-2020. One decade has made all the difference.
Larry O'Neill, Oregon state climatologist, said in a recent interview that the heat wave — coming on the heels of last September's massive wildfires, an ice storm in February and as the West is experiencing a drought — was exactly the sort of extreme weather event that would be popping up more frequently, and with greater intensity, due to climate change.
"I think one lesson to be learned from this is climate change isn't going to be an abstract concept," O'Neill said.
Climate change is a fact and we're already experiencing its impacts here in the great Northwest. It's probably time to prepare for a warmer future and all that entails.
•ROSES to several cooling centers in the mid-Willamette Valley that opened up last weekend. These shelters from the heat may have truly been lifesaving for residents.
Some shelters prioritized senior citizens who are more vulnerable to heat-related illnesses, and in retrospect, this seems like a wise decision.
A quick glance at the state's heat wave death toll shows plenty of individuals in their 60s, 70s and older.
•ROSES to those of you who are stashing away their fireworks for about five more months.
With most of Oregon as dry as a tinderbox, local fire officials are urging caution with fireworks this Fourth of July. Every Independence Day, it seems like there's some blaze started by an errant firework, whether legal or illegal. And this year, the likelihood of that happening seems greatly increased.
As always, if you choose to have a neighborhood fireworks party for the Fourth of July, use caution and common sense.
But we've heard of a few residents who are planning to save their sparklers, spinners, fountains and other fireworks for New Year's Eve. And that seems like a particularly savvy choice. We'd support that becoming a full-blown trend.   
It's not that we're anti-fireworks. We just think they're a better fit for the rainy season in Oregon, at least this year.